I found Merrick deep in conversation with Tolivar. I quietly moved closer to hear what was being said. " Tolivar…You can't do this, Tolivar!" Merrick shouted at him. The shouting drew a curious crowd. This made it ever easier to get closer. Tolivar Fence looked at the crowd in anger. "You know who protected the cities of Britannia, before Blackthorn magically returned? We did, Merrick. Now they have Vos in chains in Yew, to put on public Trial." he paused, " A public Trial for all the lives he saved, and the people he protected. They brand me an enemy of Britannia. Are you aware? Blackthorn himself, has Corian 'working on it.'  Me, who protected it as well as I could absentia a King. No thanks, in the shadows, like a good spy. What about you Merrick, what have they done for you? " he asked in anger." Merrick shook his head, " It isn't about me, Tolivar. None of this is, it isn't even about Britannia. All you want is what you stumbled across. What I denied you."
"Maybe at first, Merrick. Until they branded me a traitor, 'crimes' that saved Britannian citizens. All these, good citizens around me. They made it about this, they made it about us. I even helped them get rid of the Traversis. I will not lie down like a good little dog. just disappear." Tolivar replied turning red in anger.
"You were always good at not being noticed. No one even knew you became the Spymaster, when the original died. After what happened to him… when he went to see his daughter… you'd think we would learn better. All you have to do is call off the attacks, and walk away Tolivar. They won't ever find you." Merrick said trying to calm Tolivar.
" Ever the loyal little lad, Merrick. If only I had left you on that pirate ship. You interfered before, but not this time friend. You'll all be far too busy defending your cities to look for little ol' me. Even now while you sit here listening to me prattle. I'll make sure of it. If only they knew, what we did for Britannia, Merrick. But they'll find out what we can do to it." Tolivar Fence began laughing " Perhaps, you should go stop Minoc from burning to the ground." Still laughing Tolivar disappeared.
Merrick disturbed by what Tolivar said, looked at me. " What? Minoc, burning? Quick gather the Royal Guards. Quickly." I didn't need encouragement. I was already hurrying  to Britian even using magic which I didn't trust.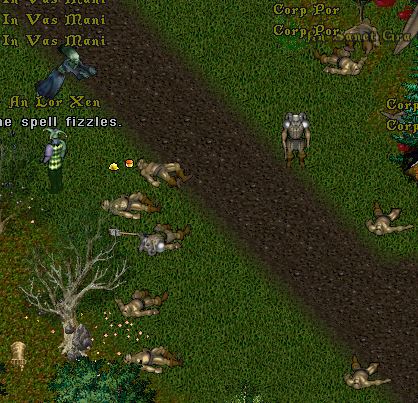 When we arrived back at Minco, we found the outer buildings burning. The city guard was losing to a band of Orcs lead by the orc chiefs Varfu and Lurzuk the Strong.  Seeing us Merrick shouted, "Clear them out, don't let them into the city!"  After a long battle with many deaths on both sides, we captured the few orcs left. Searching the bodies of the chiefs Merrick found another crude Orchish map. I wondered if these orcs were part of the band we had run into before.  Merrick studied the map, trying to decipher what it said. "It seems to show the orcs are stationed near the…SE End of Covetous along a dirt path.  Hurry we must stop them!"  Without looking to see if we followed, he stepped through a gate.  Arriving, we surprised the orcs.  Catching from behind, we made short the battle.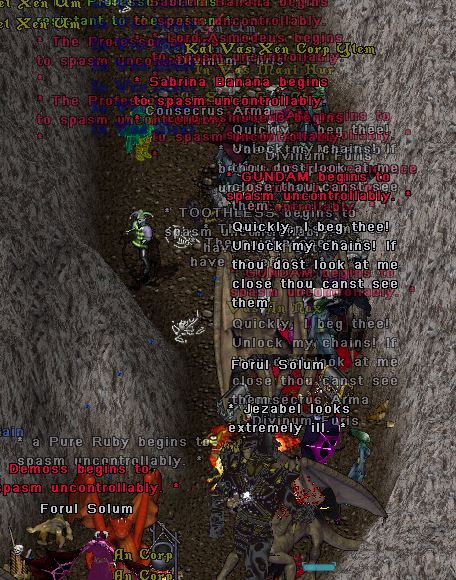 I went to talk to Merrick expecting him to be happy or at least relieved. Instead he was muttering in sadness,  "Is it my fault? I thought he had changed…This is my fault, I should have warned Dahlia.  Instead of trying to…He placed his hand on his forehead. " Tolivar isn't entirely wrong, Vos will likely be executed, unless someone can persuade judge otherwise. Not that he doesn't deserve it, a little.  I don't suppose if they decide to put me in Yew prison as well, you would throw me a spare key? he asked me hopefully. Before answering, I thought carefully. "I will not help you escape, but I will speak to Captain Corian and Dahlia."  That seemed to reassure him. " Good, because I'm about to go face some pretty nasty music. 'm going to turn myself into Corian, and perhaps work it out, if not. Well, if I get a chance, perhaps I'll tell you what started this. I'm off to face the music, or so it goes. I told Tolivar, you either stay invisible as a Spymaster, or end up dead, Ahem, if I don't get a second chance. The archery contests… you had to know how terrible an idea, that was." Merrick stopped grinning. " Yet you still came. Cheers. Tell Dahlia, I'm turning myself in. If Corian throws me in a cell, tell her she can see me there. Before I change my mind… you should go see Dahlia in Britain Hall" *Kal Ort Por* and he was gone.