Magincian Zokalo
Return to: Baja
Located at: 30.14N by 32.45W, Just on the outskirts of Eastern Zento.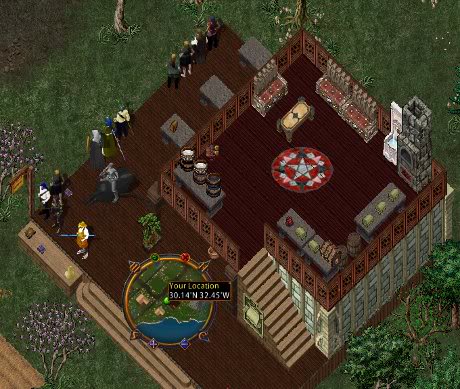 Magincia is home to many crafters and artisans. Salt of Sosaria people, The Zokalo is a chance to showcase their hard work as well as that of their allies. Boasting the skills of a Legendary Blacksmith and Tailor is just the tip of the iceberg. All of your trades can be found at this shop on an on call basis. Everything from a Grandmaster locksmith to a Grandmaster Alchemist and even a Veterinarian are hosted at this shop. Communication is a snap as you can reach them by pigeon or by Bulletin Board message.
The shop hosts vendors of all wares. Furniture, Imbueing ingredients, scrolls, liquor, drops from hunting, rares, and of course that blacksmithing rewards and natural dyes can all be found along the front of our shop. For the convenience of our customers there is a crystal portal, a corrupted portal and free use of the dye tubs up top. We also carry drinks and food for those who wander through. And if that wasn't enough once every few months we hold an imbueing night where customers can bring their clothing, armor or weapons and have them imbued for no charge with their requested bonus items.
Of course one would ask why Magincia would be interested in a shop in Zento? The answer is easy. Islands have to stick together. When you are a nation bordered by water with constant sea traffic you learn the ins and outs of commerce. The Empress, like the Magincian Council is ever watchful of current trends both financial and political. At the end of the day what is profitable for each of their people's is what is paramount.
– Lynne Zellinous,
The Magincian Trading Co.
Last modified: October 19, 2011