CSD- Scarlets Crew
Return to: CHESAPEAKE SHARD DIRECTORY

Crew Ranks

-Captain
-Enforcer
-Cutpurse
-Highwaymen
-Henchman
Crew Meeting Locations

New Crew On The Block!!!
Ocllo City Felucca
June 17, 2010
By: Merik
Scarlet Von Trinsic has once again been underestimated by the Royal Guards!! Commander Drake Foxx should have left Lieutenant Gwen Irina in Papua. Not only did she fail to locate Tavalia Zodok on June 9th, she also failed in her mission to retrieve important Heirlooms belonging to the Mornwok family.
Scarlet Von Trinsic and those who would soon join her crew met in the basement of the Artist Guild building located in Britain. Von Trinsic guaranteed safe passage to the city of Ocllo but could not guarantee their safety while in the city. The thieves entered public establishments and private homes (NPC) to search for these wondrous items. Guards and murderers patrolled the streets of Ocllo attacking anyone who looked suspicious.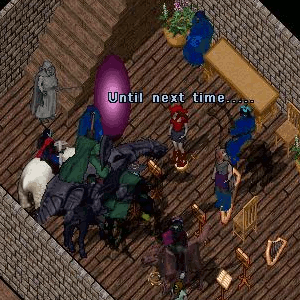 Scattered reports came in that around 12 or more objects were obtained by Scarlet Von Trinsic and her team. Once back at the basement Scarlet offered each person to join her crew. She offered them ranks depending on how many items they obtained.
Captain
Enforcer
Cutpurse
Highwaymen
Henchman
Lady Tavalia Zodok once said, "Scarlet Von Trinsic is nothing more than a common thief, A hiwaywoman as it were. She gives empty promises."
A common thief? common? well… next time Tavalia Zodok wants to speak of  Scarlet Von Trinsic she might want to bite her tongue!!! Look out Britannia! Scarlet and her Crew might pick ye clean!
Last modified: October 10, 2011