Historic – Jolly Roger Inn
Return to: Catskills
Player Run Establishments
Jolly Roger Inn on Catskills
The Jolly Roger Inn was founded in July of 1998, by the pirates Hook and Hawkeye Pike.Admiral Patsy is recognized as current head of the establishment.

http://www.unitedpirates.uoguilds.com/ Established as the headquarters for the United Pirates, the Jolly Roger Inn began as a haven for citizens of ill-repute, who gathered there for regular drinks, planning their next merchant ship raid, or discussing the best smuggling routes. Regular patrons soon made it a place reknowned for good ale, interesting company, and those seeking to make a little dishonest profit. The inn lured more pirates to the area, who settled down around it, soon christening the nearby water "Red Skull Bay".

Today, the Jolly Roger Inn is a well-known meeting place for pirates and landlubbers. Located right on the shoreline, travelers have the opportunity to anchor their ships near the front door. Uncountable events and conflicts have been carried out in and around this inn, leaving countless marks on the wooden floor planks. Landlubbers are always welcome to visit, if they want to feel the thrill of sitting next to a swashbuckler. Although the virtuous visitor might feel a bit insecure at first, he will soon find out that he has nothing to fear; on the contrary, he will feel welcome as long as his eyes and ears are not too easily offended by rough manners.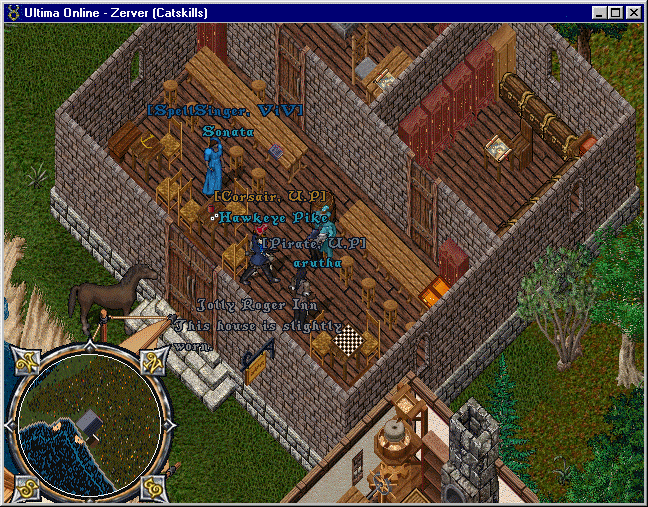 Last modified: August 9, 2011