Historic – Jordan Cromwell
Return to: Atlantic
Spotlight on Jordan Cromwell
While in Nujel'm the other day looking to see the famous ChessBoard, I ran into an interesting man.

We began to talk and I learned his name was Jordan Cromwell and an archeologist by trade. He asked why I was in Nujel'm and I told him I'd heard of the ChessBoard, which he offered to show me. We talked some more as he showed it to me and eventually it came out that I was a tailor by trade. He then hired me to make him some clothes. I agreed and we went to the tailor's shoppe to pick out some cloth. After finding some starter cloth he asked if I'd join him for a meal at the Tavern next door and I accepted. After dining he invited me to come see his home. We walked a short bit toward the Northwestern coast along the way we ran into the Mayor of Nujel'm.

Mayor Cornelius seemed a bit preoccupied and not in the mood for a chat so we continued to Jordan's home. We walked up his long, steep walkway and he then unlocked the gates and invited me in.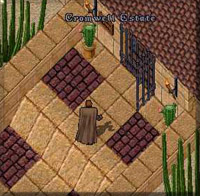 His home was quite lavish and it was obvious he had spared no gold to make it so. He showed me his
Displayroom
, his
Workarea
, and his
Diningroom
. He had a display case in his Dining room with three rare artifacts. I forgot to ask him about them and shall do that in the future. I told him of the Atlantic Museum, an OSD creation supported by the player-ran city of
Eldanor
. He seemed quite interested so we agreed to travel to Ice Isle where I could show it to him. He insisted we sail, being a Dryad I'm a bit shakey on the sea, but he had me take hold of his shoulder to keep me steady during the voyage. I must say, that despite a few quick turns he was quite the expert sailor and we were there swiftly and safely. We were met by Xanthar the Guild Master of OSD and the Museum Curator, OSD. The two took great pleasure in giving Jordan an in depth personal tour of the Museum. He seemed quite impressed with the Museum and its collections and even was interested in purchasing some of the most unique pieces such as the Skull Lord and my own prized-addition Crystaline Blackrock recovered from the Obsidian chests that the FoA were guarding. After a brief tour of the rest of the Museum facilities and a small introduction per Jordan's request to the well-known hero, Dayel Stormcrow, we once again set sail and returned to Nujel'm. We then parted ways after saying our goodbyes. I found Mr. Jordan Cromwell to be quite a fascinating man. He was obviously bred with good manners though a bit arrogant at times. His main concern of research right now was of a sea-faring community he had once read of during his studies at the Lyceaum. I shall need to get to work now on the rest of his tailoring order.
– Ce'Nedra Willow
Last modified: August 18, 2011