Historic – Kazola's Treetop Keg and Winery
Return to: Great Lakes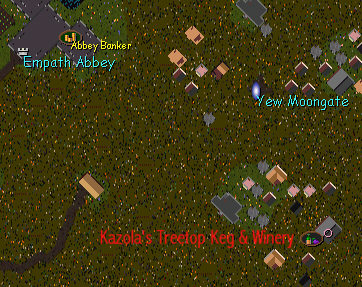 Last Visited by Kyra and Rikus – Feb 17 2002

Coordinates:73°N 31°E – FeluccaKazola's Treetop Keg and Winery provides all the citizens of Great Lakes a place to call home and share a story and a pint of ale. Kazola, the tavern's proprietor, has happily called Yew home since she first came to these lands and establishing a gathering place for the people in her community seemed like a wonderful way for her to give something back.

Since its official opening in February 1998, the tavern has been host to many events, including story-telling contests, wedding receptions, quest gatherings, and countless celebrations.

In March of 1998, a seer came incognito to Kazola and asked many questions about the tavern. Unaware of the man's secret, Kazola answered his questions polietly and went upon her business for the night. The following night the seer returned with the royal builders who blessed the tavern. The fountain, hedges, bulletin board and stable master came later. Time flew by and then Lord British honored the tavern himself by placing a set of plaques on the wall inside to commemorate Kazola's Treetop Keg and Winery's one year anniversary.

Kazola's has had tens of thousands of visitors since its opening over four years ago and continues to be one of the most popular player-run establishments on Great Lakes.

The yard outside of Kazola's Treetop Keg and Winery is beautifully decorated with a fountain and lined with benches. The heavy branches of the old namesake Yew tree hang low over the roof of the tavern. The front room is a cozy combination of bar and sitting area. One of the smaller back rooms is dedicated to holding stock, extra ale and storage space for the tavern. The other small room is a library full of player written books, games and a sitting room for small meetings.

Located a short walk southeast of the Yew moongate in Felucca, Kazola's is easy to spot with the large sandstone fountain, hedges and crowd of patrons. The doors to Kazola's Treetop Keg and Winery are always open, though the place really comes alive for Happy Hour on Wednesday nights from 8:00 pm by the Central skies and lasts until the last drunk wanders out. You will find Kazola herself there, mixing with the travelers and regulars, passing out ale and greeting all who enter.

To read more about the history of about Kazola's Treetop Keg and Winery, to find out about upcoming events or to drop in and say hello visit the tavern's web site.

Kyra's comments:The walls of this famous tavern seem to whisper because they have been witness to so many historical events! Happy Hour at Kazola's is an event not to be missed; something is always happening at this amazing gathering place!

Rikus' Remarks:Kazola's is the perfect place to drop by after a long day's work. The ale is cold and the food is hot! The tavern is considered "neutral ground" by many of the long-time warring guilds It is not unusual to find two arch rivals swapping stories about fights of the past. Kazola is the original tavern-keeper for GL. She set the standard that others are still trying to achieve and maintain. She has always been willing to give advice to young tavern keepers and steer them in the right direction. Kazola is a class act and her tavern is literally a Great Lakes icon.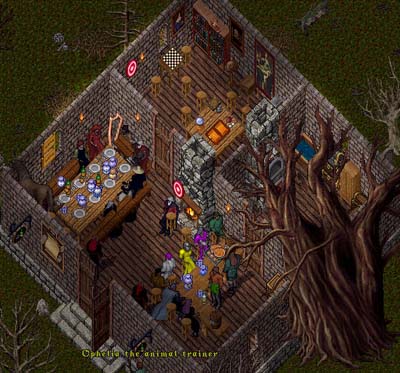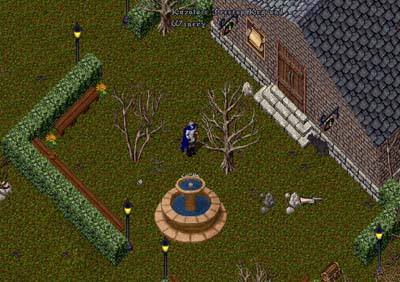 Last modified: August 13, 2011