Historic – Wandering Wisp Tavern
Return to: Atlantic
Player Run Establishments
Wandering Wisp Tavern on Atlantic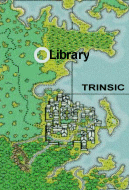 Last visited by Aleph Aeirs – Jul 14 99
I found the Wandering Wisp Tavern quite easily, utilizing a rune in Leiah's rune library. On arriving, I was met by Rhiannon, Tavern Manager and Wolf, Lord of KOS.

I began by asking what the official hours are at the tavern. As is customary, you will find the place packed on the weekends, with staff present on Thursday, Friday, Saturday and Sunday from 8:00 to 10:00 PM EST. The evening I was there, many different people came in and out. And I must say, each and every one was kind, considerate and willing to share their thoughts on the state of the realm.

Open to all good people, the Wandering Wisp Tavern has rarely had trouble with harrasement and ne'er do wells. Wolf and Rhiannon made it clear that there is special attention payed to security at the Wandering Wisp, so weary adventurers can rest easy while enjoying good food, the best ale in the land, and good company.

The Wandering Wisp will soon host a variety of activites, open to all players on Atlantic, and they have hosted many weddings, various celebrations and are open to do more in the future. Both Wolf and Rhiannon made a point to offer the use of their establishment for any player functions.

"We have a lot of fun here, and hope everyone else will enjoy it with us" said Wolf.

In times past, the Wandering Wisp staff have had to go outside and invite any unsure citizens to join them. In my short time there, most every customer had something to share in regards to happenings in the realm, stories about Trinsic, and obvious support for other player run endeavors. A testament to their kindness and commitment to the community.

On any given night, you will hear stories from adventurers and discussions on many different topics. Perhaps if you are there late enough, you will even see the mysterious individual who sneaks cakes in large quantities into the Tavern.

Located on the plain north of Trinsic, Just SE of

Leiah's Rune Library

(coords are 76.33′ S 36.29′ E), the Wandering Wisp Tavern should definitely be a stop during your travels on the Atlantic Shard.
Last modified: August 19, 2011