Historic – The City of Saints – Trammel – Sonoma
Return to: Sonoma
Player Run Establishments
The City of Saints – Trammel – Sonoma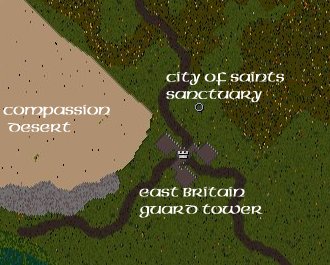 Last Visited by Pluffina – Oct 20, 2001

Coordinates:74° 31'N, 48° 43'E – TrammelThe Armoured Saints of Sonoma (ArS) formed The City of Saints in order to live and work together as a guild and as a family. Many of the city's buildings are businesses. The headquarters, a large tower in the middle of the town, boasts a public rune library that includes a full set of treasure hunters' runes. The City of Saints was created the day after Trammel housing opened and named about 6 months ago. There are currently around 16 buildings that are part of the city, and it is still growing.

The city surrounds the guard tower above East Britain next to the desert.

The city is active Monday thru Sunday, 24 hours a day. You can almost always find at least one citizen at home. There is an event almost every day, although at the time most of the events are guild oriented.

Citizens are expected to uphold the virtues of Britannia. Although the guild doesn't require constant role-playing, they are primarily a role-playing guild.

You can find out more about the city by visiting the ArS website or contacting Slayer (Grand Master ArS) at ICQ #6597833 or Ariel (Grand Mistress ArS) at ICQ #46256251.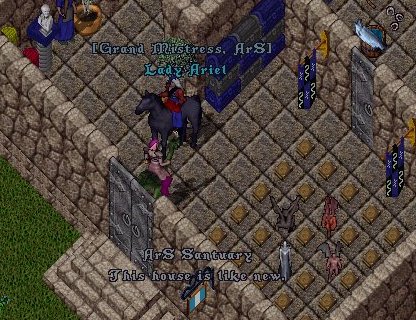 Last modified: August 11, 2011