Que's Tavern
Return to: Catskills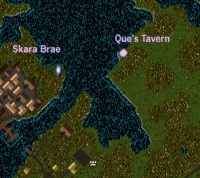 Que's Tavern
---
Facet: Trammel
Location: Just North of Skara Brae
Coordinates: 28o44'S 42o 40'W
Owner: Ruden Solic – Rangers of the Heart [RoH]
---
Que's Tavern is staffed every Wednsday evening from approx. 10pm EST
---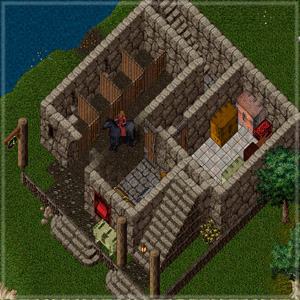 Que's Tavern is the home of the Rangers of the Heart, secure within the Sprirtwoods on the mainland outside Skara Brae. With their own Indra's Winter Ale, and enough trees around to get your fill of hugging, Que's Tavern has a cozy, well worn, friendly feel.The ground floor of the tavern boasts stabling for quite a few mounts and pets, with containers of fresh pet food and the like for keeping even the wildest pet happy during it's stay. Nestled in a back room on the ground floor also exists an Alchemist Laboratory, used historically by the tavern's main Alchemist Robin Solic.
Upon entering the main floor, just past the fireplace, lays the bar, conveniently located just inside to get yourself a drink before finding a place to sit. A Number of Ranger artifacts are on display in this room, crafted by or obtained by both past and present rangers, giving quite the feeling of history and family amongst the rangers. Any given night, inquiring about some of the items on display will result in a warm smile, and a number of wonderful stories.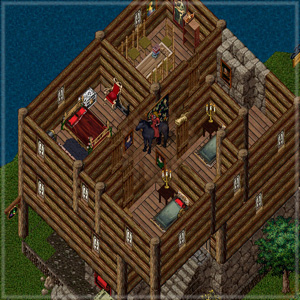 The third story of the tavern hosts the inn, a number of modest sized, rooms adorn each side of the halls, for weary travelers, or rangers who happen to be about, which have decided they'd rather not sleep out on the lawn. Additionally this level contains the Ranger's Library, a collection of stories and scripts which Raina maintains containing histories of the
RoH
as well as
Kinship Village.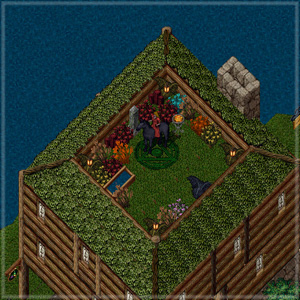 The top of the tavern boasts a colourful garden. To no surprise the Rangers tend to have quite the green thumb, and nothing more displays this fact by the wide variety of flora Ruden maintains here. For a quiet place to contemplate, or a secluded place to take a lover, the roof of the tavern is a lovely location which everyone can share.
~ Raina Kanath ~
Clan Dalaigh, Kinship
Last modified: August 7, 2011