The Mage Tower
Return to: Drachenfels
Player Run Establishments
The Mage Tower on Drachenfels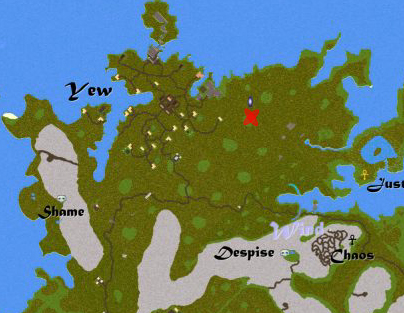 Last Visited by Bel d'Ajoor – September 2000

Coordinates : 71°48′ N, 35°38′ W – TrammelAs I knew the Mage Tower had moved to Trammel during the summer, I got in contact with one of its members who accepted to guide me for a tour of the Tower.

The location of the Mage Tower makes it very easy to reach : It was placed in a clearing only a few paces to the south-east from the Yew public Moongate. Without any notable spawn except the odd orc, young and old people alike will find it easily.

Upon arrival, I was greeted by Lexor of Cirrus. He explained to me the thematic layout of the Tower decorations : Earth for the basement, then Water, Fire and of course Wind for the roof. The addition of the four elements, he told me, creates as a whole the element of Spirit.
Earth (ground floor) consits of a small meeting room, a small place for visitors' horses, and the private office of Lord Hellspawn, the Keeper of the DMT stone.
The Water floor consists of a Library, dedicated to the study of all the existing Britannian books.
The Fire floor is a laboratory. It may be the most beautiful place in the tower, dedicated to all the known – and probably unknown to most of us – scientific and magical arts.
The roof, at last, is the Wind floor. All the decoration for this tavern and dining room was offered by someone who, as the Old Ranger told me, wished to remain anonymous. In pastel colors, the decoration is absolutely magnificent, and the place is often staffed and visited by the Lexor of Cirrus and his friends.

The best time to visit the Mage Tower is during the European evening, and you can assist to the weekly DMT reunions on Sundays, at 5pm CET (4pm GMT, 11am EST).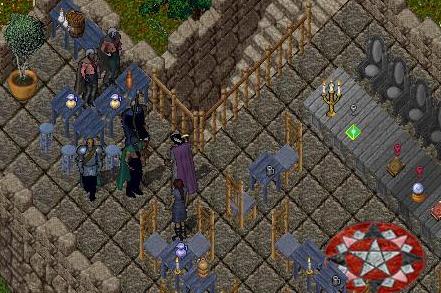 Last modified: August 7, 2011