Historic – Hall of Havoc
Return to: Chesapeake
Halls of Havoc
Last Visited by Idun Syn – JUL 18 2001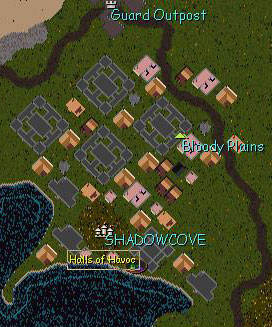 Coordinates:61°N 61°E – TrammelWandering around Shadowcove, the sounds of merriment and fun seemed to drift my way, tempting me to rest my weary feet and have something to drink. I looked around for its provenance and I noticed a large stone building, named "Halls of Havoc". Many people seemed to come in and out of it, and I decided to follow the crowds and go in.
It wasn't really that hard to find, as it sits close to the shore in the village of Shadowcove, almost a stone's throw away from Cove. By boat, it can be reached from Cove and there is always plenty of space to park any size vessel.
A sign on the door said it was open every Wednesday from 9pm to 11pm, following the Eastern sun. Just my luck that it was Wednesday!
As I walked in, I noticed many people sitting at the tables, with little piles of money in front of them. Some were playing dice, some were throwing darts. Mostly, they were deeply concentrating on whether to tempt fortune one more time or to grab their winnings and call it a night! As a penniless reporter, I could not afford to gamble, so I went up the stairs looking for a chair and a drink. Here was the Tavern, more peaceful than the downstairs gambling room, but still lively with conversation. As I sat down, I felt almost at home. People were very friendly and made me, a total stranger, feel as if I was a long time customer. Conversations were struck, tales of heroism and bravery followed each other, growing more heroic after each pint of ale, and before I knew it, it was time to go home. I shall definitely go back, and I recommend it to everybody who likes to meet new friends and kick back with a pint or two…or three!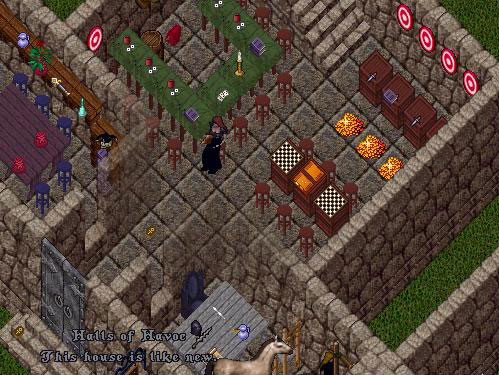 Last modified: August 14, 2011