Lord and Lady of Courage's Quest Item Museum
Return to: Baja
The Lord and Lady of Courage's
Quest Item Museum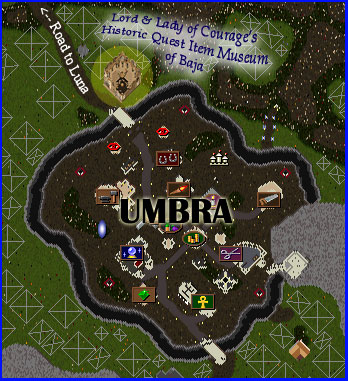 Last Visited by Lord Courage – 03/24/2004
Coordinates:27o 14'N, 43o 22'E – Malas
The Lord and Lady of Courage's Quest Item Collection comprises items from IGM and Seer run quests held on Baja during the early years of UO. This entire collection is now on display and each item has an accompanying book describing the item. The collection represents many years of our continuous and intensive collecting, from the creation of Baja, up until the start of the "Age of Shadows".
The newly designed and constructed museum is now located at the city of Umbra in Malas and is the first building out on the road west of the city. The location is shown in the map to the right. The sextant coordinates are 27o 14'N, 43o 22'E.
Just northwest of the Umbra Moongate, the museum is easily reached via the city Moongates and is thus accessable to any visitors from other shards wishing to stop by and have a look.
More information about Baja's Quest items and History is available here, on The Stratics Baja Items and Artifacts page.
Last modified: October 19, 2011