The Red & Purple Mini Mall
Return to: Atlantic
Establishments – Merchant Shops
The Red & Purple Mini Mall

Location : Just North-East of
the Yew Cemetery, first clearing in the woods. Atlantic Shard, Trammel, Yew. 49o
56'N x 33o 57'W
Contact : See the house board in mall for contact
info.
Website for Shop: Red&Purple Pixie Village
Description :
Independent Vendor Mall & Village
Owner: Lady Frany Flame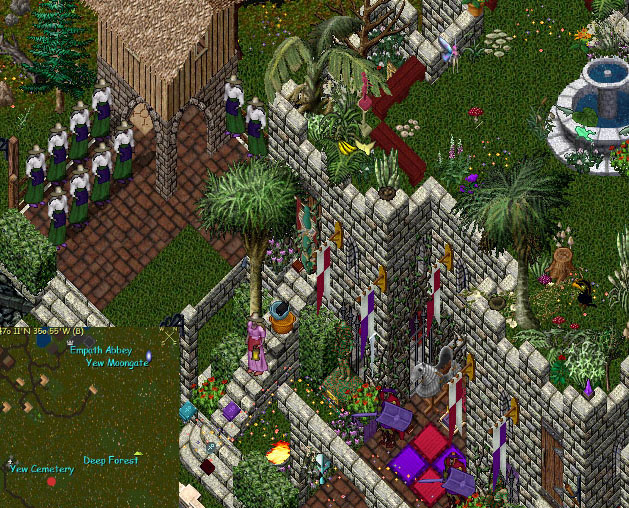 Q – Please give me a
history on the Red and Purple Mini Mall.
A – The R&PMM was originally started in the summer
of 2001, on the road from Brit, near the Cove Swamp. This first location was
using a friend's house, do to the high price of housing at that time. Not too
long after 9/11, the staff froze housing decay driving prices way out of reach
for newer players and it took a little time to save up for the small marble shop
that stood west of the desert of compassion for a whopping 6 million gold at
that time. It was March of 2002 the mall was moved the first time, and very soon
after the R&P was very popular with the shopping public thanks to the
various goods offered by several different vendor masters. Packing a lot of bang
into a tiny house.
We stayed in that location for 13 months, seeing over
32 thousand visitors, and surviving 3 invasions. At that time, the new modern
housing system came along and with the new vendor system, we were forced to look
at a maximum of 10 vendors where we had over 20 in the small house. Downgrading
operations was not an option. It took time to find just the right new house to
better serve our community.
At the new and current location, we could
easily double available vendor space, along with adding space for a full set of
public dye tubs, training dummies, a small public rune library, a peaceful
garden, and several other minor improvements for public enjoyment. At this time
of Luna, it was decided the fate of the R&PMM was to better serve the public
and stay in Tram, away from the high prices of Luna where we currently have over
72k visitors and growing, with over 6 years in the same location… the mall will
not relocate again.
Q – Clearly this
mall has stood the test of time. But going back to the beginning, what made you
decide to run a vendor mall in Sosaria?
A – At the time I started needing vendor space of my
own, it was very hard to get space in bigger malls. Most big malls were in full
towers or castles, and some of those malls demanded guild membership. Other
malls were run by only the owner of the house, selling few goods. I had to make
gold in a bad way to support my combat characters. Once I got a foothold in a
super mall… it was clear I was meeting far more newer players needing vendor
space then anyone could find, so I thought the next logical step was to find
some space to open up a mall of my own… with the goal of helping everyone I
could, not just myself. Malls can be a lot of work on the owner and we are lucky
to find fellow merchants that have a love of running vendors. That's as true
then as it is today, even if it's harder to keep full vendors inside the mall
now. It's far more then selling arrows and bolts out of 1 vendor in the back
room of someone else's mall. Those arrows I sold then are what the mall is built
on today… why I picked the fletcher's sign you'll see on my
buildings.
Q – What makes this
establishment unique compared to others?
A – It may sound silly, but the first thing anyone will
notice to the Red & Purple Mini Mall is the name itself. Way back then, no
one was using colors for a marketing tool. Before I even opened up the first
mall for people to share, I had 1 room in a castle and all the vendors were a
cheerful Red & Purple to set them apart from everyone else's vendors in that
castle. Over the last few years, I've noticed a lot of malls using colors as a
name, and some even call themselves whatever "Mini Mall", but just having fun
with the decorations and knickknacks we have available, I strive to keep the
mall fun and interesting… ever changing no matter if it's normal gardening or
seasonal. I also expanded the color theme to putting up banners and other
decorations… people will know the long standing signature through the test of
time. Even those players that return after years of absence remember the Red
& Purple, relocated… redecorated, or redesigned. I strive to keep our
establishment for "the people" of our shard. For everyone.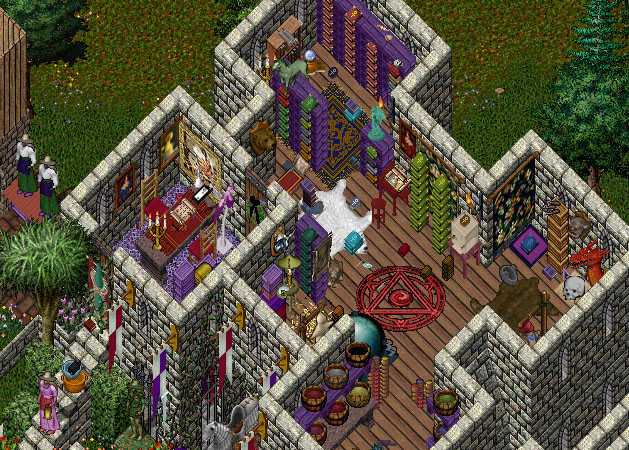 Q – Tell me some of
the events you host here? (if any)
A – I
believe it's been the last 4 Christmases now… we've hosted a Santa event in the
mall's rooftop garden. I love to see fun things happen in our game and at the
time, there was no real Christmas spirit going on in our shard. I may have had
too many cookies that day and got the crazy idea to decorate the mall like any
other real mall would be for the season… and even have a jolly fat guy in a
beard sitting on a throne visiting with all the kiddies. It was an overwhelming
success! People really got into it. At that time, the garden was a little
different with water and a bridge… cute, but not good for hosting events, so I
redesigned it so it can be fully transformed with out disturbing the vendors.
The idea was to have the ability to host more events, but the Christmas event
seams to be what people like… so we hope to do it again next Christmas as
well.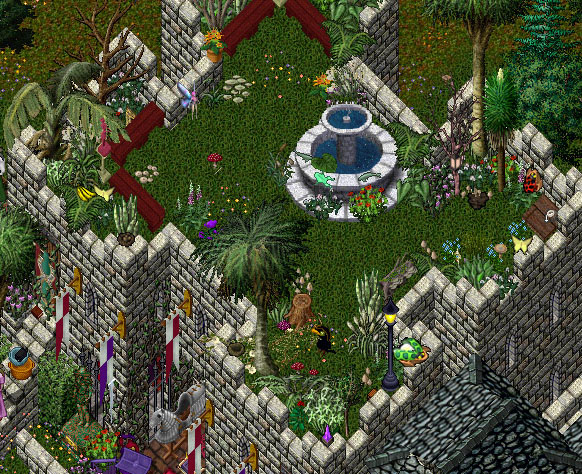 Q – The Red &
Purple Mini Mall is just one of the buildings in that area that you've opened
for public use. Can you give me a little information about the
others?
A – Originally, when the new
mall building was purchased, I had hoped the whole clearing would be different
malls and establishments, owned by other people. Unfortunately, it never really
came to pass. A few years later, a friend obtained a medium sized plot and asked
me to design a cute little storage house for him… thus giving birth to the
"First Church of Candy of the Red & Purple Mini Mall". He has since retired
from game play, however the church still stands. I totally love our custom house
system and paying with decorations. I figured I would just have fun and make a
smaller house that was something worth looking at. With the new Event Moderators
being back in-game weddings… this church is open for anyone wishing to have
their wedding. Just drop a note on the board.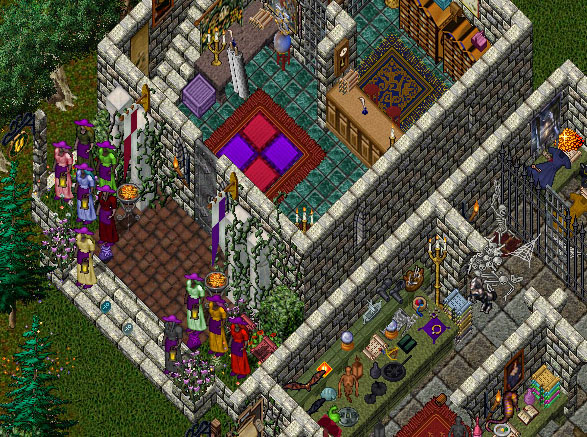 It also took me several years to obtain the classic
full tower that sat just south of the mall… where I ripped it down and replaced
it with a larger custom plot. This being my own house, I've always collected
rares and weird items and put most of them in a dungeon museum that's also open
to the public in the new house. The house, itself, is kind of a work in progress
as I'm so busy doing other things, but it's all for fun. A museum of messes and
oddities. Unfortunately, it's hard to find reliable rare sellers, so I don't
have very many big ticket items… but you never know what will be on display
next.
Thank you Lady Frany…with your help we
have salvaged this interview done by Muriel of Tokuno perhaps better known as
Amy of the Daily Bugle who sadly disappeared before it was posted. At last we
can share more of her talent. She is missed.
Last modified: August 22, 2011