CSD- Fortune's Fire Resort & Casino
Return to: CHESAPEAKE SHARD DIRECTORY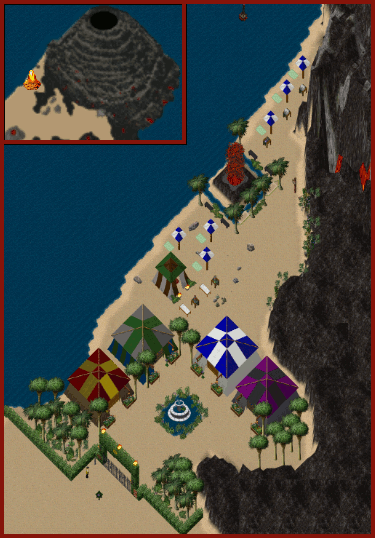 Dice Game Tent
There are three games offered at the Dice Tent. 5 hands of a game will be played before the game changes. When the game changes players who have already been playing are asked to leave their seats to allow those waiting a chance to play.
All bets must be handed directly to the dealer and entered on your "Checkers" stack by double clicking it in the format Your Name: 50k
Min/Max Bet for any game: 5k/50k
21 – A player wages and rolls 2d6 to get as close to 21 without going over. Then the dealer rolls. Player wins if they beat the dealer, or the dealer busts.

Payout: [1-1]
Lucky 7 – Players bet on one of three outcomes (under 7, over 7, 7) of the 2d6 total.

Payout: Under 7 [1-1]
Payout: Over 7 [1-1]
Payout: 7 [5-1]

Ankh & Serpent – Players bet on any number from 1 to 6. The dealer rolls the dice and pays out according to the number thrown and keeps all other stakes. Some operators or gambling establishments only allow one bettor per number and spread the bets out.
Payout: Number comes up on one die [1-1] (Evens)
Payout: Number comes up on a two dice [2-1]
Payout: Number comes up on all three dice [3-1]

Lucky Darts Tent

There are is one game offered at the Lucky Darts Tent
Bullseye – Players enter their wager onto the Checker stack by double clicking and entering their name, followed by their wager. Player then takes a single throw at the dartboard.

Example: Player Name: 50k
Min/Max Bet: 5k – 50k
Last modified: September 27, 2011