Merchants Tower
Return to: Drachenfels

Last Visited by Bel d'Ajoor – February 2001

Coordinates : 110°33'N, 43°1'E – TrammelAfter the Trinsic market last friday, Raknar kindly invited me to visit the Merchants on Tour Tower. We met in Trinsic and he kindly cast a gate spell leading to the plain south of dungeon Wrong. No spawn was noticeable around the tower, though I remember meeting a few low-level monsters in the area.

Raknar and the Merchants on Tour are well-known on our shard, both for their shops and the many events and services they provide for the community. Their tower is yet another example of this : it includes a rune library, a nicely decorated tavern, an expanding rares collection, and a public crafting area which includes a forge and tailoring tools. The library includes all the known britannian books, and of course runebooks to a large array of places over the world, including of course their famous shop, right out of the Trinsic main Entrance, on the southern side of the road.

Surprisingly enough, the Merchants do not sell any wares in their tower… it is primarily used for relaxation and socializing. Greed has no room here, and it is a pleasure to find such a place when coming back from a long mining expedition on the mountainside or from a hunt in the prisons of Wrong.

You can find more informations about the Merchants on Tour on their website. This website is also a great source of local informations, as it includes an event calendar and informations about the latest doings of the Drachenfels communities, both in english and german.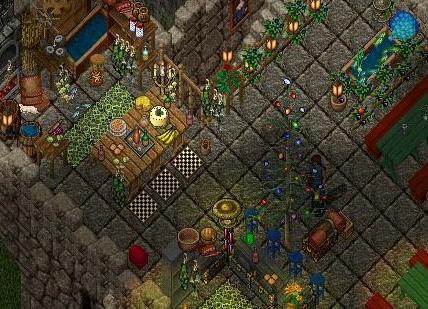 Last modified: August 7, 2011