Nomad's Dyes
Return to: Drachenfels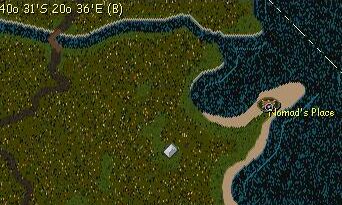 Last Visited by Bel d'Ajoor – June 2001

Coordinates : 40°31'S, 20°36'E – TrammelSome time ago, Nomad announced on the UOStratics Drachenfels board that he had opened a dye tubs house on the Trammel facet of our shard. A few months later, he invited me to review the place before the 10'000th visitor's appearance. Located on a small beach between Britain and Trinsic, the easiest way to go there is of course to follow the road until reaching the famed bridge of the late Nuk'Togh, the Troll, and to then travel to the east. Should you want to come back, the wisest thing to do is to mark a rune or ask someone to mark one for your favourite runebook.

Nomad 's place is an unusual kind of establishment : the Villa is pretty much an excellent self-service. What service, do you ask ? Well, Nomad's speciality is dyes and dye tubs. Leather, furniture, clothing, pretty much anything can be dyed there, should you not have access to this kind of facility. It is indeed quite hard to find some of the colours or materials Nomad gives you access to. The tubs include :
Normal Dye Tub
True Black Dye Tub
Special Dye Tub
Leather Dye Tub
Furniture Dye Tub
Some tubs require your account to be old enough to use (Veteran Rewards), and the Furniture Dye Tub can only be used by the owner of the house. However, Nomad is easy to get ahold of, and he will gladly help you using the services he has created.But that isn't all : Nomad's place is also an excellent rune library. Containing runes to all treasure maps locations, organized as indicated on the UOStratics Treasure Hunter guide, as well as many other useful runes (including dangerous dungeon runes, Nomad told me), it makes Nomad's place a highly successful service. Ten thousand visitors entered the building since it was opened to the public (winter 00-01), and more are coming each day.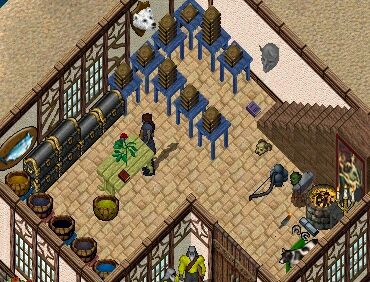 Last modified: August 7, 2011