Historic – Eliza's Stargate Runeatorium
Return to: Chesapeake
Player Run Establishments
Eliza's Stargate Runeatorium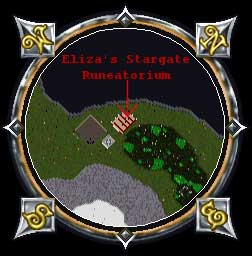 Last Visited by White-Ram – July 20 2004

Coordinates:131°N 13°W – MalasI met Eliza almost over 4 years ago outside the Bank of Britain and she was gating to her Rune Library, A Small Tower located in the Player run town of Avalon Bay, Her library was growing every day then one day she ran out of space and had to move to a larger building, and it was at that location for almost nearly 3 years, (109°N 124°E – Trammel). When the lands of Malas were discovered Eliza packed up and moved home once more, taking all the runes with her. I've used Elizas Runeatorium many a time from finding a quick route to a treasure chest to a hidden secret place.

Elizas Runeatorium is located Directly north from the City of Luna, you take the most northern gate and head through the mountain pass, then head north east a bit. You will find this runeatorium next to the edge of the Malas landmass amongst the Stars. The building is of a stone design with 4 levels, each containing a unique design. The top floor is contains the runebooks and is accessible by stepping onto the teleporter near the ankh on the Ground floor.

A lot of Players are aware of Eliza's runeatorium and the time it has been a monument to the Chesapeake Shard and use it to get around the lands of Britannia, so if you hang around at the location you will be surely to see another player using the services that Eliza has provided. Elizas runeatorium is a great place for making new friends and catching up with some old friends, maybe you need someone to help you with the Doom Gauntlet or digging up that level 5 Treasure map you just found.

Elizas Runeatorium is a must visit for any Chesapeake player and is worthwhile using the services here. The Library has one of the biggest collections of Runes and has all the Treasure Map Locations. You will not be disappointed.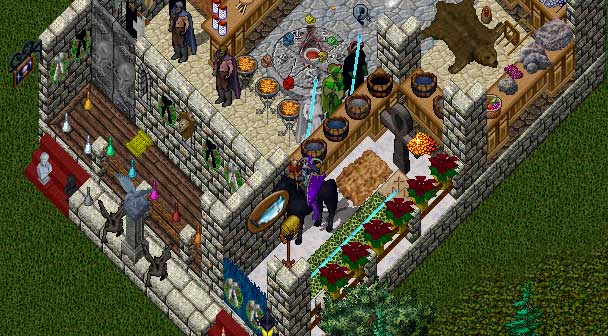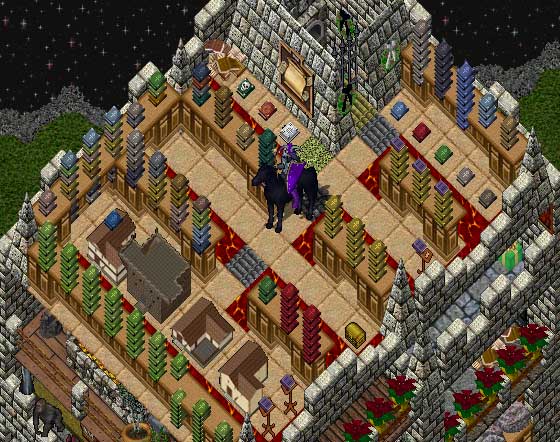 Last modified: August 8, 2011