Historic – 7-11 Rune Libraries
Return to: Lake Austin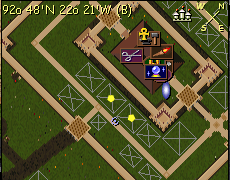 Last Visited by Elves of Loraien – Jan 17 2004 Coordinates:
93°N 23°W – Malas (Trammel/Malas Runes)
93°N 21°W – Malas (Felucca Runes)
Already well known as a primary vendor establishment, many of those shopping for their adventuring necessities at 7-11 may not realize that right above their heads lies one of the largest rune libraries in Brittania. The libraries are located on the upper level of each of 7-11's main buildings within the Luna city walls. 7-11 Main, and 7-11 EX are adjacent to one another along the center of Luna's South Roadway. The buildings can be easily identified on the radar map by the 7-11 name etched on each roof.
Here the adventurer can quickly access virtually any location one may wish to visit. The library currently holds thousands of runes, and is continually growing. Some of the locations represented are:
Cities organized by shop type
Dungeons
Moongates
Shrines
Quests
Rares
Taming and Lockpicking helpers
Spawn / Hunting Locations
Extensive Mining library
All 3 treasure map location systems – THB, UOAM, and GOODMAN'sThe libraries are accessible via the transporter at the entrance of each building. They are simply yet attractively decorated and very well organized. Each section is logically marked and color-coded for quickly finding the rune you are looking for. All Trammel and Malas runes are located in the western-most building, with Felucca runes housed in the eastern-most building, avoiding any confusion. The Trammel building also holds a nice collection of Brittania's finest literary works.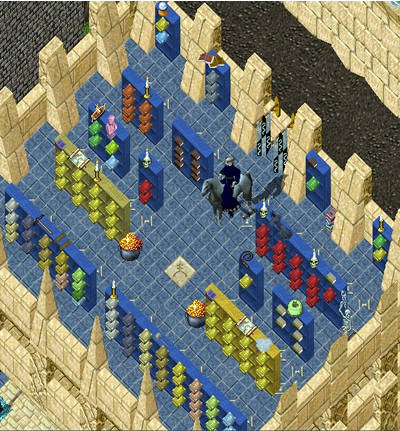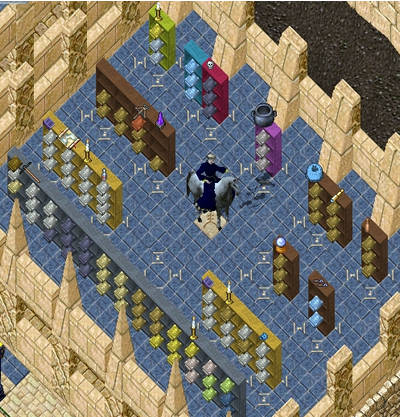 Last modified: August 7, 2011