Historic – Bird Cage Maize Elevators – Malas – Sonoma
Return to: Sonoma
Player Run Establishments
Bird Cage Maize Elevators – Malas – Sonoma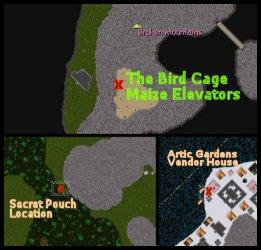 Last visited by Anev – April 10 03Name: Bird Cage Maize Elevators – Malas – Sonoma
Guild: None
Contact: Jade
Staff members: Honesty
Location: 8o 10′ N – 10o 28′ W

Southern part of the Broken Mountains in Malas.

History: What started as storage for plants and seeds, since every gardenar knows at some point you reach a critical level of storage, the grain elevator was started. The "Bird Cage" is in a 'strange location' (only accessable via a rune created somewhere else in Malas) isolated in the southern mountains of Malas. Visitors and guests are challenged to try to reach the forest of small palms just north of the talest part of the structure.

The structure is designed as a maze puzzle. Visitors are asked to find their way to the basket on the front lawn in the grove of small palms, then to the roof patio and finally back to the entrance without using the "leave house" option. An egg timer can be used to clock willing contestants speed. Bird Cage Maize Elevators is available for fun events either for groups of players, guilds or just those who want to have a bit of fun. Prizes could be given to the fastest to complete the puzzle or completing part of the maze.A rune to the Bird Cage is locked down in the first floor room of Arctic Gardens (118o 7′ N – 179o 55′ E Trammel) – a large marble building on the NorthWest tip of Dagger Isle (Artic or Ice Island). Or you can find the secret rune location not far from Luna on the edge of the Northern Crags in Malas (hint: peak at the map above for a good place to start).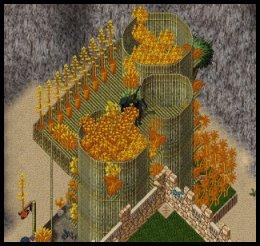 Last modified: August 11, 2011