Wonderland Rune Library and Shop
Return to: Catskills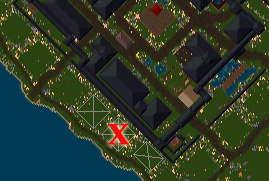 Wonderland Rune Library and Shop
---
Facet: Tokuno
Location: Southeast of the City of Zento
Coordinates: 24o 31'N 39o 1'W
Owner: Crazy Alice – ICQ #6738758
Last Visited by Assia Penryn in July 2006

---
The Wonderland Rune Library and Shop is located just southeast of the City of Zento. It had a very impressive and extensive rune library as well as many vendors selling an assortment of quality items.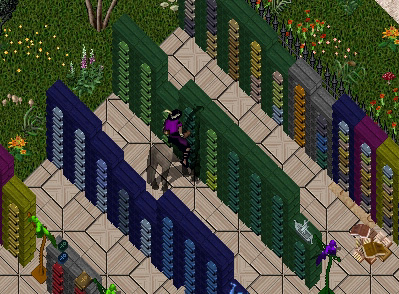 At the back of the establishment on the first floor, you'll find a very large runebook collection sorted and labeled.
The western side of this collection contains tmap runes for both Trammel and Felucca. It also has a very impressive section for Felucca mining, including several books for each type of ingot and a 7 volume set of mining in the guardzone. It also has a full type set for Trammel, Malas and Tokuno. Wow!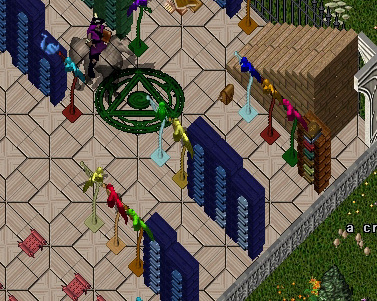 The eastern part of the collection has a large series of runebooks of locations for training skills such as magic resist and bardic abilities. Once you got your skills, there are a bunch of books to go tackle some of the dungeons and monsters. In the back part is a few books on Felucca lumberjacking spots, sorted by color.
I was impressed by the sheer volume of this public collection and the amount of work the owner took to make it so useful.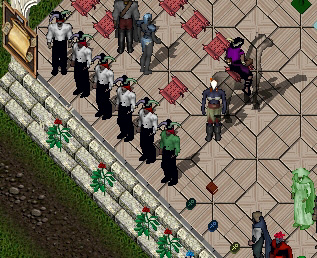 In the front of this establishment is a group of vendors to find what you need in between your travels. There are potions, repair deeds, masonry items, regs, rares, magic items and marked runebooks to name a few.
I enourage people to visit this establishment and make use of their wonderful library. If you want to give back to those who made this all possible, please visit the vendors in the front. Thank you to the owners and staff for taking the time to make an excellent place to visit and use for the community of Catskills.
Last modified: August 7, 2011