Blackmores Inn
Return to: Drachenfels
Last Visited by Finsbury M'wa – December 2000
Coordinates : 69°36'S, 28°32'W – Trammel
Having been a patron on a few occasions already, when I looked out at at the
warm evening sky I couldn't think of a better place to spend some time supping a
drink than the roof-top bar of Blackmores Inn. I headed off to Skara Brae, it's
nearest town, and jumped on the ferry. I swear I could smell, and almost taste,
the ale coming from Blackmore's as I reached the mainland docks. Heading south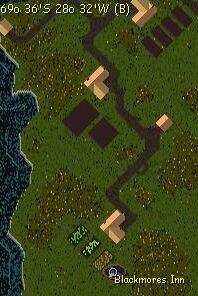 on the mainland it wasn't long before I could hear the laughter and banter of
its patrons. As is common these days, there was a gathering of adventurers
enjoying the Inns hospitality before embarking on a dangerous trip. It's a
popular meeting point for local guilds and friends of Blackmore Inoxi, the
tavern keeper. The ground floor provides an eating area should you want to host
a banquet.
Blackmore Inoxi works hard to provide a place of refreshment for his patrons,
and strives to open every night of the week where possible. Entitled to a rest
now and again, he has recently taken on a bar maid, Gabrielle, to improve the
service even further. Vendors are also on hand should anyone be calling outside
of opening hours (european nights).
Blackmore served me up another ale and drew up a stool. He sighed as he
glanced about and explained that he sold a couple of other homes to cover the
loan for the building, and to provide some long term finance for the running
costs and decor. He continued : "I grew tired of what seemed like endless
hunting and killing, and also being killed. I wanted more. I longed to fulfill a
dream that I have long held, a personal goal." And after his hard work, we now
sit in that dream.
Blackmores Inn and its staff generate a very welcoming and friendly
atmosphere and all I see around me are faces wearing a smile, even those about
to head off toward unknown dangers. Tonights band of adventurers are heading out
to explore a far off dungeon. Armed only with my quill and scrolls, I decide
it's time to head for the safety of my home. I gulp down the last of my ale and
bid everyone safe travels. I couldn't help but think of their return to this
very Inn later, retelling every moment of the nights excitement to the taverner
always on hand to listen and serve.
Editor's note: Since that review was written, Blackmore Inoxi has
left Britannia. However, the Tavern is still open and the staff there is doing a
terrific job. This review will be updated in the near future.
Last modified: August 7, 2011