The Fallen Temple of the Damned
Return to: Drachenfels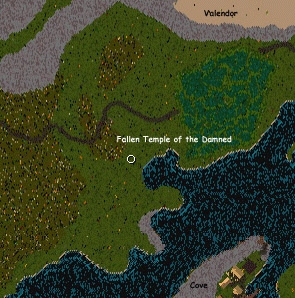 Last Visited by Stinger – Mar 02 2000
Coordinates:41°N 47°EEarly in the day I set out with my friend Frarc from Valendor in search of this temple Liron spoke to me of. "Come by and have a look", he said, "and there's a rune library too!" So we tramped out of the hot sandy desert and into the cool shade of the swamp. We dealt with a few lizardmen and spiders along the way. We even passed a fine smith hawking his wares. Just as we came upon the bay south of the swamp we stumbled across the temple and entered it's cool interior.

The Temple is situated north of Britain, west of Cove and south of Valendor. It may be reached by following the road north out of east Britain and turning east off the road at the bay opposite the city of Cove, just south of the swamps.

There are no set hours of operation for this establishment but guild events are held at the Temple from time to time. The rune library is always open.

Quiet and eerie, the Temple is piled with bones everywhere. There are large rooms on the first and second floors surrounded by smaller nooks all filled with a vast array of things. There is indeed a large library of rune books and many useful pieces of equipment as well such as a loom and spinning wheel. The ground floor great room is set like a worship area with seating for large numbers. The second floor great room has a long table surrounded by chairs such as might be used for meetings. Rumor has it the place is frequented by vampires but as I visited by daylight, I was not troubled by any unwelcome apparitions.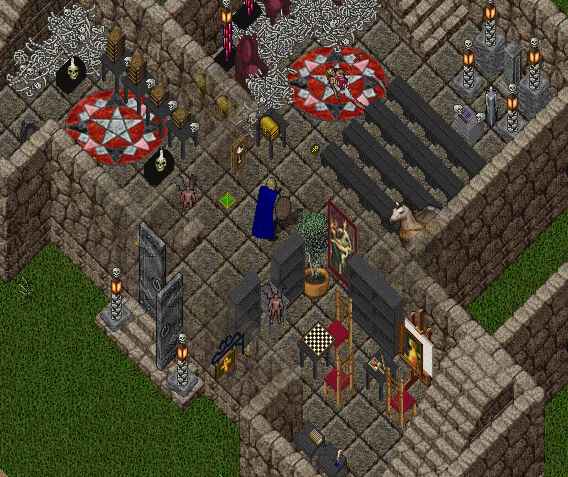 Last modified: August 7, 2011