Stratics Center on Napa Valley Shard
Return to: Napa Valley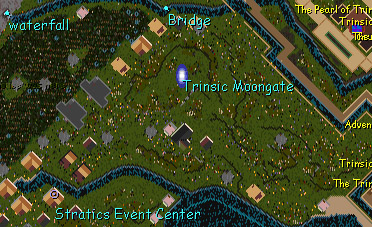 Last visited by Rocko February 15, 2014.  This establishment no longer exists.
Owned by Pelle Svanslos August 31st, 2001This quaint little villa lays just off a lazy river south of Trinsic. You can find it here. Originally donated by Thoem Bisul, the Stratics Center has been the hub for events and quests in Trammel. It's lay out is such that it has all the amenities for the beginning player. Upstairs you can find a forge, anvil, loom & spinning wheel. Downstairs is a cozy room with a fireplace that's perfect for small gatherings. Just outside is a practice dummy for sparring.
If you or your guild would like to use the Event Center for a guild function then just e-mail me here: [email protected]. Or if you have a player run establishment in Trammel then also let me know so I can add you to the collection of rune books there.
Also, you can find lots of artifacts from various players in Napa Valley. Some have unfortunately, departed our realm, but their spirit lives on at the Event Center.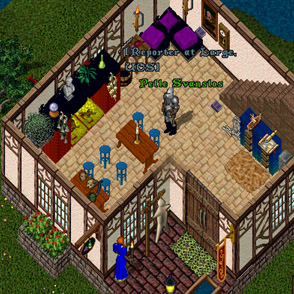 Last modified: February 15, 2014