CSD- Herald Test
Return to: CHESAPEAKE SHARD DIRECTORY
IMPERIUM HERALD

Thursday, December 08, 2011


5 Gold
Upcoming EM Events



Friday, December 9th at 8pm ET
King Crab Fishing Outing

Monday, December 12th at 8:30pm ET
RBG Mission – Royal Guard Depot @ Serpent's Hold

Friday, December 23rd at 9pm ET
Beacon and Dregs – Static Event

Wednesday, December 28th @ 8pm ET
A Fun Guy's Folly

Upcoming
Township Events


Tuesday, December 6th @ 7:30pm ET
Community Crafting/Trivia Night

Saturday, December 10th @ 12:00pm ET
Guardians Gate 5th Anniversary Festival!

Tuesday, December 13th @ 7:30pm ET
Community Crafting/Trivia Night

Tuesday, December 13th @ 9:00pm ET
PaxLair Statehood Meeting

Saturday, December 17th @9:00pm ET
Guardians Gate/RBG Auctions

Sunday, December 18th @ 7:30pm ET
5th Annual Christmas/Holiday Tree Lighting

Tuesday, December 20th @ 7:30pm ET
Community Crafting/Trivia Night

Tuesday, December 20th @ 9:00pm ET
PaxLair Statehood Meeting Link

5th Annual Christmas/Holiday Tree Lighting
December 18th at 7:30pm ET

Tree Lighting events will be held on the Island of Homare-Jima in Tokuno. The Tree is located directly East of the Homare-Jima Moongate. Overseeig this years tree decorations are Niva the Savage, Sinthe and Sinhi of the Tonkaweya Tribe along with honorary Savages Nyx, Janitor Pooper, Abby Normal, and Lord Gareth.

We have the Goblins from Pitmuck overseeing the Gift Exchange, anyone who brings a gift will receive a gift, be sure to include a book with your characters name. Chef Angelica and her staff from Moria Village will once again grace us with their wonderful food for the Great Feast and last but not least! After THREE years of booking attempts we have finally locked in Elder EM Dudley Lightfinger to light this years Christmas/Holiday Tree.

7:30pm ET – Dinner
8:00pm ET – Gift Exchange
8:30pm ET – Tree Lighting
9:00pm ET – Hall of Commons Meeting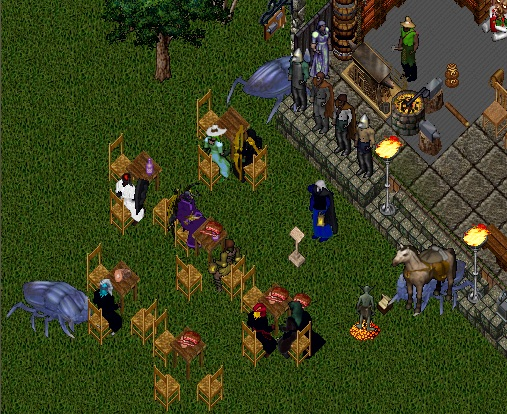 Trivia Night Information Rules
Where When: Crafters Hall Lawn @7:30 every
Tuesday Night Trivia Night will be set up in teams
(Depending on how many show up)
Each team should set up their own party chat so they can talk to each other in game. If it is a low attendance, then there shall be no teams. If you show up late (like after 2 rounds has already passed) then you can still play and get a grab bag. You will be behind in points however, so good luck! Everyone who shows up will be given a grab bag with some nice little goodies.
Each team (or person) will be given a bag of books to answer the questions with in which at the end of each round they will give 1 book back with all 5 answers in it from that round. The game will have from 5-7 rounds (7 if time permits) with each round having 1 question from each of the 5 different categories. Each question is worth 2 points apiece, therefore giving the potential of earning 10 points each round. For the first night reward of gold is given to the top 3 winning teams or players.
First Place: 1m
Second Place: 750k
Third Place: 500k
There will be no cheating allowed. That means no use of internet, or any outside information other than that which is in your own brain, so we will trust that you all play honorably and only use the knowledge in your head and your teams' brains too. We also hope that everyone who shows up has a great time. This is all just for fun. We can't wait to see anyone and everyone that shows up! Good Luck to you all!
Winter Dragonfish Tournament

The Sons of the Sea is hosting a Winter Dragonfish tournament for the month of December! Whoever catches the biggest Winter Dragonfish during the month of December, wins!

Inhabitant Spotlight!


Every now and then we take the time to spotlight someone from our community who has gone above and beyond the call of duty time and time again. Such as our favorite local Savage Niva, whom most believe to be a simple minded little Savage not worth much of your time…BUT… did you know that this little vixen is also responsible for the Community Teleport Hub even existing? Thats right, without her generosity and passion for community the teleport hub wouldn't have even seen the light of day. Niva was also one of the players who created the Tonkaweya Tribe from scratch, maintained Summit table relations, helped create and implement the Skeleton Key Shipping Company and on top of it all continues to serving on OOC Leadership and maintaining the Community Crafters Hall. So for this issue we Spot Light and Thank our one of a kind Lady who has a heart of gold and a RP range from Royal Dutchess to a simple minded Savage. Thank you Niva The Savage a.k.a Dutchess WildStar of Baja.
Last modified: December 8, 2011