Sara & Jinx's Museum
Return to: Baja
Sara and Jinx's Luna Museum
Brytt Heathard
Location: The Fortress of Luna, East.
Last Visited: June 12th, 2010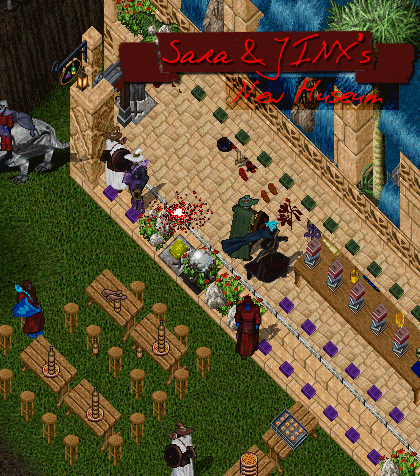 Last night, citizens gathered for "ooh"ing, "aah"ing, and more than one kind of helping of pie as Sara and JINX unveiled the long awaited New Museum and Vendor House in Luna. EM Crysania made an appearance, and did her fair share of "ooh"ing.
Visitors for the grand opening were treated to pies and ale but an unexpected provocation resulted in a museum-wide pie-throwing fight! It's not every day that you're treated to being able to see items virtually impossible to see anywhere else, and certainly not every day you do so while trying to dodge flying custard. Fortunately, only a handful of museum artifacts were broken during the fight, and none of value.
The first floor contains book and tavern rares, as well as a rune library and the house teleporter to the Abyss: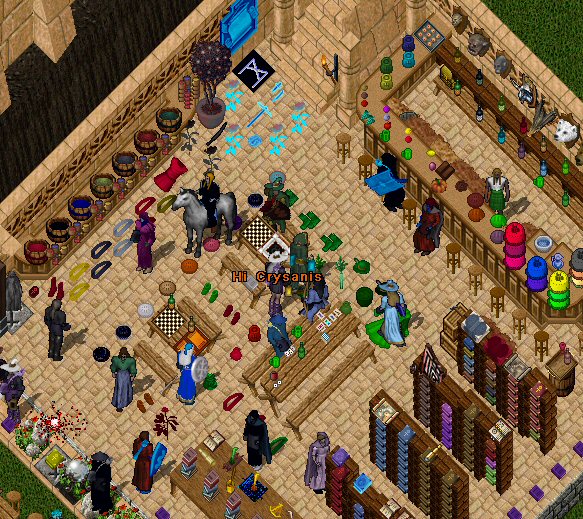 The museum's second floor: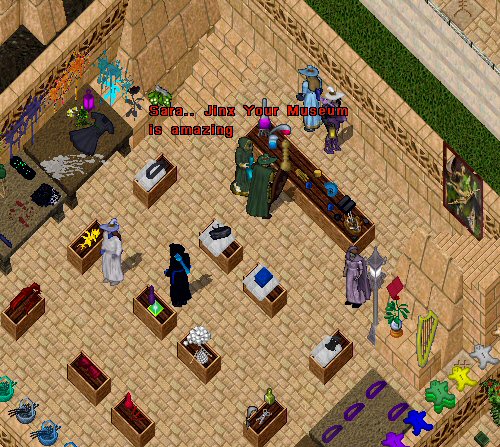 A much more darkly themed third floor: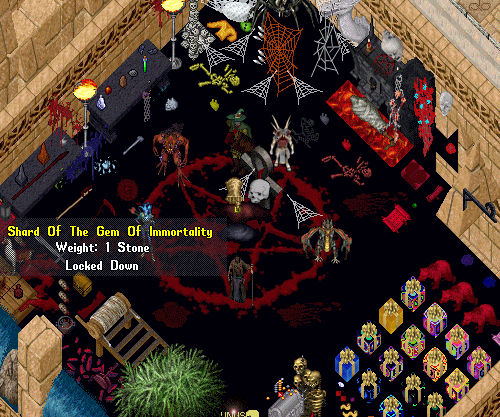 And the roof!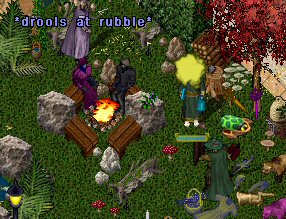 But, hold… who was this with pie in her face? Not refined, distinguished EM Crysania… Whose righteous retribution might she have provoked that knocked her to the ground and left her picking crust out of her hair?
*pauses, momentarily afflicted with writer's block*
Citizens! Be sure to stop by Sara and JINX's New Museum and Vendor Mall in Luna. Here is an extremely short, random list of some of the unique things you'll see! Be sure to note the Minstrel's Harp, which may make many a bard envious, for there are only three known remaining in existence (Seppo's doesn't count!).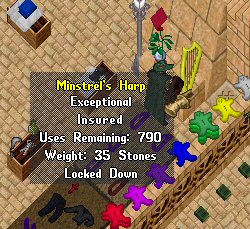 A Shard of the Gem of Immortality
A Minstrel's Harp
Cotton Spun from Bits of Santa's Scruffy Beard
A Knitting
Daemonic Pain Needles
Grim Warning
A Dragon Egg
Goblin Finger Paints
Goblin Paint Spill
Goblin Oil
Goblin Bedroll
Ghost Ship Anchor
Essence of Empowerment
Essence of Destiny
Essence of Divinity
Essence of Renewal
Yatterberry Bush
Death Vortex
Void Core
Tear of Sacrifice
Ettin eyeballs
Crude Corroded Manacles
Obsidian
A Diseased Seed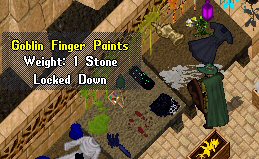 Nest with Eggs
Sugar Apple
Jawbreaker Gum
Naughty Switches
Figgy Pudding
Lemon Fudge
Lemon Lime
Sasparilla
Basin of Crystal Clear Water
Cave Dweller Fur Robe
Arachnid Libram
A Blackrock Engineer's Toolbox
Moonberry Rose
A Brief collection of Fictitious Works Related to Ter Mur
Irish Dancing Shoes
Golden Brew Tavern's Pumpkin Wine
Yule log
Calm "…before the storm"
Ornithologist's Map
Deed to a Green Tent
Deed to a Blue Tent
Legu Ryi the Malevolent Demonic Claws
A petal from the Golden Lotus of Heaven
I Died Multiple Times on Baja and All I Got Was This Lousy Shirt!

Thankye, Sara and Jinx for creating such a marvelous public service building!
Last modified: October 19, 2011