Tel'Ereg ar' Cu (The Thorn and Bow Tavern)
Return to: Pacific
Player Run Establishments
Tel'Ereg ar' Cu (The Thorn and Bow Tavern)
Last visited by Assia Penryn in May 2006

Facet: Trammel
Location: East of Wrong, in Eldador
Coordinates: 23o 24'N 55o 20'E
The Tavern does not currently have a regular staffed schedule.

This lovely tavern is located in the heart of Eldador. A pleasant walk around the mountains from the Dungeon Wrong. This building regularly hosts not only the tavern, but is the central location for many of the ELF festivals. Elf Web Site: http://www.elvenorder.com
As you enter, you'll find a small corral on the right to stable your mount while you attend the tavern's festivities.  As you can imagine, should they welcome horses, llamas and other animals into their establishment than the floor would be quite messy indeed… yuck.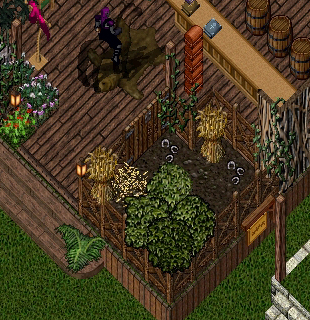 On the bottom floor is a lovely tavern complete with board games, a cozy fireplace and plenty of seating for its thirsty guests.  A large bar sits along the right side stocked with a great variety of elven beverages and food as well as several others from various parts of Britannia.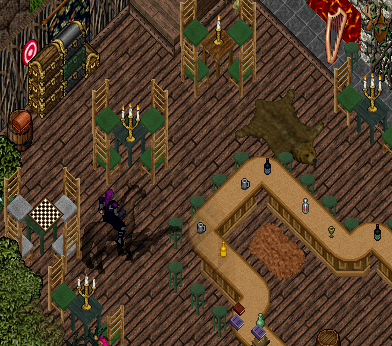 The second floor is used mainly as a prize desk for events, however it doubles as a post office for the elven kingdom.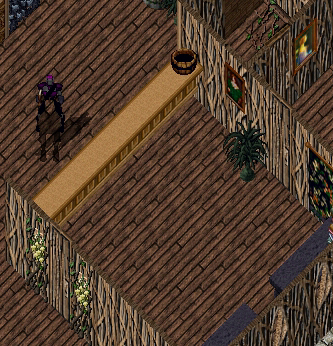 The third level is used as an arena for events with plenty of places for spectators to sit including a very nice grandstand. This area is heavily used during the popular elven festivals celebrated several times a year.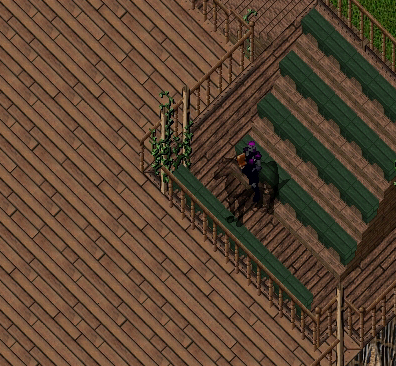 Last modified: August 8, 2011