Foxtower Mall
Return to: Drachenfels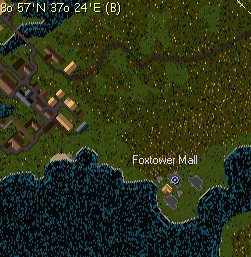 Last Visited by Famine – Sept 5, 2002

Coordinates : 8°N, 36°E – TrammelI was invited by Mystery to take a look at her shopping mall; The Foxtower. The tower is located less than a minute's run from East Britain Bank

With a total of 29 well-stocked vendors (4 on the doorstep and another 25 inside the tower), you are able to buy almost anything from magical fish to vanquishing weapons, at reasonable prices.

I spoke to Theon who operates 3 vendors, and Mystery herself who operates the other 26, who told me that they started the mall with just 2 vendors, selling excess loot from treasure hunts. Day by day they increased the vendor population up to the mall that stands now.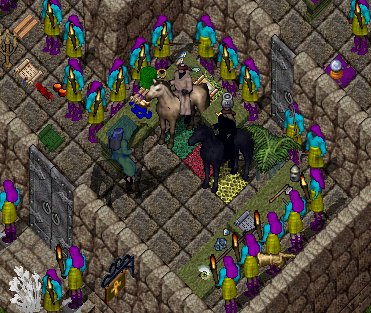 Aside from the odd troll or Harpy that wanders past, there is very little spawn in the area, and with the city of Britain close by, the Foxtower is a safe place to shop, and with over 2300 visits, it would seem that the mall is a popular place to shop.
If you have yet to stop by the Foxtower, and find yourself in need of some well-priced items, then pay a visit!
Last modified: August 7, 2011