Come see the Beauty of Casa De Igga Castle, Great Lakes, Felucca
Return to: Homes and Castles
Recently I had the pleasure of an Invitation from my good Friend Lady Rachel of Rachel's Runes to see one of Great Lakes finest houses. Lord Monster Joe had invited myself, Lady Aalia of Winterbreeze Library and Lady Rachel to a tour of his Felucca Castle near the Western Mountains of Wrong.
I departed from Lady Lava's Rest Home in Luna where I had been staying and met my two lovely companions at the bank in the middle of town.  Our host met us in the Paladin Hall upstairs and we started our journey to see the Castle.  The towering walls of Casa De Igga were soon in our horizon where a pair of delicately carved statues greeted our arrival.
Lord Monster Joe looked at us with an expression of great pride and gestured for us to come inside. At first glance the castle is filled with beautiful decor ideas from days gone by like Yarn Roses and a black Grand Piano. As he leads us around the corridors and rooms I notice that it is mixed with clever new ideas that I have not seen anywhere.  Three years of patient collecting & steadfast work to combine into one of the most beautiful houses found on any shard.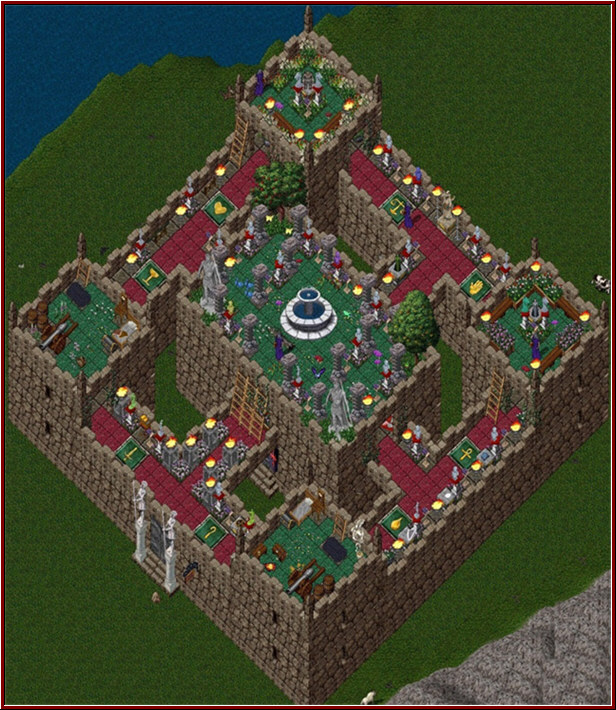 I am silent as I mark down my notes sitting not far from where Lord Monster Joe and Rachel's conversation invade my thoughts. Let's listen in…

Rachel:

This has taken tons of work. Each little thing…
Joe:
It sure did but as I said I really did have a plan for a long time of what I want so I hit the ground running.  I knew the pillars would fit on the roof. Curtains came out and I knew I wanted them in the halls. I am very determined I knew when I started as a young man I seen a castle and thought to myself one day I will have one.
Rachel:
And it is beautiful!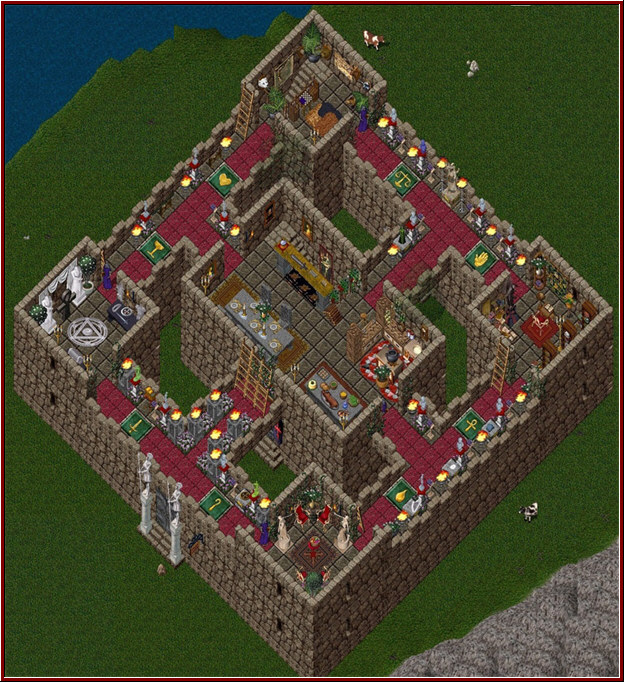 Joe:

Why thank you. Anyone who has a clue what its like to decorate knows when they see this place how much work went into it. I love it because it looks full and not cluttered.
Rachel:
It looks like a home.
Joe:
Yes that is what I was going for. I wanted people to see that you don't have to have super rare or expensive stuff to make your home beautiful.
Everything is placed just so, from the aquarium back there to all the rocks above. It takes patience. So you had some idea in mind when you placed the castle then.
It didn't hurt that I was collecting and storing all the stuff I would need like the nets and rocks. I had the statues I wanted to display and then I started changing them out for whites. I had a basic idea of how I wanted to display them.
Rachel:
They look nice though even this table with the pillow and book and vase/flowers. It is all tastefully done. You make me want to tear something down and rebuild it *laughs*
Joe:
I am a little excessive with some of the stuff like the 6th year braziers but it works well. I even grew some of the plants and made some of the furniture in this place so it is a big part of my personality.
I am very meticulous about what I do so I would not show it if I didn't think it wasn't perfect.
Rachel:
You remind me of a friend of mine. Everything has to be just so but when he is done ohhh it is beautiful. It is a work of art.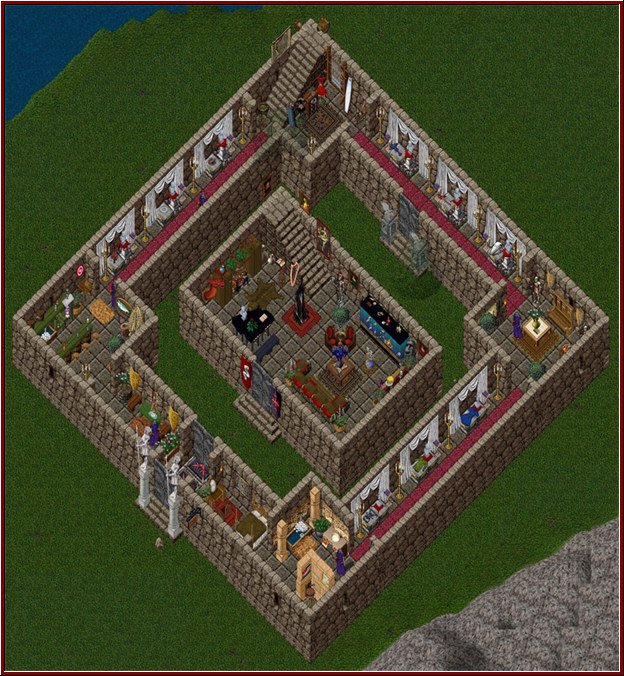 As I follow the two of them from room to room, I spy Lady Aalia outside with her paints and easel furiously working on sketches for us to view later. I smile and wave to her unaware that only moments from now a Brigand band will appear and she will spend the next twenty minutes or so fighting off the Brigands with no help from us because we will be in the main room in the center of the castle admiring a kitchen. I turn to follow our host into that room and begin to follow the conversation again.
Joe:

I must have had that kitchen in every spot of this room. This was by far the toughest room to decorate.
Rachel:
It turned out well though.
Joe:
I like to think so. I even got a marble floor. I wanted to put the rubble wood floor in but it is very expensive. I like what I have. It sticks with the theme of every day items. I wanted an island in the kitchen. I think the stacking worked out well.
Rachel:
Yes it did but that even took some work. Raise this. Lower that.
Joe:
Yeah it all works out in the end. I like the fishing nets.
Rachel:
See and I like the nets instead of gozas.  It keeps the castle feeling with the stone under it instead of just covering it up.
Joe:
Yeah but gozas are must cheaper *laughs* I don't want to do the math.
I guess that's why I like the white statue busts. The hunt is so much fun.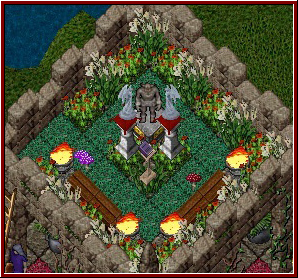 Rachel:

And you still have some to collect?
Joe:
I do but I have not bought a new bust in about 2 years though.
I like detail like that green lich statue down there. The lore in the book about Juonar refers to the fact that the lich was green.
Rachel:
So it fits in perfectly then.
Joe:
I try to make it so. I do have the Clanin Spell Book from the Felucca event displayed.
As I listen I lean over the railing just enough to see Lady Aalia coming in from outside to sketch the Castle's interior. Her easel is broken in two places and she doesn't seem to have all her paint pots but she signals to me that everything is ok so I follow Rachel and Joe up to the roof top.
Joe:

I know from experience that I have asked people to come see my home and they won't go because it is in Felucca which is another reason I am happy to have you ladies visit.
Rachel:
That is silly. There are some lovely homes in Felucca. It is their loss that they missed seeing this.
Joe:
Yes no Felucca under any circumstances. Well I grew up before Trammel so no big deal to me. The Castle is private but safe tours can be arranged.
Finally we are at the top courtyard and I can see dead Brigands sprawled out in the grass fields beyond the castle walls.  I turn to my companions and ask my first question wondering in the back of my mind what or who is out there killing Brigands.
Andrasta:

You are a very talented decorator. Do you reach out to others for ideas and in turn teach them?
Joe:
I have a good friend that helps me out. I could always use a woman's touch so color schemes and furniture ideas always come in handy. Her name is Hearts Desire and yes we help each other and others as well.
Andrasta:
I have seen her Luna house. Does she have two by chance?
Joe:
Yes she is a very talented and good friend so when she has a new idea we kick it around and tweek it and get it to what we think is good.
Andrasta:
I have been in the public one. She is very good.
Joe:
And she is not afraid to tell me if something looks silly.
Andrasta:
That is what friends are for *smiles at Rachel* Although Rachel usually ebolts me.
Joe:
The private one is just as good if not better. When her castle is done it will be open to the public.
Andrasta:
Is there anything else you would like to tell our readers?
Joe:
Just that you don't have to have uber rares or a big home to make it beautiful. You just need some imagination and a lot of patience.
Andrasta:
*smiles* I will tell them. I hope it will bring more to see your beautiful home.
Joe:
Thank you *smiles* I would really like that.
Rachel:
Thank you very much for giving us a tour Joe and letting us see your beautiful work here.
Joe:
It was my pleasure. Thank you for coming.
Andrasta:
*smiles* It was our pleasure.
Rachel and I rejoin Lady Aalia at the castle gates where she indicates that she has successfully captured a fair representation of the beauty of this place so we bid our host a fond farewell. Rachel summons us a gate back to the Paladin city where our next adventure might begin. I notice as I walk through the gate behind Aalia, amongst the papers and paints, a big bag of loot slung over her shoulder and my mysterious hunter is found.
Andrasta's Postscript: Thank you to Monster Joe for the patience he has graciously shown. This review was done at the beginning of the summer and was always intended to be included in our new Homes & Castles Reviews. I just didn't know that it would take so long to become reality. So to you Joe, Thank you for your patience. This article is dedicated to my two companions that day as they are as good of friends that one could ever ask for. Thank you Ladies.
Last modified: September 12, 2011