CSD- Britannia Mage Tower in Kijustsu Anei Village
Return to: Kijustsu Anei Village
Britannia Mage Tower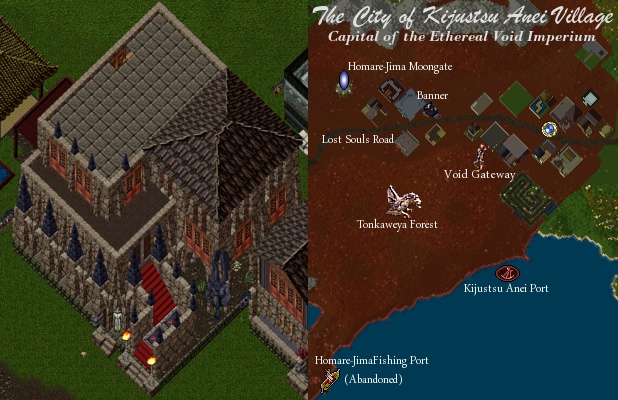 Township Location: The City of Kijustsu Anei Village
Nearest Moongate: Homare-Jima
Proprietor: Lord Gareth
Combat Allowed: Yes
First Floor Description:
Basement of the mage tower, personal storage and illegal magic item stock
Second Floor Description:
Mage shop with rare and unique magic item displays. The west area is the first floor of the Mystic Library that houses EM and player written spells, rituals, prophecy and more. All spells are available to be used in RP by anyone on any shard. *Please do not use anything from the Library during EM events without expressed permission from your event moderator*
Third Floor Description:
Continuation of the Mystic Library and Alter room located on the South side. The ritual room may also be used by anyone.
Fourth Floor Description:
Roof of the Mage tower no special areas.
Additional Information:
Submission of player written work to the Mystic Library can be done by placing the book into the Mailbox located on the steps. You can request a copy of any item in the Mystic Library and request special decoration in the alter room by contacting Lord Gareth at ICQ#267944224
Last modified: May 7, 2012