Shouting Agaris, ran back to us. "Hurry, he's telling the truth. They are trying to make another go of it!" Running back to the tunnels, we found more mercenaries . Wondering who was leading the band, I quietly began searching. Hiding by a wall I found Targon the Vicious.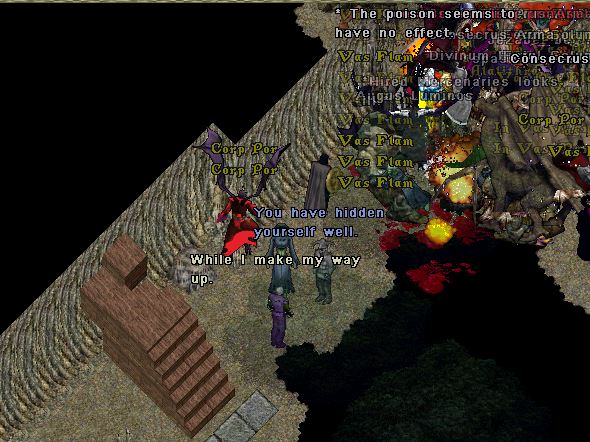 I should have hired Orcs…" he grumbled. " I told them,  give me three ships and a crew of Orcs! And I would take care of this problem. They give me humans!" In my surprised I broke stealth. "Orcs?"  Spitting, Targon the Vicious replied, "What do you care, you'll be dead. If these stupid mercenaries can hold their swords right… " "The Royal guard will win. You might as well give up." I told him.  . "Agh…I'll get the higher ground then! Targon the Vicious shouted and ran up the stairs. Seeing their leader turn to leave, the mercenaries began to flee. Kicking one who was trying to run by him. Targon  shouted at the man. " Why are you fleeing.  No fighting, no pay."  Pulling away the man continued to running.  "They know they are no match for the royal guard." I told him.  "What?" I've come to kill a Pirate. You should be thanking me."  Laughing, I told him. "We found the map for the pirate battle. and blocked the harbor. "This can't be!" he yelled trying to recall away. Failing he looked around for another way . Finding none, he looked at me and begged. "You could take me prisoner, right?  Just put me in a cell?" He reached for his shoulders. I could tell that they had been crafted on Island Chains of Tokuno. The Emblem of the Fox Above a River on his shoulder pad. Looking at them, he drew his sword and attacked Agaris. "No… we don't surrender, even if I was betrayed. I have a job to do!"  Agaris parried the the attack. "Surrender." "You won't take me alive!  Targon said breathing hard. Ugh… I should have… hired the… Orcs…and dodged a blow. "You think that hurts?" he laughed as lunged toward  Agaris. Shuddering as Agaris sword pierced his heart, Dying, he fell to the ground . "That seems to be the last of them, I hope. The others fled." I need to go to see if Gallia is getting anywhere.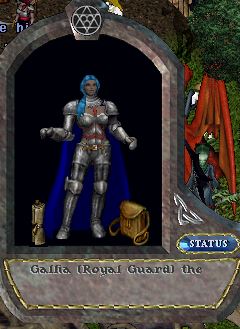 Arriving back at Buc's Den, we found Gallia and First Mate Tibbers talking to a woman, "Are we in agreement?" "Yes, "Captain Elise, The Golden replied. "We hear anything, we send you word But what is to stop you from trying to capture me after you are done?" "My word." Gallia said, her forehead wrinkled in thought, "Wait…That name… is familiar…Wasn't there a noble man's daughter who drowned years ago? Captain Elise, The Golden Laughed bitterly, " Drowned? I am very much alive, no thanks to the word of "Royal Guards" and the Britannian navy." Gallia asked puzzled, "How… what are you doing leading Pirates? Your father left you an estate, if you didn't drown, you could have come home." " Oh? Am I too well mannered to be a Pirate? Too well spoken, should I have come home, to what? A family that left me lost at sea and for dead? Oh no, the pirates took me in, they raised me. Captain Elise, the Golden spit is discus. "Britannia…So then, you want your deal, then we'll seal it. Gallia" "Then it's settled. But I do have a question. How did you evade capture so long?" asked Gallia. " Whitebeard? Whitebeard trades his secrets, bribes… but no one has ever heard of you." Oh? smiled Captain Elise, The Golden:" as she rans her fingers across the golden headpiece over her hair, "Of course they have, they just didn't know it. Who do you do with a slave girl, who speaks so well, found on a Pirates ship? You let her go, poor little girl snatched from some port or other, no questions asked." Gallia nodded her head, " And no one suspects you being a Pirate, a lot less the ship's Captain." Captain Elise, The Golden laughed, "Clever… for a Guard. Or are you just a guard too, just as I am a helpless little girl." Ignoring the comment, Gallia said, " Then we have a deal for now."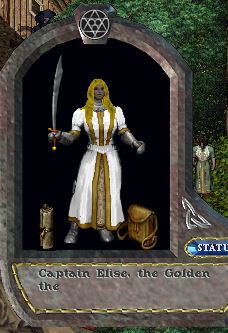 Watching her leave, Gallia turned to us. "I don't like the looks of that one. Whitebeard, goes out of his way not to kill. But that one, she has a look in her eye. The Blood Flagon Pirate Captain, huh? "That could be." I said thinking about what I knew. "King Blackthorn, wanted me to make a deal with them. But, there is something… vicious about her. Gallia contiuned, "I will have to inform him of what I've observed." "She seemed familar to you" I asked. " Not familiar, no." Gallia stopped, " But there was a girl who was lost at sea some years back. I remember coming across the files, when cleaning out a room. Her name was Elise, her father's symbol was a Golden, something… I can't remember what. I don't know, there was not much to go on. They thought the girl drowned at sea. It's perculiar, Captain Elise, the Golden." Gallia said thoughtfully. " I don't know how much I can advise Blackthorn that this Captain can be trusted. We will have to, for now. They were clearly trying to kill her and take over the Blood Flagon She will trade information, for our temporary protection… for now." Remembering the murder in Skara Brae, I wondered if there is a tie to the man killed in Skara, He was in golden armor and had a bag with a golden image. I'll have to talk to Agaris and Dahila later. "Oh, I believe Whitebeard had something to tell us?" Gallia scratched her head, "while I wash this hair dye out, go see what he has to tell us. Agaris and I nodded as she left.