We found Agaris by the Britain moongate. Strangely he was counting his steps from the gate. At first he didn't notice us. When he did, he lost count of his steps. When I asked what he was counting for, he just shook his head.  But he let it slip that Captain Whitebeard had given him something to hid. It had to be the log that the captain told of about. I looked around. Perhaps I could find where he hid it. Just then I heard Agaris mention going to Felucca Britain. He had followed a group of Blood Flagons. It seemed that they left code books in several of the buildings. The books were instructions. Agaris wanted us to find and record what was in the books. Each building was marked by red leaves.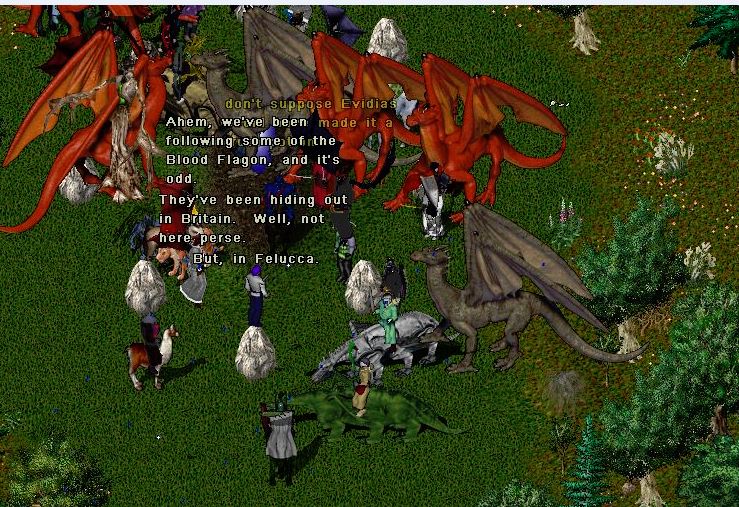 With the recent attacks, we stayed alert while walking up the road. We hadn't gotten far when we were attacked by a band of orcs. This time the battle was short.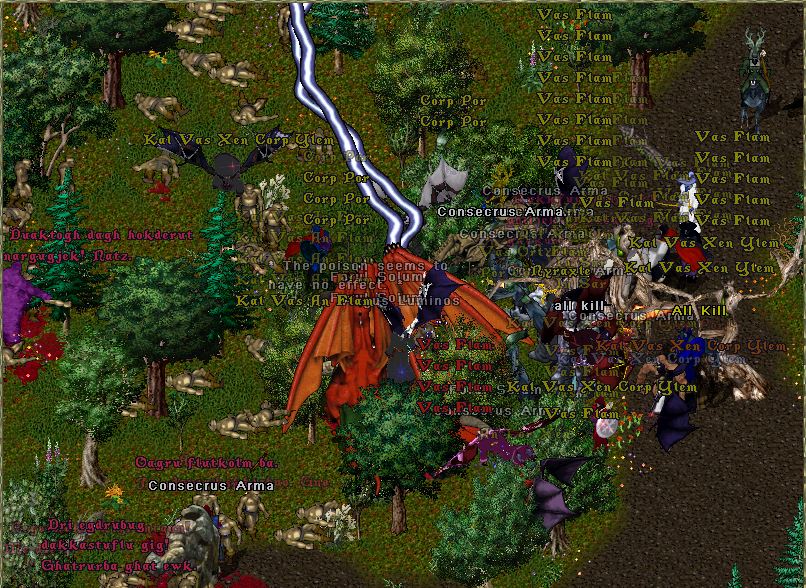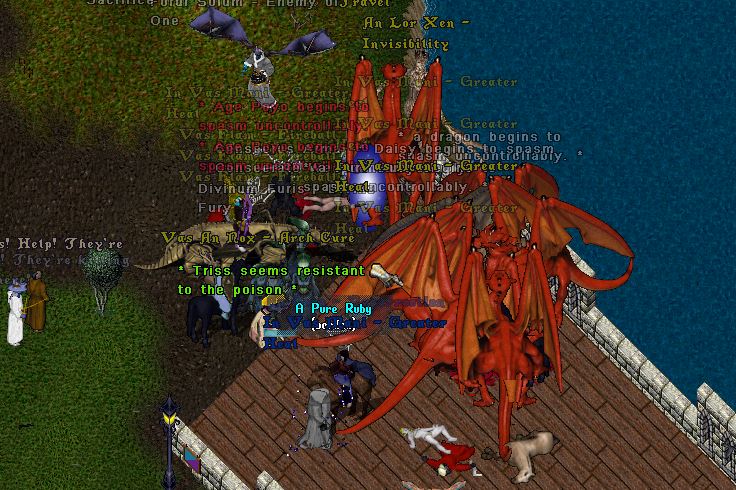 When we had arrived at East Britain, I left the group to began my own search to find the books. I arrived at the West Brit Library and was able to read the book 1 before Agaris and the rest arrived. It contained orders to capture Captain Elise the Golden and her crew without harm.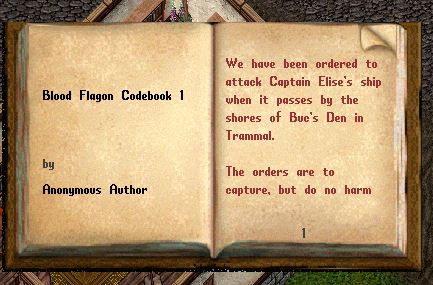 Captain Corian was to be informed that the capture had happened and that all agreements with the Blood Flagon were off. The next clue I found was at the West Brit healers. It seemed to be a list of things to do. One of the items was to find a small scrap of paper that had a bird crest on it. It had to be the one Sherry found. Hearing the some one approach, I looked for a place to hid. Even though it was Agaris and a small group of guard, I decided not to announce my presence. As soon as they left, I continued my search. I found book 3 at the East Brit. mage shop. Again it mentioned recovering the scape of paper.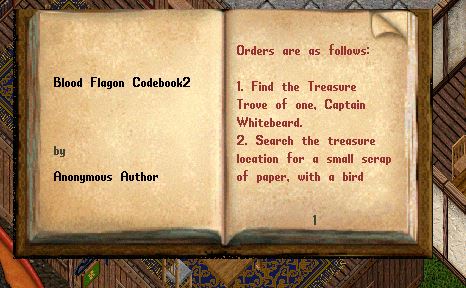 This time though failure would be rewarded by a bounty. The last book I found at the Calvary Guild. It contained orders regarding the spy. I felt relief as I read it. There is no spy in the Royal Guard. The king will be glad to hear this. Though it still it was disturbing to learn that the spy was a servant. It did make sense, servants are ignored to the point of being unseen.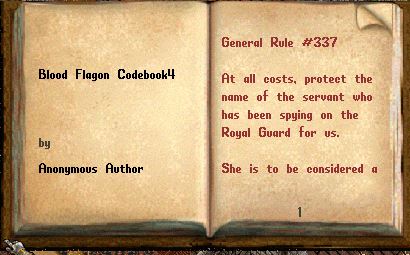 When I rejoined Agaris at the Cavalry guild, they were discussing what the books had told them. Agaris told us that Merrick said that Elisa the Golden was Tolivar's  granddaughter. That would explain the orders not to harm her. With concern he read the page torn from the last book, he then began running down the road. He lead us to the crossroads just outside the mountain pass. But alas we were too late.  There on the ground was a bloody sash, a sword with a marking from Skara Brae, and instructions on how to conduct a ritual. Looking around for further clues, we were again attacked by orcs. When the battle was over, Agaris opened a gate back to our Britain headquarters.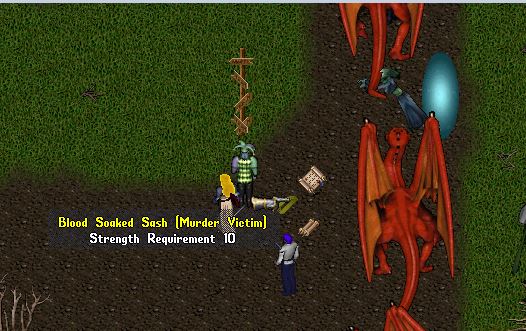 Captain Corian meet us. He was pacing angrily back and forth mumbling to himself that he had not signed up to interrogate friends." I shouldn't have had to interrogate Merrick. He should have trusted me."  Finally he looked up and told us what he had learned from Merrick. It was very little as he would only talk to Dahlia. But when I agreed to it, he added a condition.   Corian held a small vial in his hand.  I moved closer to see what was in it.  All I saw was a swirl of colored flecks. The captain on continued holding up the vial. I have to deliver this vial to Tavain. He said that only Tavain would understand. Still looking at the vial, the Captain dismissed us. Staying behind, I overheard him say that it was odd that just when Vos decided to tell us where Tolivar is, Merrick would give me the message. That is very strange. I left to give the King my report. After that, I decided to go check on Vos. I had a feeling that something was about to happen.