Agaris looked up from his papers, "Have you heard, Merrick turned himself in? I am not sure what it is about, but Dahlia would not tell me anything. Captain Corian has been speaking to him since."  " Yes,"  I replied," I was with him when he decided that. He turned himself in because of Tolivar the Fence. Agaris thought.  "Tolivar,  huh that isn't important at the moment. We can speak of that later. There are more pressing issues." Looking back down at his notes, he explained." I was sent in Dahlia's place. It seems late last evening, Dahlia and Corian changed the plan. They decided to send her to the parlay, in disguise of course. It was believed to be safer, and it will give her a chance to get a read on this Pirate Captain."  "I hope that doesn't go bad. Does the King know about this?" I asked. " All has actually been going well, strangely." He looked worried. "The extra Guards placed outside of Vesper guarding the entrance from land to Buc's Den has helped. We tried to get some placed on the island itself, but believe it or not, the town's folk of Buc's Den didn't exactly appreciate the thought. So we will have to make due with reinforcing it from the Vesper side." he replied trying to reassure me. Hum, I thought to my self, he didn't answer if he had informed the King. "Were you informed of the map that was found?" I asked. "Yes, to that effect, I would like to thank Governor Jov of Trinsic. It seems his extra ships have been enough to discourage any Pirate Galleons from trying to hang around outside of Buc's Den. The king was very pleased how Trinsic's support was instrumental in making this parlay happen. We have been told to report and make sure the parlay goes through unhindered. We can enter through the Vesper side, and make sure the Guards are still safe as well. As it is the easiest access point, even if it requires a bit more force for whoever our enemies are. We should proceed away. He stopped looking at me. "If you notice Dahlia in disguise, just ignore her. "
With that Agaris called for the royal guard and we left for Buc's Den.  Arriving at Trinsic side of the gate, we were attacked by mercenaries. Stealthing over to leader, Targon the Vicious, I wondered who is he working for? That wasn't important now as the battle became heated. "Hold the gate!" shouted Targon the Vicious, "You don't get paid if you die! Ha… well at least I don't to pay the bloody fools. The rest of you better not fail me! " I couldn't help but notice that Targon the Vicious stay out of the battle as he shouted at his men. "How dare you flee from combat, if I get my hands on you. "he yelled at a retreating Mercenary. he yanked him back , "You, keep fighting. You die you don't get pay!" he shouted at the man as he kicked him a back into the battle." "They told me, "Bandits are weak, don't hire Juka, hire from the Tokuno Island chains." He muttered to him self. Spiting on the ground, he began berating his men again. "You, keep fighting. You die you don't get pay! At least Juka get results." I looked at him in surprise.  Hiring Jukas? I looked around to see where Agaris was. He was surrounded by mercenaries. I would have to inform him after the battle. Targon the Vicious: continued yelling at his men, "You fight like rabbits! he shouted kicking another mercenary. Seeing we were winning the battle, Targon turned to sneak away muttering . "Why did I not hire Orcs? I told them, you can't take it from land. Use your bloody ships. Did he listen, No, we can over power them." he told me. Well I'm out of here, there has to be a better way in." and he disappeared.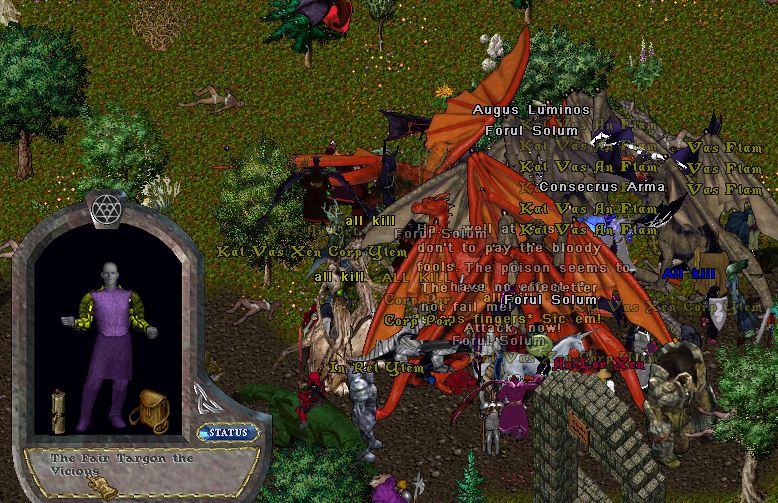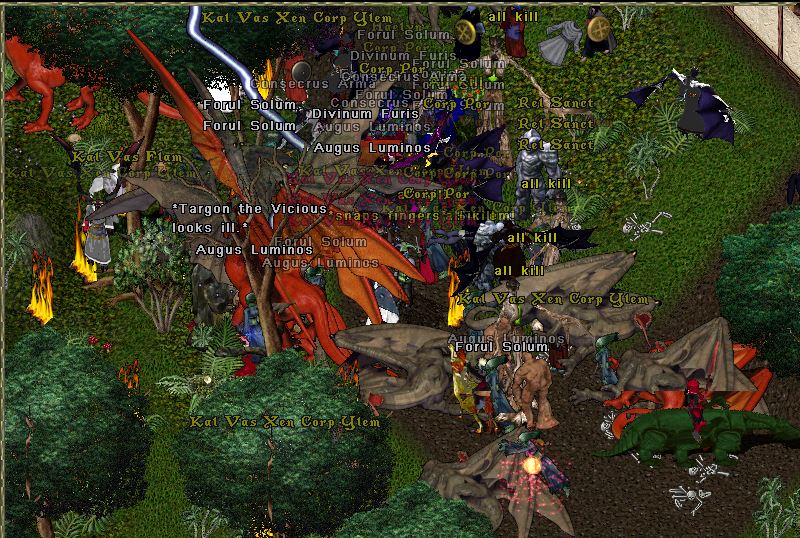 When I was able to return to Agaris"s side,  he was  wiping the blood off his blade, "Huh, they tried anyhow? We should get into Buc's Den. I don't think that one's ready to give up." He began moving toward the city.. We were greeted by Gallia, a member of the Royal guard. She seemed familiar. Looking carefully at her I realized it was Dahlia. Agaris approached her, "We encountered some resistance outside of Vesper." Gallia considered what Agaria said. "Did you and the Guards manage to hold the entrance to Buc's Den?" she asked "Yes, we did" he replied. "Is this the Captain? Gallia whispered?" We will speak when it quiets down." Looking up, handing Agaris a note, "There is word of an ambush. What do you want us to do? she asked, " It seems their plans changed, but someone slipped up."  While they were discussing their plans, first Mate Tibbers sauntered up," Well we be not exactly t' only ones after this treaaye." Ignoring him, Gallia added , The source is mostly reliable."  "We'll take care of this." replied Agaris, turning around, he was shocked to see Whitebeard was listening. "Hello Whitebeard? Why are you here?" A good pirate stays on top of things." he winked at Agaris, "I have news of the mercenary's. They've somehow dug a tunnel through the side of Buc's Den. It isn't very stable, but it'll allow them to sneak in from the edge of the Island, and into the main tunnels." Agaris considered what Whitebeard had told him. "Yes, far enough away no one would be looking. Dahlia seems to think… ahem, Gallia, seems to think it's good. The information, that is." he quickly looked to see if anyone noticed the slip. I shook my head.  "I will check it out, wait here. Just in case it is false…." said Agris started walking away. Captain Whitebeard stopped him. "We need to speak after your guard has stopped the  mercenaries. Meet me in Britain." Scowling, Agrais looked at him, "Where exactly Whitebeard? I don't feel like hunting you down." "The Pub below West Britain Bank, I won't speak of the matter here. It has to do with Merrick." Whitebeard replied walking away.