When Lady Dahlia called for a meeting, King Blackthorn sent me to see what her concerns were.  When I arrived at the meeting hall, it was already crowded with the Royal Spies.  She was warmly greeted by Thalia, Natsuhi, Longtoohz and others.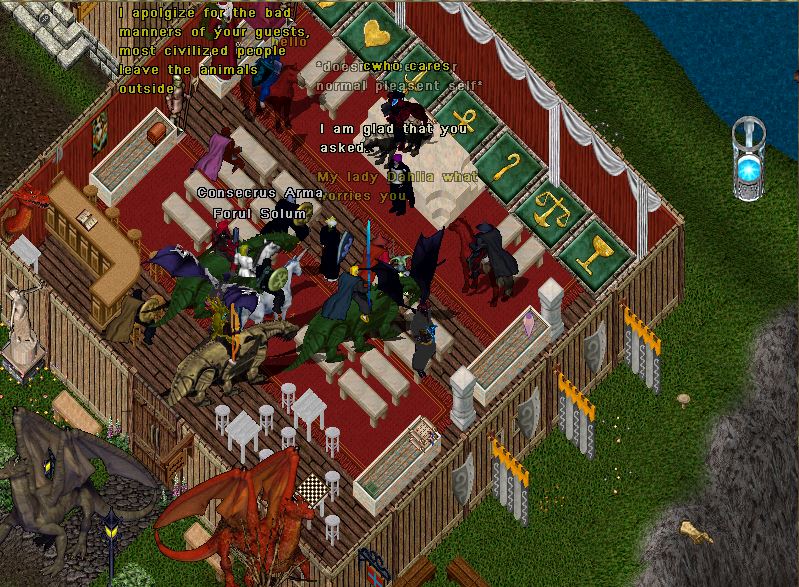 I could tell that Lady Dahlia was not  her normal pleasant self.  Instead she seemed angry with us.  I asked what the trouble was.  She scowled at me, responding, " I am glad that you asked.  In fact, I have a simple question for all of you."  "Shoot" , said Longtoothz.
In a demanding, annoyed tone, Dahlia demanded! "Who is the Spymaster."
We looked at each other in confusion.  Lady Thalia asked question we all had. " Today?"
"Do you think that amuses me?" Dahlia stated turning to Lady Thalia
Bravely, Lady Thalia continued, "I believe that you are the Spymaster, my Lady."
This answer seemed to make Lady Dahila even angrier.   "I am? Not Merrick? or a handful of other people, who seems to ask for things and all of you  get it done.  Why is it that when Merrick says jump, all of you keep saying, how high?"
This caused even more confusion.  We had been asked by Captain Corian to keep an eye on Merrick.  He had told us, he would inform Lady Dahila.  Could he have forgotten or worse had he been delayed.
" Merrick seems to cause a lot of trouble. Its more that we're trying to keep him out of it." answered Lady Thalia.
Looking tired Dahlia sighed. " Last time I checked, he retired,  he has no affiliation with the Royal Guard, or  King Blackthorn.  I know you are all just trying to help. But I am afraid Merrick has gotten himself mixed up in murky things." Shaking her head, Lady Dahila added.  "Do you know who just called me in for a meeting?   The King himself . He asked me if what Merrick was doing endangered  safety of Britannia. "You  know the look I had on my face, when he asked me those questions and I could not answer him?."  "The King asked me if Merrick was putting the safety of Britannia in danger, I didn't know  how to answer."  Lady Dahlia sighed again
Rock stated with a frown, " then maybe…… the king should be king like and come and kill him"
" It isn't that Rock."  Dahlia replied. " I have gotten too used to doing things Merrick's way.  I am not sure I have that luxury anymore  It is a blurry line is it not?"
We became quiet and thoughtful.  " We should have informed you what Merrick was up to." I told her
" Corian was right to go to Blackthorn with questions about what Merrick was doing. He had a right to.  Though I wish he had also informed me." said Lady Dahila.
Hum, I thought to myself.  That is strange that Corian hadn't informed Dahila.  I wonder why.
Odd that Corian didn't confront Merrick though." Lady Thalia pondered.  "But  then Corian… does things by the book."
"Have we been appointed knights now? Asked Restless.
Shaking her head, Dahlia replied. " The King feels we would be more effective as Royal Spies for now."
"I'm not trying to crucify Merrick, he taught me everything I know. But we need to handle this, Merrick made it our issue, my issue." said Dahlia. "What has he gotten himself into."
"Perhaps we should question Merrick." said Restless.
"Lady Dahila," said Lady Thalia, "I think it relates to a past obsession of his and Whitebeard. I have found Whitebeard."
Jumping up Rock shouted. " Ok lets kill him and be done with it."
"Lady Thalia, where did you find Whitebeard?" Questioned Dahila.
"He is on a beach, South of West Britain Bank. If you take the Southwest Bridge out of Britain. There is a beach straight south of there.  That is where I last saw him." Lady Thalia said getting out of her chair.
" You'll have to get yourselves there. when last I saw him,  I promised I would come alone, and need time to explain your presence.
Looking puzzled Restless asked? "Promised who you would come alone? Who are we meeting?"
"I'm sorry Restless, I got a head of my self.  We are meeting Whitebeard." said Dahila.
"Do we get to kill?" asked Rock.
"Knowing Whitebeard, I would be prepared for fight."  Dahila said checking her sword.
Whitebeard was still on the beach when we arrived.  It was as if he knew we were coming.  When Dahila began questioning him about Merrick, He told us his history with Merrick.  "When he was a boy I found him, nothing more than a wittling away lad, living in a gutter somewhere.I took pity on the boy, took him aboard my ship, taught him to be a regular fiend of a pirate" he grinned. He continued, " One day a man, Tolivar, came calling, trying to hire a pirate crew to chase some "Ancient Treasure.Sent the boy to meet the man and bring him back to me ship. It was a mistake, didn't know I would regret it so…" Looking hard at us Whitebeard asked, "You've heard the name, aye?
Nodding their heads," Yes,"  said Lady Thalia.  "Aye," Jahajx Jov added .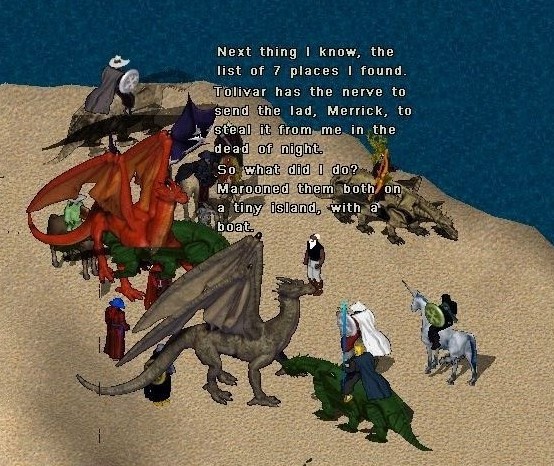 "Nice," Longtoothz, agreed.
Later I heard that Tolivar used the lad for bait I heard later, to kill off a man's guards while Tolivar could get at this gem, The Shimmering Sea of Eshica."  WhiteBeard shook his head sadly. " Merrick was a fine pirate in his youth. " I remember Merric khad  met a girl somewhere along the way, before I had to maroon them on that island. Her name was Amelia I remember.  He wouldn't tell me who she was, or what importance she had to him."  looking at Dahlia, he warned her, "Tolivar didn't just train Merrick, there was another lad, named Vos Marigna . Don't trust that one. I've a pretty good idea…that lass you know where to find Vos.  I'd get to him before he slips away."
" If he's right, we need to get our hands on Vos before he runs. No time, come. this way." Quickly Dahlia opened a gate.