When we stepped out of the gate, we found ourselves in the capital city of Tokuno.  Lady Dahlia led us to the Rokuon Cultural Center. There we found Vos Marigna.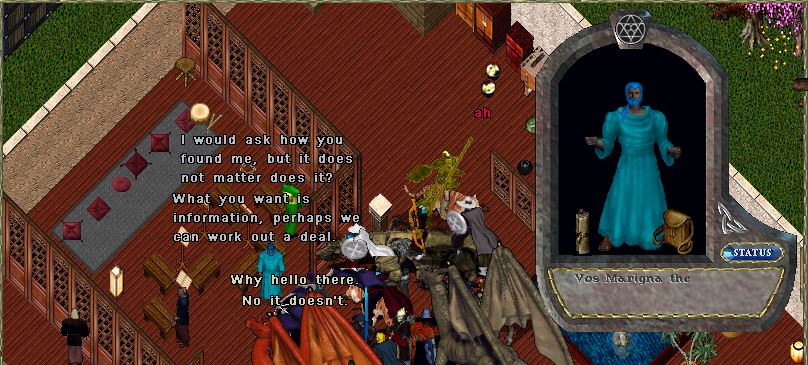 Dahlia greeted him.  Smirking, he looked at us,"  I would ask how you found me, but it does not matter does it?"
" No it doesn't." agreed Dahlia.
What you want is information, perhaps we can work out a deal." Vos asked with a wink.
Shaking her head, Dahlia replied " No deals Vos, not now, all I want is information and you will give it to me."
"And if I refuse to give it to you? What are you going to do?" smirked Vos.
Dahlia was still clearly upset from the earlier encounter with Whitebeard, "You will not have a good day then, Vos Marigna."
Vos Marigna smiled, "Here Tolivar thought you were just a softy to be pushed around, guess he was wrong."
Suddenly from behind we were attacked by Blood Flagon Mercenaries
"You caused this attack !" shouted Dahlia drawing her sword.
" I did not send them after you. In fact I am pretty sure they were after me and not you." said Vos Marigna as he hid."
"Stop them. We have to keep him alive for questioning." shouted Dahlia leading the attack.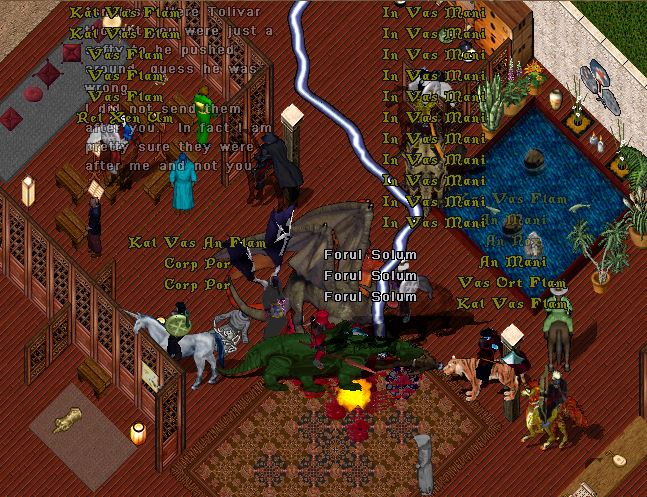 The battle was short but fierce.  Just when we thought we had killed them all,  Governor Veronica Mars called out that one was trying to escape.
"Hurry." She shouted, "He is trying to slip between the buildings."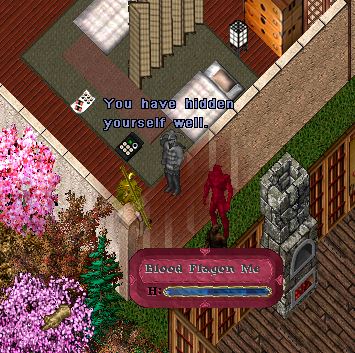 Dahila, herself, killed the last pirate.  Cleaning her sword, she shouted, "Quickly find Vos, make sure he didn't escape."
Image our surprise to find him waiting for us.
"So they were after you?" asked Dahlia.
"So how about you haul me away to a nice safe cell in Yew. I'll play nice." replied Vos without answering her question.
With an odd look on her face, Dahlia asked." Play nice huh? "
If you keep me alive and well, maybe I'll even talk a bit." said Vos looking around.
"You want to be… jailed… you shall have your wish." Turning to us she asked. "Would you all please escort this, guest of ours to Yew Prison?
"Of course, my Lady," Answered Lady Thalia.
Guard him carefully, We can't have him getting out once we have him."  Opening a gate to Yew for us, She said, "I need word with Corian "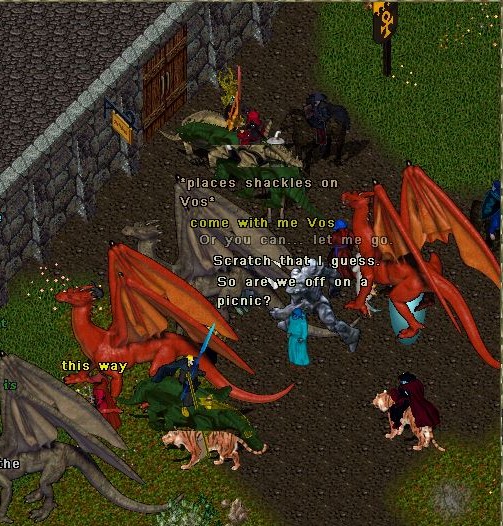 Jahajx Jov placed shackles on Vos. "I trust these aren't too tight" Jahajx Jov smiled as he pulled them tighter.
"Lead the way to the prison." smiled Vos. " Or you can… let me go." Then remembering the attacked, he said in a worried voice, " Scratch that I guess."
As we lead him to the prison, his mood shifted from worried to almost happy.
"This way," said Lady Thalia walking beside Vos.
"Come with me Vos", said Jahajx Jov as he pulled on the shackles.
" Oh come on." said Vos winking at  us. "How much gold would it take?  I've got coin."
His only answers was Jahajx Jov pulling on the chain and Lady Thalia putting Artemis, her Greater Dragon, closer to Vos.
"Ouch, gently," whimpered Vos. "One of you lot set me free. "ow"
Suddenly Vos looked at the forest.  "Oh look, company.  Why don't you all kill those, so I live."
At the same time, Governor Veronica Mars and Governor Markus shouted, "We have pirates here. Help us fight them off"
You lad, you don't care they're being attacked? Vos asked Jahajx Jov.
Jahajx Jov ignored him, pulling once more on the chains.
"Fine fellow you are. Not aiding your friends.  Fine by me, lead on!  He smirked, "There's more coming you know.  Better keep me alive."
At last we arrived at the Yew Prison.  There we were met by Captain Corian.
"Good Evening Captain," Jahajx Jovs said as he handed his prisoner over. " We have a new resident for you."
"Dahlia sent word she was sending a prisoner she did not want to escape."Captain Corian replied as he took the chain.
"Prisoner sounds so cruel, I offered to help." Vos said with a smile.
Captain Corian ignored Vos and addressed us.  "King Blackthorn has authorized the presence of Royal Guard here. Take him through the black door and put him in the first cell past it on the left. Once he is in the cell, come see me again"
We escorted Vos to his cell. " in you go" said Jahajx Jovas  tossed him unceremoniously in. Where he vanished.
"That's odd." said Jahajx Jov shaking his head in puzzlement.
"What happened to him?' asked Natsuhi:
"Hmmm" Restless said troubled.  When suddenly he shouted,"  he's gone! its a trap!"
Captain Corian came in with a smile. "A little surprise from Evidias.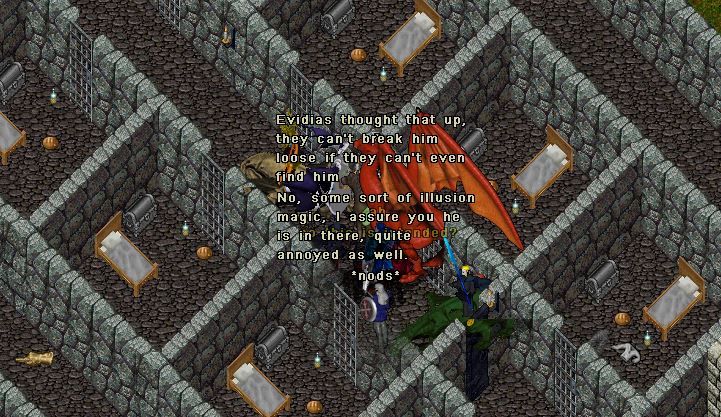 " Disappearing prisoners?" Lady Thalia said in surprise.
"Ah," Jahajx Jovsaid in relief, " so this is intended?"
"I assure you he is in there, quite annoyed as well." Captain Corian said as he nodded.  Dahlia sent a warning ahead of your, so we rigged it up making sure he couldn't get out.
Looking at what seemed to be an empty cell, Lady Thalia said, " I'm not clear that we got any information from him"
" Information, out of him? asked Captain Corian, shaking his head, "It's more likely she intends to use him as bait."
Thalia: No, Lady Thalia said shaking her head. "Dahlia had planned to ask him some questions"
"She can try, he's better off as bait if you ask me." said sadly Captain Corian, " No telling what Tolivar told him."  With a sigh, He continued. "Tolivar,  what is that old man up to… I thought he was a friend. Come he said opening a gate. "We should check out his house in Jhelom."
Arriving Captain Corian pointed out that Tolivar's house was across from his.  He had been keeping an eye on him.  "No sense knocking," he said as he entered the house.  " Not sure he left anything to find."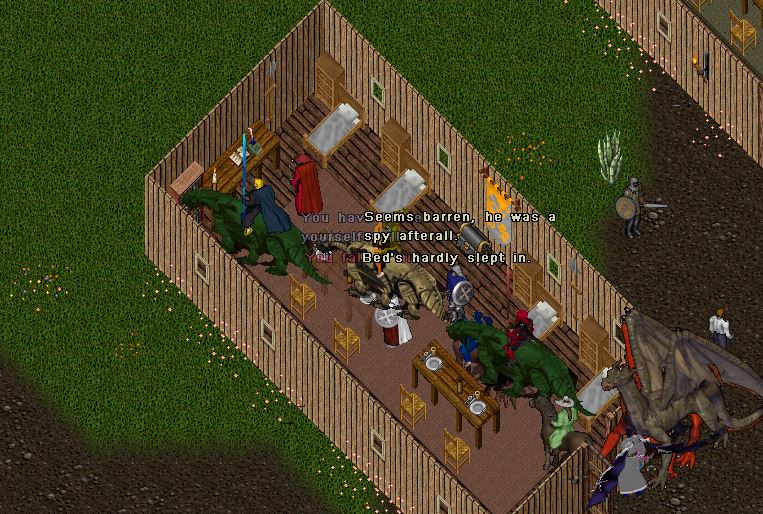 Just then Lady Thalia pointed at  a book she had found.
Just a book, what of it?  Hold on…" Captain Corian said excitedly,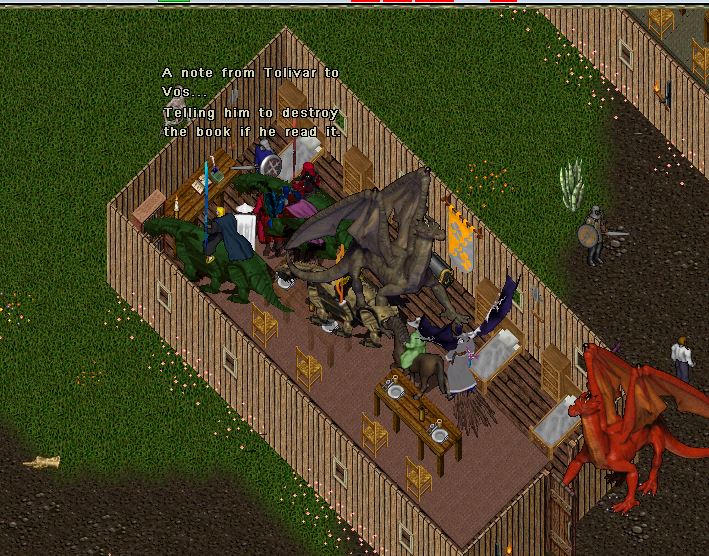 Ah… I guess he was getting suspicious, and knew I was catching on to him." Sighing, Captain Corian said to himself,  "Tolivar… I thought I knew you better."
Refocusing, Captain Corian said, "So those Royal Guards I threw out, the ones gambling and stealing, they were his. At least I appear to have gotten all of them.  Huh… the Blood Flagon had a spy in the Royal Guard as well, from Tolivar's notes."
"That explains the pirate attacks."  I noted.
"Yes," agreed Corian, " He notes I found the man as well… I wonder which one he was.  Guess we'll never know. King Blackthorn had them hanged for treason.
"Which one got hanged?" Asked Lady Thalia?
" All of them, including  the Blood Flagon spy. Blackthorn doesn't tolerate betraying Britainnia citizens."
Jahajx Jov asked? "Is it worth the time to figure out which one it was?"
" It might be. I still have their belongings in some chests, as evidence. I'll have to go through it all." Corian answered.
"From the sounds of this note, Vos was on a mission of some sort." observed Jahajx Jov
" Dahlia seems to have gone ahead to detain Whitebeard for a bit longer. Tell her from me, Merrick doesn't seem a bad sort." he led us outside.
"Wait outside, she mentioned sending a gate when she was here."
"We will tell her" Jahajx Jov.
Captain Corian began to walk away. "The gate should come soon enough, about here." Then he wandered off to think.
"Hmmm, trust no one," Dolomite muttered. "Is Dahlia trustworthy"
At last the gate arrived.  Dahlia was waiting for us when we stepped out.  Looking around I noticed we were back at the beach where we began.
" I sent for you as soon as arrived… there's footprints at the shoreline. Something must have spooked him." Dahlia said.
"Shall we follow the foot prints?" asked Jahajx Jov
" Wait… Dahlia said looking at the tracks. "There's… two tracks going in opposite directions… One goes to the shoreline..  Must be Whitebeard toward his ship"
looking at the two sets of tracks, Jahajx Jov asked "Shall we track them both?"
"So why is there another track… that way?" wondered Dahlia," Of course, Whitebeard must have fled. But from what."
The answer came quickly. Everything dissolved into darkness as  a Mercenary Elite's burning eyes filled your vision and I found my self frozen.
"Well now we know why Whitebeard fled.  He'd rather we do the fighting for him." Dahlia raised her sword and the battle began.
As we began to fight, the mercenaries seemed to retreat,  from behind them came Golden Dragons.  At first the number of deaths made it seem that the fight would be lost.  We regrouped and the battle turned.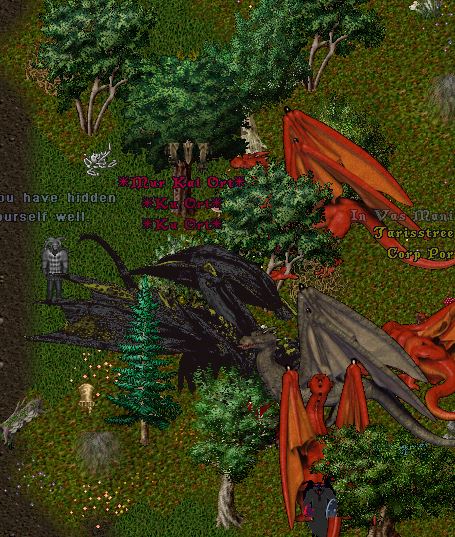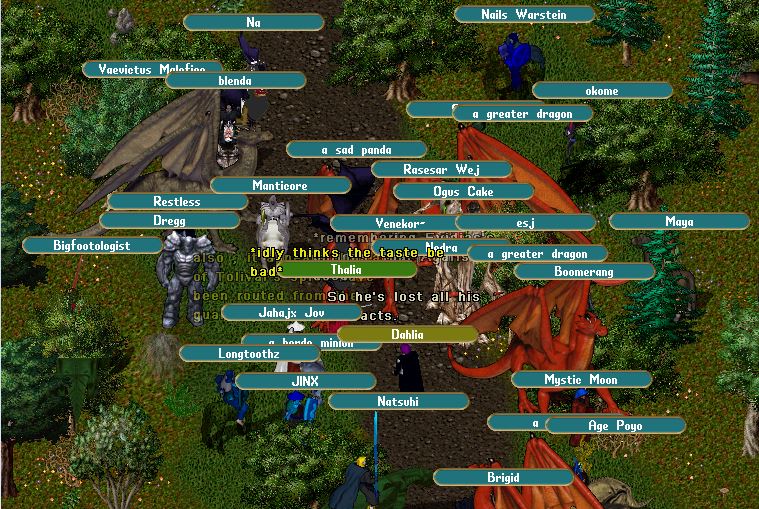 At last the battle was over.  Looking around Dahlia mused,  "Whatever he knews though, must be worth it. They were willing to tangle with the city Guards. Those bandits just kept coming, and dying…"
"But golden dragons? asked Thalia, "That's a little beyond pirates."
"That's is possible." Replied Dahlia. "I have no idea what power is working with them."
Dahlia suddenly changed the conversation. " I had word with Calin, whatever he found, we are going after. Calin mentioned something, about the location of a key. I'm assuming it is to the door we found outside of Occllo."
"What of Merrick?" I asked. "Captain Corian sent us with a message for you."
"And what was it? Dahlia asked?
"That Merrick is not a bad person." Answered Lady Thalia.
"If Merrick shows up, so be it, he can help. But I'm not leaving it to his discretion." Dahlia grumbled about Merrick. "
Jahajx Jov aced " Thalia, have you relayed everything we discovered in Jhelom?"
"Jhelom?" questioned Dahlia.
Thalia explained all that had happened and what we had learned.   From the attack to taking Vos to the Yew prison.
Jahajx Jov told that we had learned that there had been a Blood Flagon spy, but that King Blackthorn had them all  hanged so we don't know who it was.
Dahlia thought about all she had been told.  "Ahem, I need to go speak with Evidias, Calin and then report to King Blackthorn again. He wanted an update, I'm inclined to follow that word to the letter at the moment.  Prepare for our next meeting.  We are going after the key and will try to find out what is behind the hidden door."