As we were starting to enter the castle, Merrick noticed a note left in the court yard.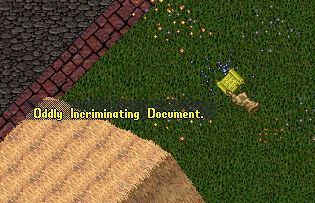 Picking it up he read,   "It was I who stole it, and though I wanted to turn myself in.
I could not bear being imprisoned without a pick or key.
But I lost the picks when I was startled by someone.
Perhaps if I confessed or spoke of it, I would feel better.
If only my wit had been sharper I could have escaped.
An action, an object, becomming a person suddenly.
Letter by letter, raising higher, higher.
Instead I searched for an escape and then fled."
I wonder what he stole? said Merrick. "Well someone picked the locks on those doors.  But I don't see anything… was that it?"
We continued to search the castle.  In on of the bedrooms we found a set of lock picks, Merrick looked about to see if there was any other clues. "Anyone else found anything but Lockpicks out of place?" he asked.
"I found a sword in one of the meeting rooms." called Jahajx Jov. "there are letters inscribed on it"

"Has anyone found anything else that seems to be out of place?" Merrick asked.
"Ya." said Jinx.
A map that is locked down" added Demoss.  "There is also a marble column."
Aye." replied both Zeke Terra and Richared Cranium.
"Odd place for a column." Jahajx Jov said.
"Actually the North side," added Jinx.
"While technically north," Lady Thaila said. "North East Corner."
" True. But the column is on the East wall." Merrick pointed out.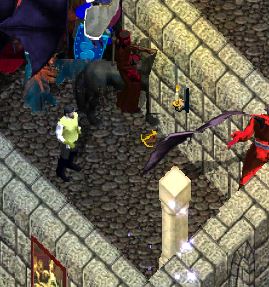 "This mark on map is east."Demoss pointed to the map.
"Oh! the first maps lines up." JINX said excitedly.
Let me see if anything happens when I shove the column."  Merrick shoved the column but nothing happened.  "Hm, I missed something."  Picking up the sexton, Merrick again shoved the column.  "It won't… budg…. "  A  gate had opened.  Carefully we went through.
" What? Where are we?  Delucia? Merrick, still holding the sextant, said in surprise.
"There is a note here." said Lady Thalia picking it up and showed it to Demoss.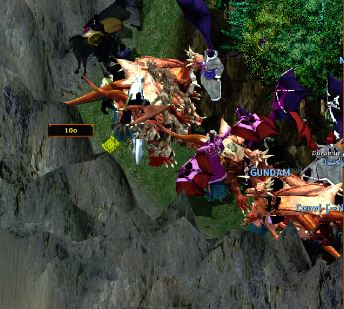 "100? what does that mean?" asked Demoss.
" A 10o? Hold on… it's coming into place…" replied Merrick.
"Could it mean 10 degrees?" asked Lady Thalia.
"Aye," agreed Demoss.
"10 degrees and the circle has two lines going East and one going South…Assuming it's connected could it be 10 degrees north of here?  Does that sound right?' asked Merrick.
"Aye" Richard Cranium replied.
" I think we are south here." Lady Thalia added.
If that is correct then I'd better mark our coordinates.   Looking at the sexton, he had me write down the coordinates,  78° 25′S, 47° 6′W.
Merrick continued with the map. " So if there are two lines going East and they are longer. East looks twice as long as north."
Deciding that was a good place to start, off we went.  Merrick used the sexton to lead us to the coordinate's,  68o 0'S, 35o 7'W.  When we had reached 710, Merrick stopped.
Merrick stopped checking the sexton. "710 degrees not there yet.   We need to head East as well, don't want to get stuck on that cliff."
Merrick stopped  "Look, More brigands. They must be looking for it as well."
We change our route to miss the brigands.   Merrick stopped again to check the sexton. " 63o… we're too far North. It has to be South of us."
When we arrived, we found a map piece .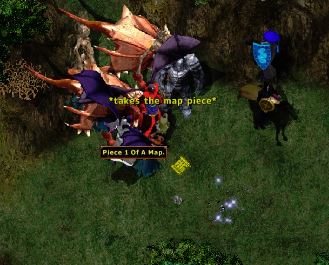 Looking at the map, Merrick looked puzzled. "That's odd, isn't there usually another clue."
Zeke Terra pointed to some thing one the ground, "there's another sextant."
"Maybe there are cords on the the sextant." Thalia said.
Hm, We had a sextant at the start… and now another?" Let me look at the map again." Looking at the two lines Merrick  noted that one is longer than the other.  "Let's try it again. So… 10 degrees, no… a longer second line. Let see that would be 11 degrees North, if East is twice as long… 22 degrees East. Does 57o 54'S, 13o 55'W sound about right?"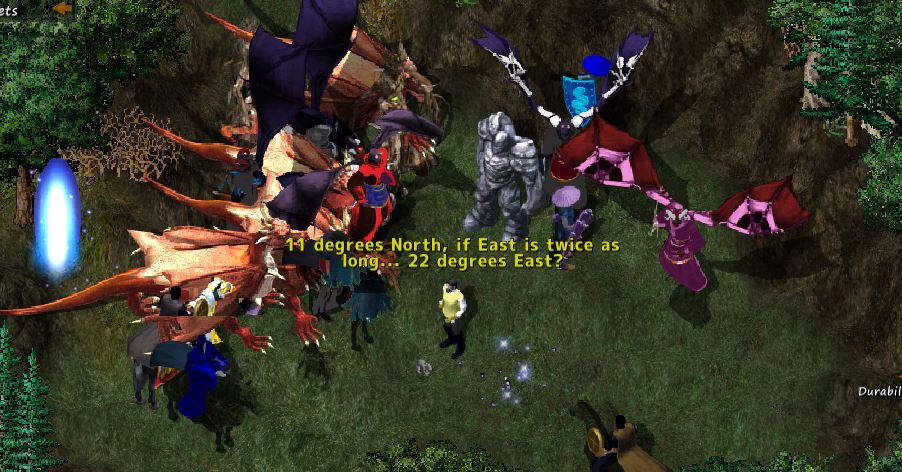 Deciding that Merrick's coordinates were correct, we set off again. Again and again we ran into cliffs and  Ravines.
After a while, Manticore  sighed, " looks like a circle to me."
Finally Merrick found a road, " I'm going to follow the road…Ravines, are annoying.  We're close."  Soon we can to another cliff.  "Well…climb it is…" Merrick started to climb the cliff.  Not wanting to become lost, we quickly followed him.  At the top, we found another piece of the map.  Merrick  placed it together along the seams with the first piece.  Angrily he shouted, "An empty map…is this a joke?"
Looking around carefully, Lady Thalia found a cypher on the ground.   "The missing key?" asked Funky Chicken.
Richard Cranium noticed that the were three parts to it.  Merrick picked it up.  "No map, no Whitebeard. Just a broken Cypher. I think I've about had it for the night…lets return to Jeholm.  We need a drink."