Having overslept, I hurried to met with Agaris. When I arrived at the meeting hall all I found a message and a moongate. "Step through the gate to meet with Tolivar." Vos Stepping through the gate, I found myself in Orc valley. Immediately I was on the run for my life. Foolishly I sought safety in the cave. Death came quickly.  Finding a healer, I returned to the battle.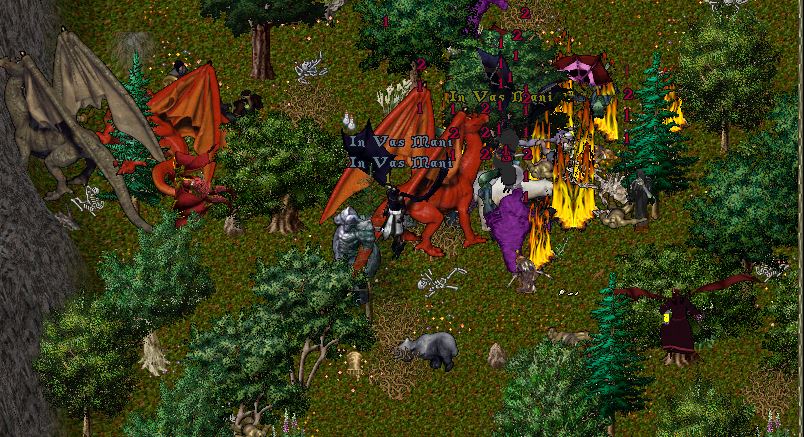 Before long it was over and Agaris gated us back to the hall. "Well that was quite a greeting and no sign of Tolivar. " he said frowning. "Could we have been to late." Thinking to myself could Vos been lying. It wouldn't be the first time he lead us astray. Perhaps Agaris was right and we had arrived to late. Turning my attention back to what he was saying, I heard him direct us to find a mage by the name of Tarian Lokweaver. He was suppose to be in Minoc. When we found him we where to detain him until Agaris could rejoin us. Agaris then stepped back through his gate to Orc Valley. He hoped he would find a clue to Tolivar's hidding place.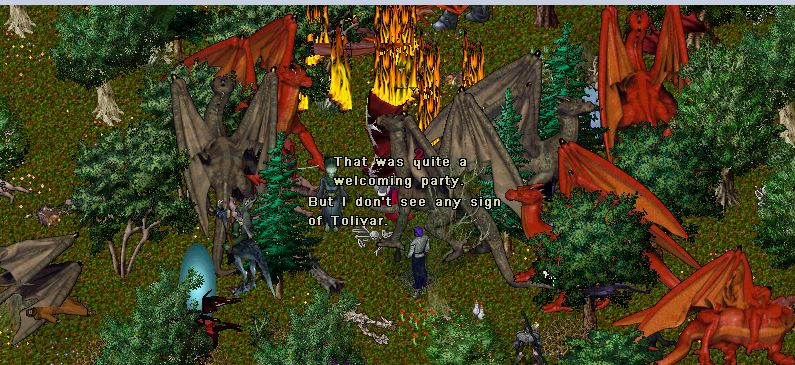 Arriving in Minoc, the party divided up to find Tarian. He was no where to be found. Lord Neptune called to us.  He had started toward the gypsy camp. On the way he had found Tarian Lockweaver. Looking around at our party, Tarian demanded to be released. When that didn't work he tried to buy us with gold.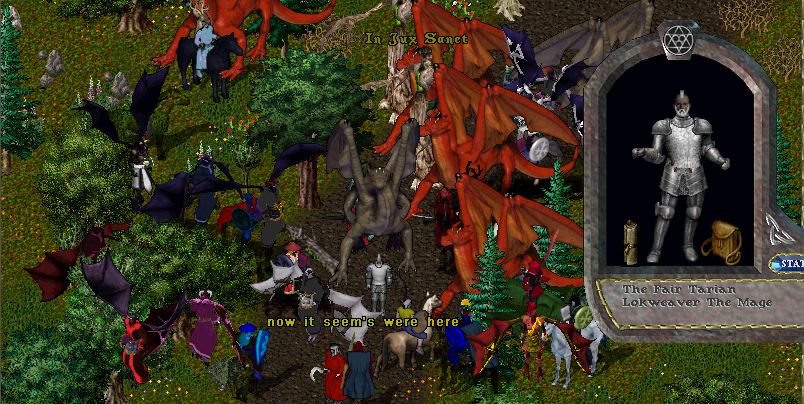 Finding that we were determined to take him to Argaris, he looked around slyly and began to laugh. Turning we saw a band of orcs running towards us.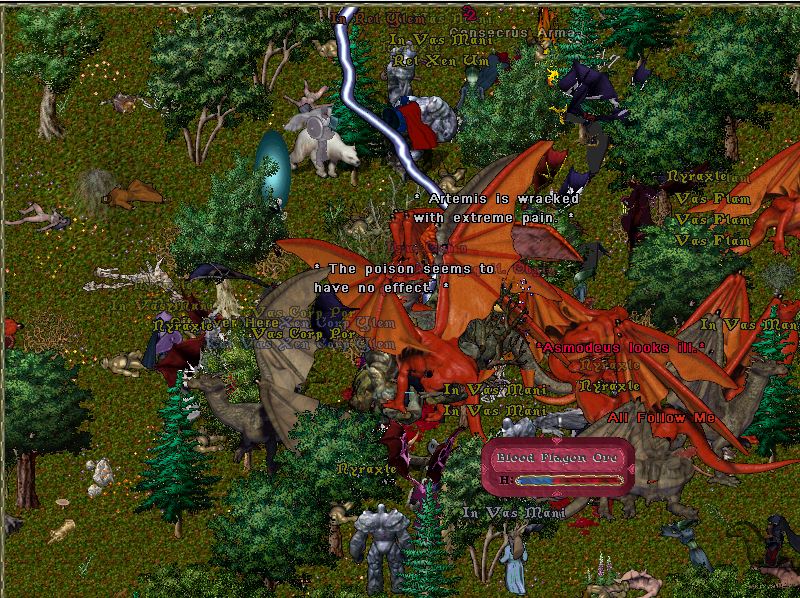 To his and our surprised, at first they ignored us and attacked Tarian. Joining the battle to save him was to no avail. Lying on the ground, his dying words, "Tolivar, I didn't tell." When Agaris arrived, I explained what had happened. He too was puzzled by who had hired the orcs. From what Merrick told him, Tolivar was loyal to those who worked with him. So if the orcs had not been hired by Tolivar, who had.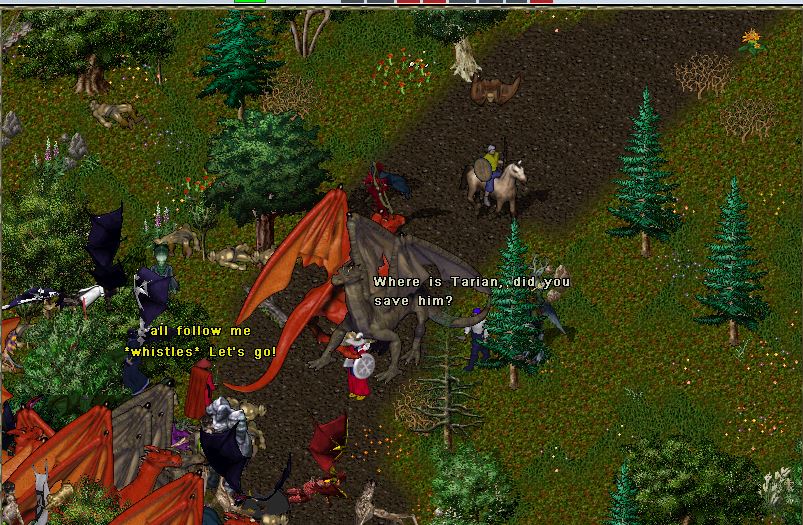 It was decided that our next step was to visit Vos. He had sent us to the Orc cave and told us that the mage, Tarian Lokweaver, would help us find Tolivar. It was strangely quiet at Yew Prison. Where were the guards. Surely they wouldn't desert their posts, they knew how important Vos was. As the others looked for them, I went ahead to talk to Vos. By the King's orders, he wanted to me to question Vos without the others present.
Arriving at the cells, I found Vos's guard sitting against a wall, in only his underwear, his head bleeding. I had a bad feeling that Vos was up to something. His cell was empty! I hurried back to the guard and asked him if he knew who had hit him. He told me that a very pretty girl from the Abbey Inn, had brought him dinner. The food smelled so delicious. "I sat down at the table to eat and drink the wine she had brought. Next thing I know, I woke up naked and with a big knot on my head."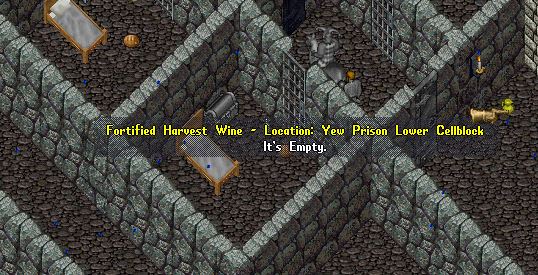 I asked if he knew the girl's name. He shook his head no, then grabbed it. As I was searching for clues the rest arrived. Since there was no sign of Vos or who helped him, it was decided to speak to, Terrick, the one guard they had found. While he hadn't recognized her, he told us that she had been sent by the innkeeper. He Confirmed what the first guard had told us. When we told him of Vos's escape, he became worried. "That can't be, a guard was escorting her. He told me that he was going to thank the innkeeper and escort the girl back to keep her safe." When asked he told us he had seen the girl at the inn a couple of times. He couldn't remember her name, but remembered it was unusual.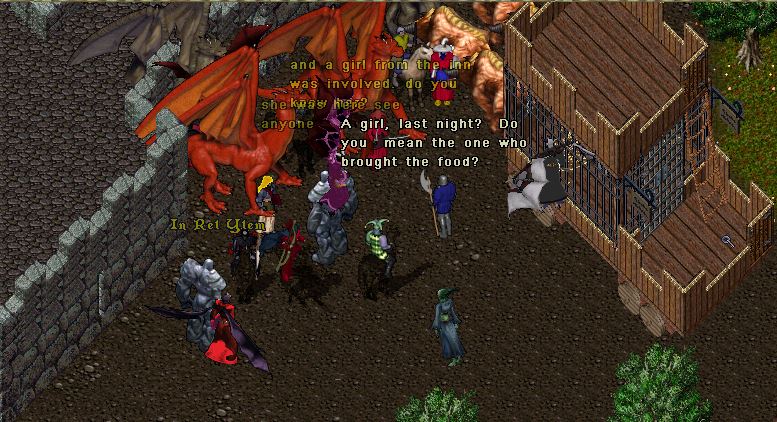 We were greeted by the innkeeper, who told us that while there were few rooms, we could have them. I explained that we here not here for rooms, rather information. I told her about the prisoner's escape and how the girl came from the inn. She thought for a monument and shaking her head, told me that she had not sent food to the Yew Prison. She did remember that a guard escorting a lovely lady had come into the inn. Turning to the others, we agreed that the guard had to been Vos. While we debated our next move, the innkeeper interrupted. She told us that the lady hadn't left with the guard, but instead a man in a long hood. She added that she never did see the guard leave. When asked if the lady had golden hair, she shook her head saying no but she was very faired skin. When we asked to see the name she had used to rent the room, the innkeeper blushed. It seemed that she hadn't given a name. I looked in surprise at her. Drawing herself up, she defended the lack of a name. They had paid in gold more than the room cost. The lady had joked with the guard saying while it was gold, it wasn't like a treasure. Now that was important information. I asked if she knew which direction they had gone. She answered in a puzzled voice, "They went Out of the city, toward the North, but there is nothing North of here." As we started to leave, the innkeeper remembered one piece of important information. The lady had a slight limp, her right leg. Also when she walked, trying to keep herself poised, like an important lady might.