.
Ghost Circus and Things That Go Bump In The Night
.
It was an evening full of creepy monsters, trick or treats and a little devils night not to mention a ghostly circus. A crowd gathered in Old Brit dressed in their best Halloween costumes. It was hard to tell which was a costume and which were the real thing. Frogs, wisps, spiders, dragons, skeletons, blood worms, goblins and zombies were a few of the many to be seen and smelt.
.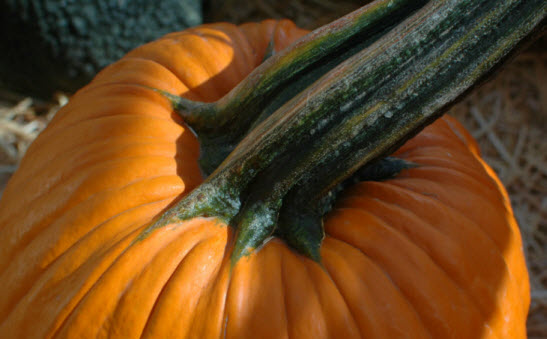 .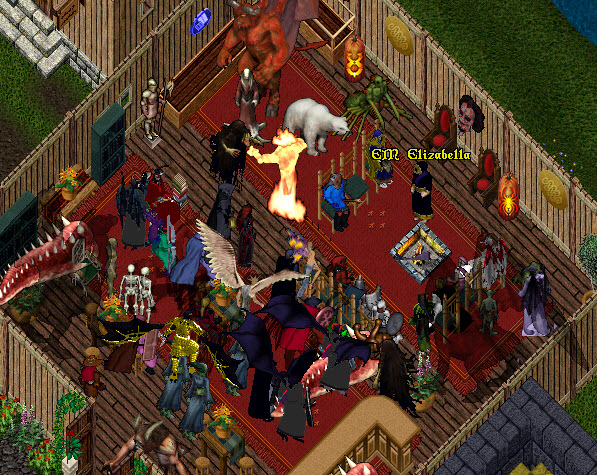 .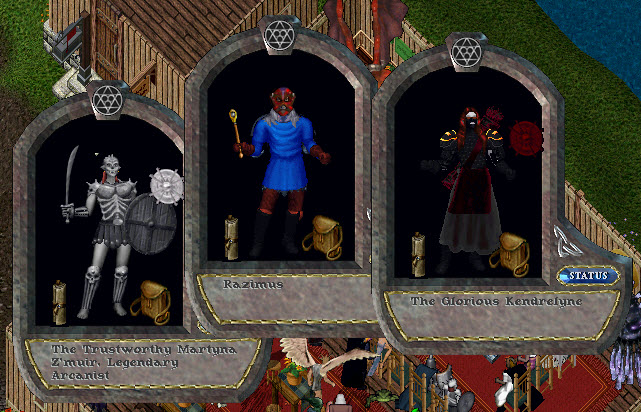 .
The always charming and talented EM Elizabella appeared and informed the scary crowd of the evenings events. First on the list was to get Mirendel and Selkestal  from their home and that we did. That cute little Mirendel was dressed as a ghost and Selkestal as a mongbat.
.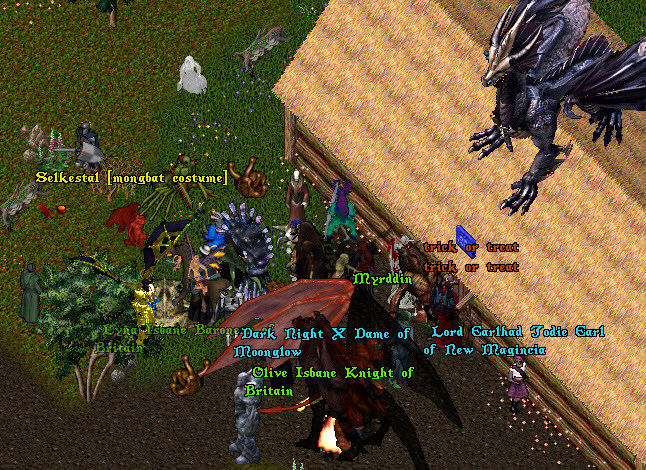 .
The plan was to visit all the Governors homes and trick or treat. Before we left Granny warned the two small dragons and the crowd that not everyone will be home and some people just do not give our treats. " Not receiving candy is certainly not a justification for arson " Granny yelled out as the crowd departed.
.
.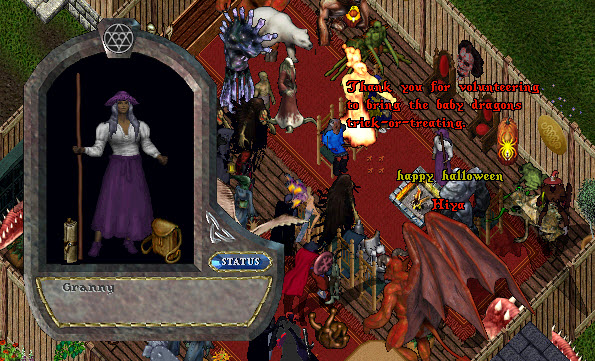 .
Our first stop was Brit where Lady Dot handed out candy and small gifts. Then onto Jhelom where Thom handed out sweet treats and small gold checks. The third stop was Minoc where the barefoot Tanda was handing out slices of very tasty cake with purple icing, a big hit with the crowd.
.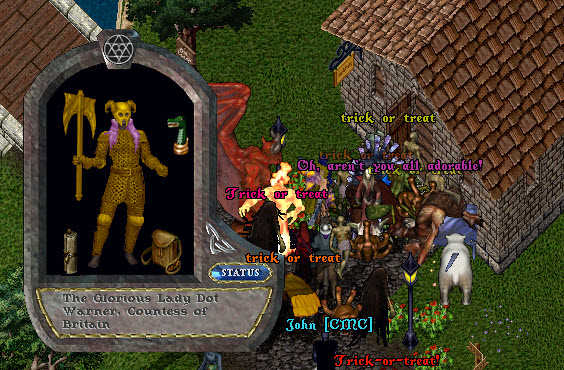 .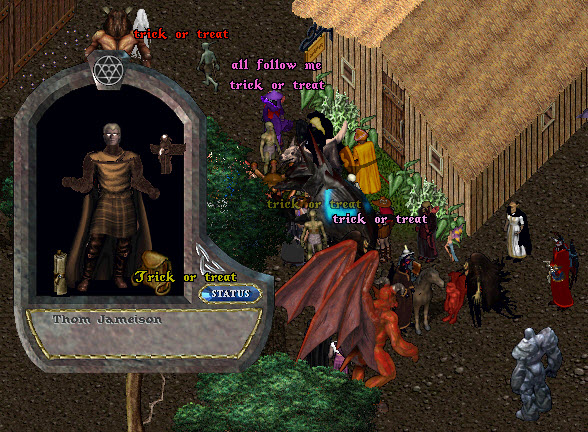 .
Moonglow was the next stop and know one was at home so the crowd egged the office to the delight of the little dragons who also took part in the action.
.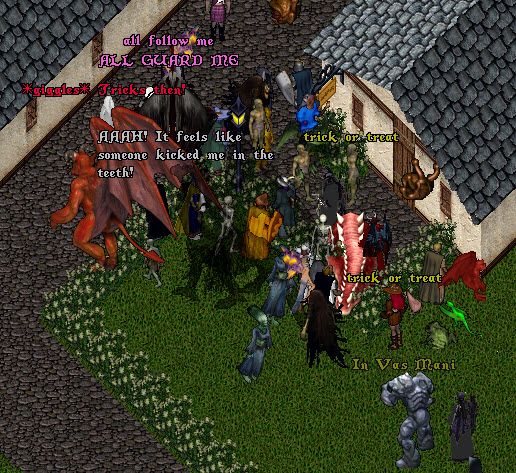 .
New Magincia followed with not a soul about either. This building was egged and tossed with rotten cabbages. Then onto Skara Brae next, it has no governor at this time but Gov elect Fariner was there and handed refreshing honey dew melons to the crowd, a healthy heart smart choice.
.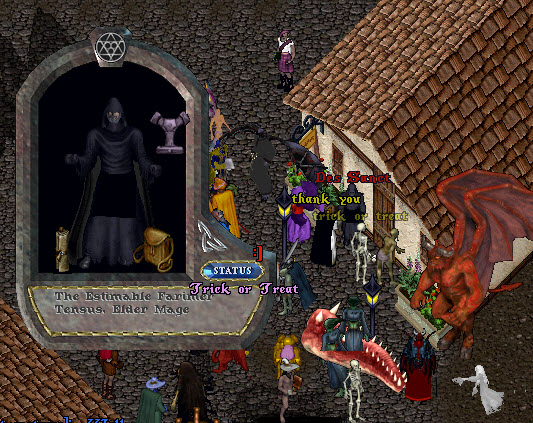 .
Trinsic got egged and not only were rotten cabbage thrown so were week old nasty turnips. Someone even left a smelly ripe fish at the doorstep. Vesper had no building to speak of so the sugar high crowd set fires ! Yew was last on the list and the crowd settled for just egging and a few rotten turnips.
.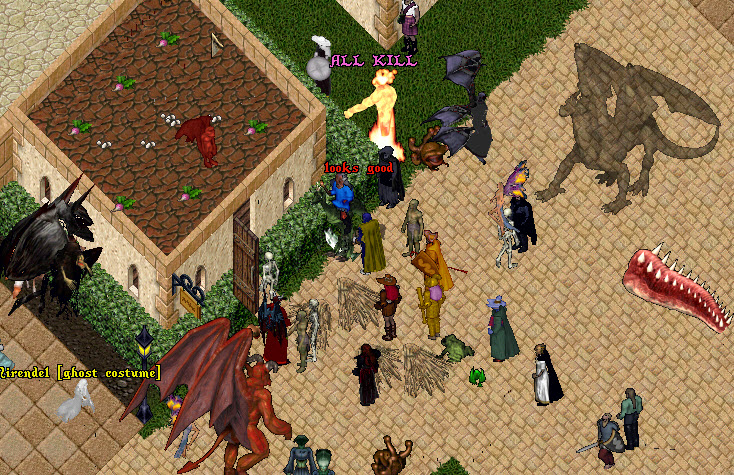 .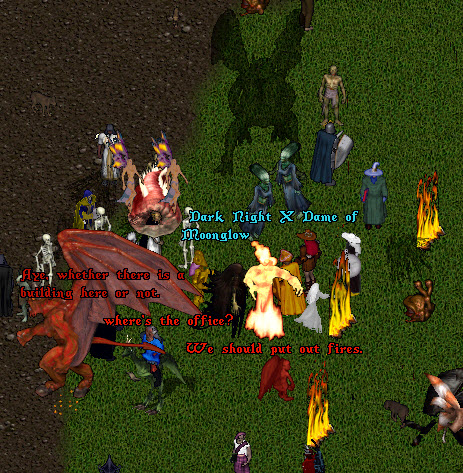 .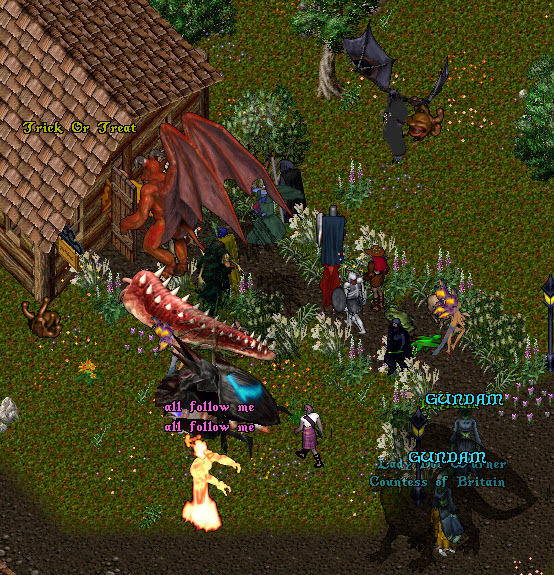 .
The crowd yearned for more sugar so trips were made to Twin Oaks Tavern where giant pixie stixs were handed out and then to the beautiful Tokuno Islands were Tess Midnight had a Strawberry Chocolate Fountain set up for dipping a few pockies.
.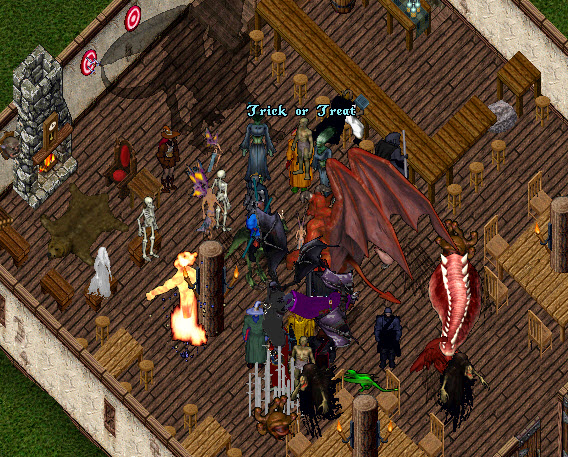 .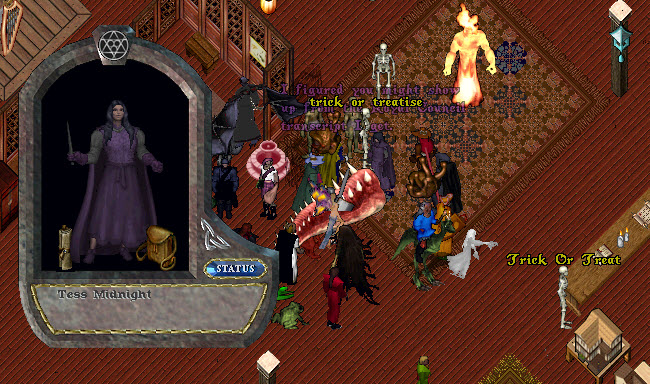 .
Just when I thought the night could not get any better the little dragons starting whining there was a circus near Vesper and they wanted to really really go. It seemed late for the little ones but the crowd agreed to take them and what a circus it was! It was a rather ghostly event with strongmen, freaks, circus monkeys, dancing bears and clown ghosts. We even got peanuts and popcorn, now that's a circus !
.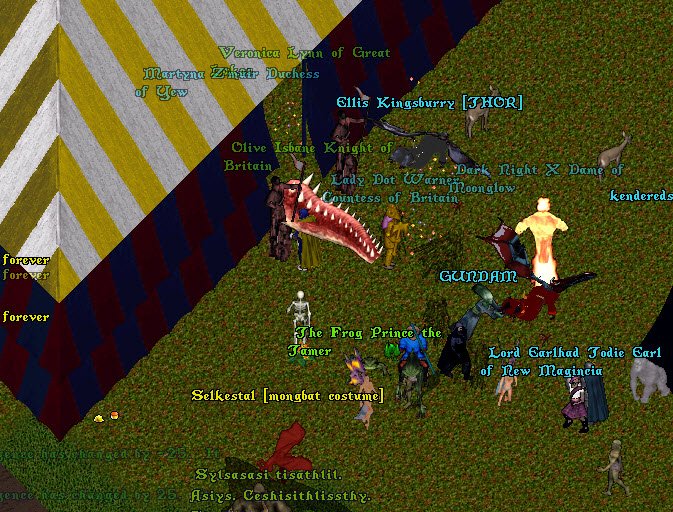 .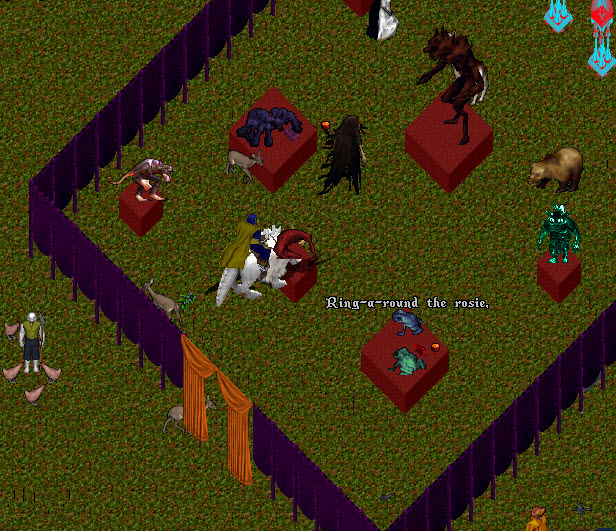 .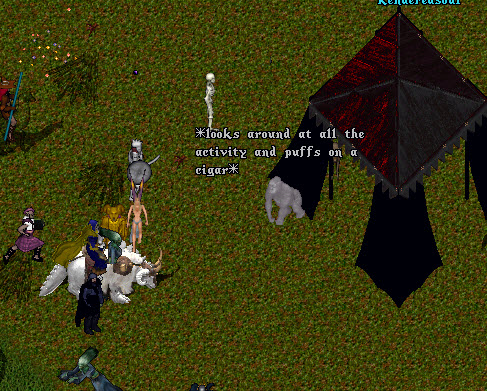 .
We all wanted to spend more time at the circus but the young ones were running down fast on energy and looked very heavy lidded. We returned them safely home. No doubt they dreamed sweet dreams that night.