Thinking that a ship might have landed on the coast, we left to search. Outside we found Dahlia waiting.  Seeing that she was calm, I knew that she had not heard the news. When I told her about Vos and what he said, "treasure being worth more than gold."  She became angry. "That is the type of humor I'd expect from a pirate.  No matter, did you get a description of the lady?"  Looking at my notes, I tried to decide what part of the description would help us the most. My lady, the lady in question, was fair and had a slight limp in the right leg. The innkeeper did say she did not have golden hair." It could be Elise. We know she has used disguise in the past." Lady Dahila frowned as she thought about what we knew of the lady.
"Is there any thing else I should know? Agaris mentioned a man named Tarian in passing."   Quickly I told her of the orc attack and how they targeted Tarian before us.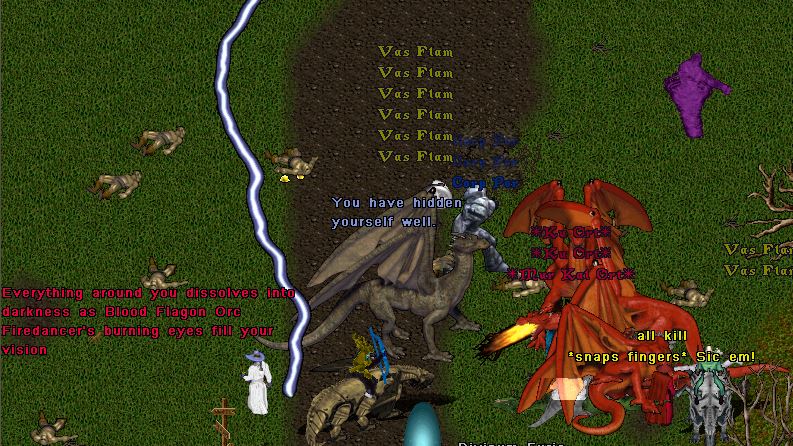 Since it seemed that Tolivar had told Tarian not to stop for us, I pointed out that Tolivar was probably who hired the orcs. Dahlia shook her head as she thought about what I had just told her. "You and the King will not like my thoughts about this. I do hope I am wrong, but I think Elise has lead us on a merry chase."   Dahlia continued, " I think Captain Elise, tricked some of her own Pirates into attacking her…I think she did it on purpose, so that we would hold the parlay. I don't think her own pirates know what she looks like. It seems she has been pushing us to kill Tolivar Fence. She is also willing to kill her own men. No wonder she is feared by the pirates."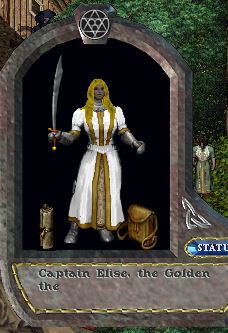 Hum… "Did Merrick say anything would help?" I asked. "He was finally willing to talk, but he wouldn't say too much. He eventually told me that he wasn't longer sure there was an Ancient treasure. Instead he was beginning to think is was a trap. He began rambling about the time he was serving on Whitebeard's ship. There he had meet a beautiful but sad young woman. He asked her to run away with her, but she told him that she was trapped and  only so often able to escape."
Thinking to myself,  ah, that would explain much if she was the treasure and that Merrick was in love with her. I turned my attention back to Dahlia. She told us that Whitebeard had grown tired of looking for the treasure deciding it was only a myth. Not long after, Merrick met Tolivar. After he found a coin that seem magical Tolivar began to believe him. It seemed he had told her that the many locations we had been to weren't parts of the treasure, but instead of the original spell.
That caught my attention. A spell, had it been casted by the same person who had cast the ritual at the Brit crossroad. I would have to speak to the King's Mages to see what they might know. They should know if another door had been opened to another dimension. Wrinkling my head in thought, I remembered the door we could not open. It might be a good time to revisit it. I couldn't help but thing Merrick was behind the trouble. Tolivar must have something he needs. And Merrick is willing to bury him, if he doesn't give it to him.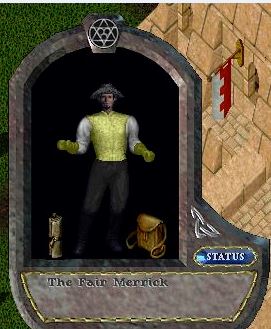 When I began to listen to Dahlia again.  I heard that the conversation had turned to the connection between Tolivar and Elise. She was telling us that it was very possible that Elise was Tolivar's granddaughter. I thought back to the story that Merrick had told us. About the man he knew once, who died, or likely "almost" died. And then the noble woman who was killed, and the girl who was lost, and the girl's father drinking himself to death. While Merrick didn't confirm it, it was the first time he flinched. We had shoved her towards danger. That would explain why Tolivar thought of us as enemies. Tolivar is pretty much willing to kill any of us, to protect Elise… But why would he just not stop her.    Dahlia frowned while thinking. " I think he tried kidnapping her and failed. It's likely where this whole, "Threat on her life" originated.   I thought that would explain the books we found yesterday.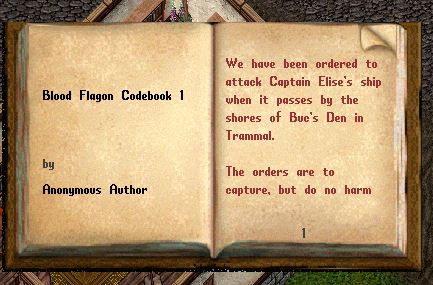 As usual, Merrick knows more about Tolivar than he is letting on. There is something else though, that Merrick isn't saying. That much of it we agree on . I have no idea what it is though.  Merrick is… *sighs* Merrick is Merrick. He's willing to burn Tolivar's whole world down, to keep us out of  the crossfire.
When the conversation turned to Dahlia's family, I tied to connect the information about Elias to the treasure. I saw that Merrick and Tolivar's relationship had changed. Was Merrick using Elias to force Tolivar's hand. Merrick had become obsessed  with the Treasure. If it was indeed a woman he loved, that would explain it. We were running out of clues. I hoped that the scrap of paper Sherry had found, would be the other clues.
Others had the same thought and asked about the paper. Dahlia gladly informed us that half of it had been decoded. Our ideas about the colors had been correct. However the mages and scribes were still trying to find the color needed for the second half. They knew it was something in the purple spectrum. She began laughing thinking of the workshop. I saw the workshop, they've somehow churned out three hundred and twelve didn't hues… It's… frightening. When the light comes in the window, it's like you're standing in this strange world.
I suggested that the gems we found, might be the colors we need. But I was reminded that we hadn't found a red gem yet. Dahlia suggested that I review my notes and see what colors the Vesper jeweler had made. Whoever designed it, would have made a good spy.  We've been making a lot of glass…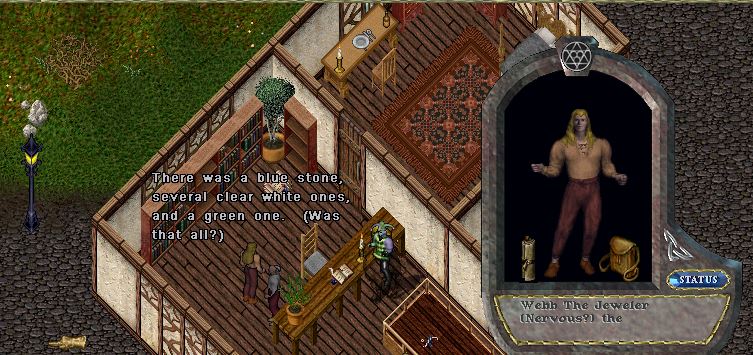 Tired, Dahlia started to leave. Stopping she asked me to take a message to Governor Rowan. We've got a lead, another Skara citizen was killed. The only clue was the sword that had been found. She was hoping that perhaps the governor would be able to identify the owner. I assured her that I would take both the message and the sword immediately  to her.
"Now I must go talk to Evidias. She might know what Merrick is not telling us. I'll also see what she thinks about the door. Sighing, she turned and left. I looked carefully at the sword. It was finely crafted. Hopefully Governor Rowan would recognize it. Only one way to find out and I casted a gate to Skara Brae.