Governor Rowan looked angrily at Captain Guy after reading his report. "How could another murder happen again. Where were you," She raged. He stepped back out of striking range. " Governor, we were guarding the shores and ferry crossing as ordered. My ranks have shrunk. Some rangers are gathering meat for winter."
"That is no excuse. Call back the rangers from hunting. These assaults and murders must be stopped " Frowning, she stopped pacing. "If there is one more assault or murder, you will find yourself in Yew prison! Now get out of here and find the killers!" Quickly he left. Governor Rowan sat down and wrote a message to Captain Corian requesting an urgent meeting. She told him what the rangers had found. A trail of blood leading first to a scroll. A.M.E.L. I.A. had been written several times on it. Continuing to follow the trail, they found signs of a struggle, a torn dress and a scroll that said keep them in Ice.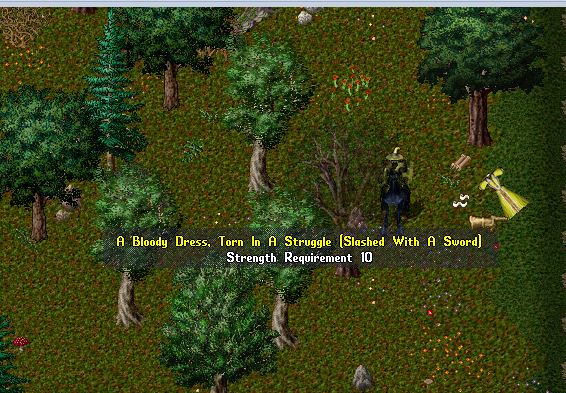 I went with Agaris to meet with the governor. "Governor Rowan, Captain Corian sent me to assist in your investigation. " he said bowing. "As soon as the dress had been found, I took the royal spies and guards to Ice dungeon. There we found signs that a blood ritual had been performed."
Governor Rowan looked at him in shock, "What evidence of a blood ritual did you find." She demanded.
"We found a sword that had been rinsed off in a bucket. A scroll mentioning Skara's Butcher shop.  But the most disturbing, a scroll saying the her blood didn't work so they needed another. The blood had to be from the woman taken from Skara.

Governor Rowan looked at notes that she had been given. "I read that items bearing the crest of the Humming Bird, Fox on the Riven and Komodo Dragon were found. Have you found the connection to these Tokuno Houses?"
Agaris shook his head, "Not yet Governor, our search will continue. But our first priority is to find the murder of your citizens." With that he bowed and left Governor Rowan to her thoughts.
 The following day Agaris and I went to the Bountiful Meats. There we found more drops of blood.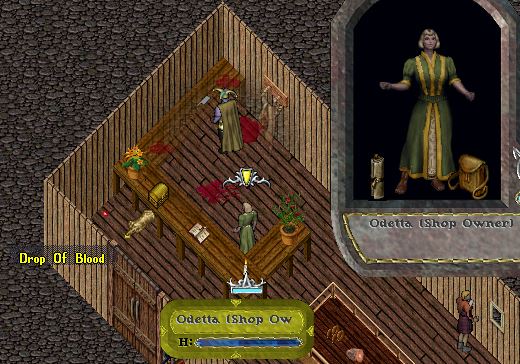 "Mistress Odette, how many apprentices do you have?"
"I don't know why you need to know, but I have three. I just hired two of them."
"What can you tell us about your apprentices? Have you noticed any thing strange about their behavior?"
"No, they have been excellent workers, eager to learn. They work until the shop closes, which with the goings on have made me close early," Odette began tapping her foot, "I pay my taxes so what are you doing about the murders?"
"We are investigating a lead and soon will capture the killer. Can you tell us where your apprentices are?" asked Agaris
Scowling at Agaris, Odette demanded. "Just why do you need to see the boys. The shop has just opened, so they should be on there way here. Don't you keep those boys, I need them here. "
"Since they close up the shop at night, I'm hoping they saw something." Agaris replied as he left the shop. Finding the apprentices outside he called them over one at a time. Having arrived the royal guard kept the others from leaving. Agaris first questioned Eram the Apprentice Butcher.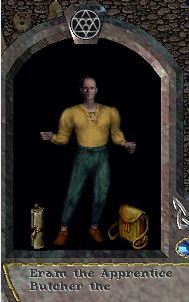 "I have just a couple of questions for you,"  Agaris began. " The night of the murder did you leave the shop?"
"No, I was here the whole time." Eram stopped. "Well for a moment I went to get a pie from the Baker's"
"Are you left or right handed?" Eram, favoring his left leg, took a step back,"Why do you ask?"
Agaris, noticed how Eram favored his leg. "We are asking everyone as part of the investigation. And you are sure you went nowhere else tonight?"
"Positive, I left and then went straight home. I live right outside of Skara."
"Thank you Eram, you can go to work now."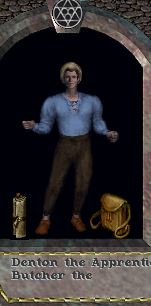 When Agaris called Denton over, he noticed the lad seem nervous.
"Hello Denton, I need to ask you a couple of questions."
"Make them quick. I'm very busy." Denton said trying to move toward the shop. Why are you bothering me?
We need your help in our investigation. The other night, here in Skara Brae, where were you?"
"Here until closing." Denton replied.
"Are you sure you didn't leave the shop until closing?"
Moving towards the shop's door, he answered "No, I was definitely here all night."
"So until closing, interesting. Are you left or right handed?"
Hiding his hand behind him, "Left handed why are you asking? Denton asked suspiciously.
Agaris saw that Denton's hand was badly cut. "And you are sure you didn't leave the shop?"
"No, I was here until the shop closed. Then I went straight home."
"Where do you live" "Right outside Skara. Now I must get to work." Denton quickly slipped through the door.
Frowning Agaris approached the last Apprentice
"Hello there Aldrick, may we have a moment of your time?"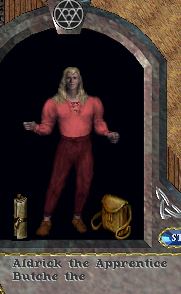 "Yes, but I need to get to work." Aldrick answered.
"We just need to ask you a few questions."
"What about?" Aldrick asked curiously."
"The other night, here in Skara Brae, where were you?" "Here working in the shop, like always."
"The entire night, are you sure you did not leave the shop? Well for a moment, went to the Inn for some bread. I was hungry"
"I see… Are you left or right handed?" Agaris continued.
"I don't see why it matters, I am left handed."Aldrick looked puzzled.
"Where did you go after the shop closed?" "Right home, I live just outside of Skara, can I go to work now?" Aldrick started towards the door.
"Yes, thank you for your help.?" Agaris motioned to us to follow him. "Well it is clear that one of them is lying. I tried asking around with a few of the Guards who patrol outside of the city. He said he's seen two of them nearby But he didn't pay them much attention, or get a good look at them."
Where do we go from here? I asked.
"We should probably go check the crime scene again, Evidias gave me another potion… thankfully I don't have to drink it." he said with a grimace. Maybe we can find out what hand the killer was using with the sword. He looked at the bottle, hoping Evidias didn't create a potion that will blow him up… When he lead us to the dress, everyone gathered closely around to see what the potion would do." Can we have some space around the dress please.  Now, I guess I just pour out a bit." Agaris frowned at what he learned. "Cut by a sword, I was hoping it had been grabbed."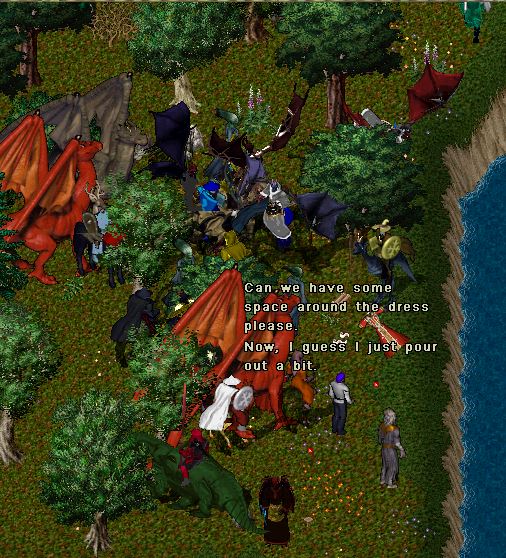 "Wouldn't doing it with the sword make more sense?" Lady Thaila asked.
Yes, but we need to check everything. I made us a more convenient way into Ice." Agaris said as he opened a gate to Ice. Arriving he poured a small bit of the potion on to the sword. "Hum, a left handed sword." "Denton and Aldrick were both left handed. Eram was right handed and had a limp. That would rule him out.
" I reminded Agairis that Denton had hidden his cut hand from us.
"True but he might have done it while cutting up meat."
Agaris,  he could have used the sword in his left hand. That misuse could have caused him to cut himself" I pointed out.
Agaris deep in thought began frowning. "This sword doesn't help. Someone is playing us.  Looking around Agaris found a set of tracks, "Hum…who ever made these tracks was limping.  I wonder?  All of them stayed at the shop until closing…wait, is there a baker in Skara?"
"No," I answered. "Last time I wanted piece of cake, I had to return to Britain."
Smiling, "We have found our killer," Agaris opened a gate back to Skara. Now to arrest him." We followed him as he stepped through the gate. Arriving, Agaris confronted Eram.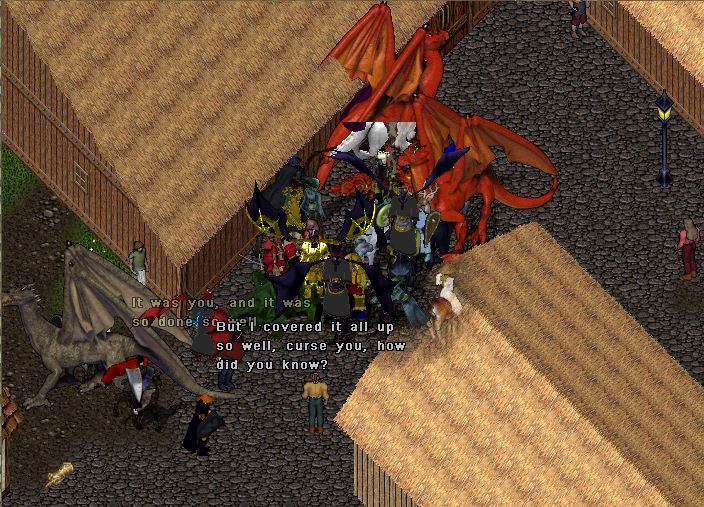 " Evening again Eram. I have come to take you to Yew Prison." Agaris motioned for the guard to surround Eram.
"But I covered it all up so well, curse you, how did you know?" Eram demanded.
"You tried to cover your tracks. When we found the misused grip on the sword, we assumed it was Denton, who cut himself as you knew we would. But you left tracks. They were of some one limping and only you were limping." You also said you went to the baker for pie. Skara Brae doesn't have a baker. Tell us who hired you." Agaris signaled the guards to cuff Eram.
"I'd rather die, besides they will send another in my place." scowled.
"You won't get a chance. Clearly, you were willing to let an innocent be hanged in your place.  Yew Prison will be now be your home for life.
Agaris looked at us, " I will return shortly after I escort this prisoner to Yew. Don't want to risk hm getting a chance to warn whoever hired him. If they don't know he's failed, perhaps we can replace him for now. Meet me at Britain Hall, I will join you after I report the matter to Captain Corina." He then opened two gates, one to the Yew Prison and the other to Britain  Hall.