Inspired by an idea from Leodegan of Europa and acting on a suggestion from Mirt of Chesapeake we are pleased to announce, in a collaboration between Bioware UO, UOGuide and UO Stratics, with support from UO forums, the Sudiva Fan Fiction Contest.
Background
Existing lore relating to this lovely creature comes from 'A True Sacrifice', part of the Candle of Love quest (supplied here by UOGuide)
As you meditate on the virtue of Sacrifice, you envision a dark, watery cavern. As your mind wanders through the cave, you realize that there is a treasure piled high against the wall. As you focus on the piles of gold and gems, a feeling of unbridled covetous washes over you with such force that your mind recoils away from the treasure.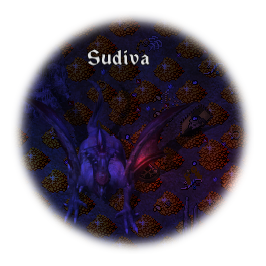 It is at that moment that you realize you are being watched, as you spot a dark form moving amongst the shadows; its eyes watching, ever-vigilant, over the hoard.
You know you must find the source of this overwhelming greed if you are to continue down this path.
You place Sudiva's Tear on the shrine and begin to meditate on the Virtue of Sacrifice. You find yourself sympathizing with Sudiva's plight. Although the great dragon played no small roll in bringing her own self to her current condition, your feel that no living being should be made to suffer so, regardless of how it happened.
Your sacrifice has begun her healing process; hopefully someday she will be free from Astaroth's grip and can fly once against amongst the clouds.
When you open your eyes, you notice that Sudiva's Tear has transformed into a Tear of Sacrifice. You quickly put it into your backpack, and prepare yourself to continue along your journey.
The Concept
Sudiva has paced back and forth for what seems like decades. How much does time pass in the belly of Covetous? As Covetous undergoes dramatic changes Astaroth's grip is broken signaling her release.
The Contest
Sudiva needs a new home. It is up to the community to create her story and the judges to choose a story that best represents her and her new home.
Stories should address two questions:
Where has Sudiva gone?
Where will she come to rest to make her home?
The Rules
The contest begins NOW, and entries must be submitted by 11:59 PM UTC on Sunday June 3rd, 2012. Stories should be submitted to [email protected]. They will be passed by Petra Fyde to the judges without the author's names to ensure total impartiality.
1. Only one entry per contestant.
2. Stories must not contradict existing lore
3. Stories must be the original work of the entrant.
4. Stories must not be longer than 1000 words and must be in English.
5. Stories must not have been previously posted elsewhere on the web.
6. Stories must not be posted anywhere public prior to judging.
7 Stories must not include any content that is indecent or inappropriate.
Entries that do not satisfy these criteria will be disqualified.
The Judging
There will be five judges. One from UOGuide, one from UO Stratics, one from UO Forums and two from Bioware, selected by Mesanna
The judges will select the top three entries, choosing stories that best represent Sudiva and her new home and showing originality, creativity and drama.
The Prize
A Dragon Statue Replica for the first three places supplied by Mesanna
The winning three entries will be posted on uoherald and permanently entered into the lore.
The winning writer will carry the title : Caretaker of Sudiva on the forums
All entries will be posted in Stratics Fan Fiction section after the winners have been announced.