Merry Christmas Drachenfels!
Rumors where that Santa Claus would visits us at the Christmas tree in Luna.
Only a few moments before his expected arrival a loud HO HO HO was heard all around the world.
Several people where already gathered around the Christmas tree when Santa Claus arrived with his reindeer's.
Santa was very pleased to see the beautiful decorated tree.
Santa took out his book to check on the good and naughty people of this year.
But Santa was in his jolly mood and brought gifts for everyone.
He checked the names on his list and called them to him one by one.
He gave him a small bag of gifts and wished them all happy holidays.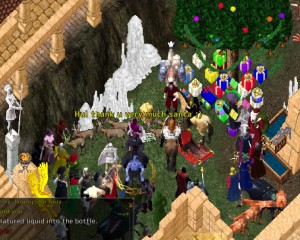 News spread that Santa was in town and more and more came to see him in Luna.
There where so many people that a long line where waiting in front of him to get a gift and get his best wishes.
It seems that everyone was very happy with what the good old man brought for them.
After a hour Santa ran out of gifts and it was time for him to go back to his home.
Before he took off he said to me he was happy to see so many good people on Drachenfels and that he hoped they like this year bag with presents.
He said that he wanted to thanks his three special elfs , Bochel, N'cat and Ariye, for all there hard work to make these gifts.
He could not have this done it all in time without there help.
Before he left he only had one more thing to say:
Merry Christmas Everyone And To All A Good Night!

New Frarc, Drachenfels News reporter.