Meet & Greet with Sarakan & Emile, plus Mesanna Roulette
11th December 2011
On the 11th December I went along to the meet and greet with Sarakan and Emile Layne. The counsellors hall was filled with a good number of people from around the lands turned up to meet the EM's.
To everyone's surprise Mesanna appeared and spoke to the EM's: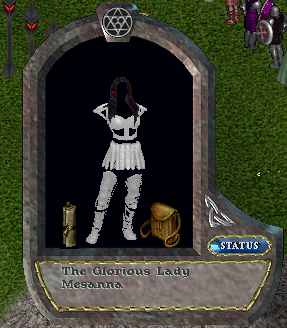 Mesanna: Hello everyone
Elder EM Emile Layne: Welcome Mesanna
Mesanna: nothing is going down. just came to talk to your EM's
Both of you have been with the program for 3+ years now. I want to tell you both how much I appreciate and respect both of you
Sevelle: we do too !
Mesanna: You have stuck with us to make it what it is today and I want to thank you for this. I want to give you both a new look to bring in the new year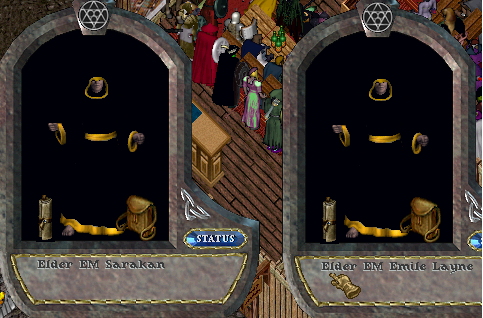 Elder EM Emile Layne: *Smiles proudly*
Elder EM Sarakan: *smiles* Its the new green
Elder EM Emile Layne: *Struts*
Mesanna: Your the only shard that has their original EM's on it. That makes you guys pretty special imo!
Elder EM Emile Layne: *Smiles at Sarakan*
Mesanna: *hugs* and *claps*
Tyranissa Wrath: *claps*
wanda: awesome
Alaster The Mad: * applauds*
Elder EM Sarakan: *smiles back*
Kay Flamborough: *applauds*
Sabrianne: *claps*
Escaflowne: *Claps*
Aron Swordmaster: We wouldn't trade them for anything.
Aurelius: We don't plan on letting them leave…
Mesanna: thank you
Elder EM Emile Layne: Thank you very much Mesanna
Elder EM Sarakan: Thank you indeed
Elder EM Emile Layne: *Looks at his new threads*
Elder EM Sarakan: *is a bit overcome*
Elder EM Emile Layne: Not too tight in the rear?
wokhoss: u ass looks a lil big
Kayne: Yes your bum does look big Emile
Arbas: Black suits you… although death robe grey might have worked too…
Elder EM Sarakan: Can i say something quickly?
This shard is the best by far and it has been an honour to serve here. We have had ups and downs
Elder EM Emile Layne: I second that!
Elder EM Sarakan: More ups than downs And you, our players have supported our events. We would like to thank you for making this little old game still the best place for role play, imagination
Elder EM Emile Layne: Yes, thank you all for making this job fun!
Elder EM Sarakan: and freedom to do what you want. Thats it
Elder EM Emile Layne: I have nothing more to add. Very well said Sarakan
Kayne: Sarakan, Emile we are honoured to have you guys here, we have fun because of the work you do
Perry Rhodan: thanks to you
Brynhild: What Kayne said.
Alaster The Mad: you rock EMs
Escaflowne: Thank you for all your hard work Emile and Sarakan
Aron Swordmaster: Thank you for adding the originality that keeps the game fresh
Kay Flamborough: and thanks for staying with us
Aron Swordmaster: And thank you to Mesanna for her work in returning history to the lands too (I saw the recent return of Atlantic's Mage Tower, do keep the good work up)
Once this was done we were then treated to Mesanna Roulette. The winning item was a lantern with the inscription "I was able to see my way to beat Mesanna playing roulette – Europa"
The losing item was "a piece of cloth from the Old EM's robes"
Many thanks to Alaster the Mad who supplied the extra sceenshots taken in the Enhanced Client.