Deal or No Deal.
Drachenfels Edition.
We where all invited to come and see and play the first game show of Deal or No Deal.
I'm always excited to see a new event, so i dressed up at my best and headed to Seven's house south east of Luna.
At my arrival i was welcomed by Seven and Bestia Rememdium and a mystery voice that sounded a lot like Stephen!
Slowly more people and potential players arrived.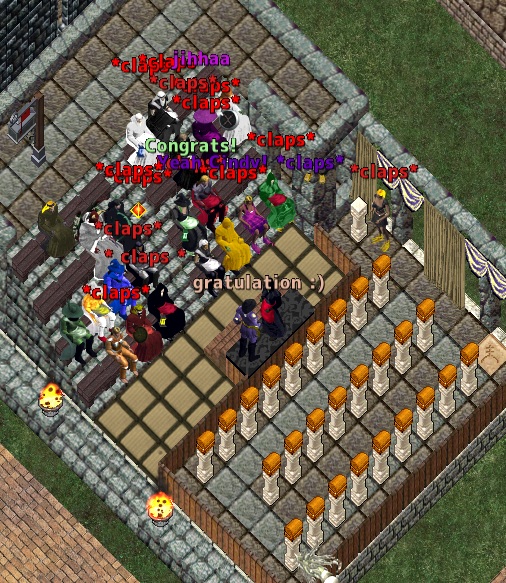 It was time to start and fate decided that Bumaderangy was the first to play Deal or No Deal!
The game is simple, first you choose a box for your own and hope it got a big gold price in it.
After that you have to eliminate other boxes .
After each round a banker would give you a offer for your own box.
Not knowing what gold is inside your own box you picked, the offer could been better or worse whats inside. It was up to the player to accept the offer or not.
After picked a first round with 6 boxed Bumaderangy decided to take the offer of the banker and walked away with 954.00 gold.
That is not bad for a few minutes of playing but the banker did not a bad job either.
In the Box that Bumaderangy picked was 3 million in gold!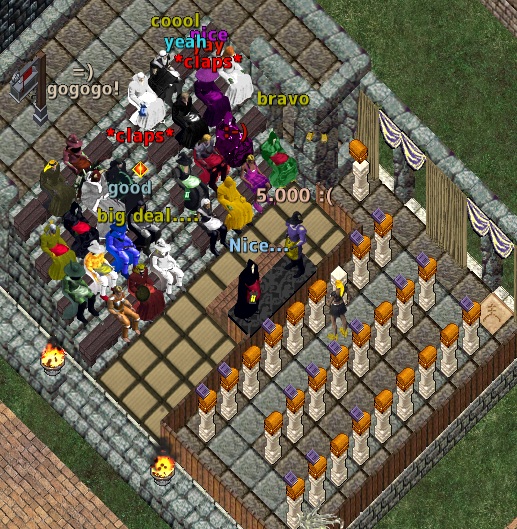 Between each round there where several smaller prices given away.
Here are the Results of all the rounds.
Outcome of the event:
First Round:
Buma 954.000  (3.000.000)  (1 round)
Bonus Prizes (3 x 250.000): Sheeana, NinaLuna, Nasrudin  
Second Round:
Cindy 1.290.000 (1.000.000) (2 rounds)
Bonus Prizes (3 x 500.000): Asso, Ronja, Nicodemus  
Third Round:
Boxmeisterschaft 365.000 (300.000) (1 round) 
Bonus Prizes (3 x 500.000): Rahja Ashly, ParadoX, RastaFari  
But the biggest and most exciting player was Ronja.
I think the banker almost pulled out his hair when Ronja did not want to give in her Box.
And she was right not to do it and walked away with 3 million in gold!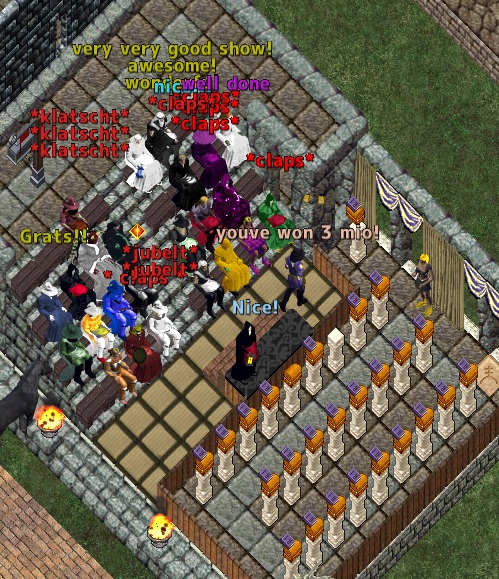 Fourth Round:
Ronja 3.000.000 (All the way) 
After a long evening of fun all spectators and players could only tell this was one of the most fun event they been too.
Special thanks go to Seven,Stephen and Gilmour for this wonderful evening!
We really hope that the next game show of Deal or No deal comes again soon!
And for who missed it, you can see it all again here :
New Frarc, Drachenfels News reporter.