Once the peaceful city of Luna a place where merchants could sell their goods. People come to Luna looking for that one item that they feel they can get no where else. Suddenly the loud growls are heard through out the city. They surround the bank their eyes glowing, wings flapping in unison. dragon's and daemons surround the people. Fear is the first thing experienced on that day. This was not a lone incident, recently  winged beasts invaded this very city yet again.  Luna has become a target for invasion.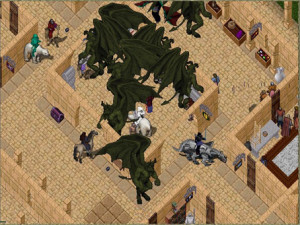 What will become of this bank sitters paradise?
What will happen next?
Is this the end?
We can only wait and see.