~ . ~
Friday The 13th At Camp
.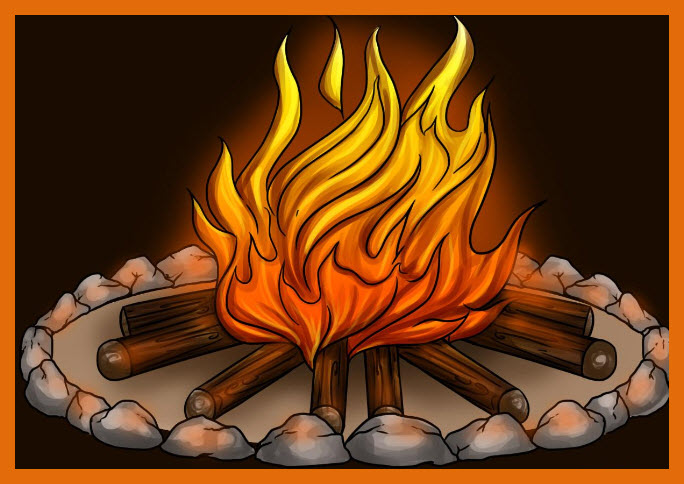 .
Friday the 13th is steeped deep in lore and history. There are many thoughts on what to avoid when this day comes upon us. These tales did not stop people from gathering in the Hall and many arrived early including Agilaz, Lady Alice, Meanie Monster, Skye, Lady Martya Z'muir, Lost and Seeking, Euphoria, Sentinal, Xevei, Bataeo Oreph, Lady Camilla, Ixtab and Ian to name a few.
.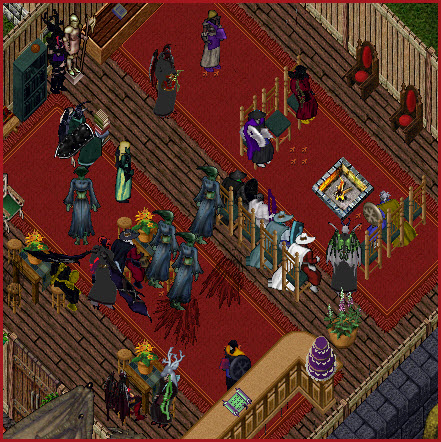 .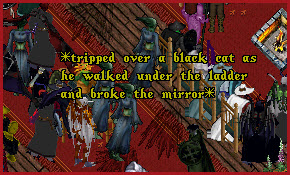 .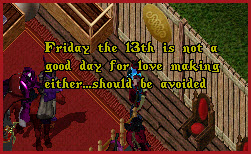 .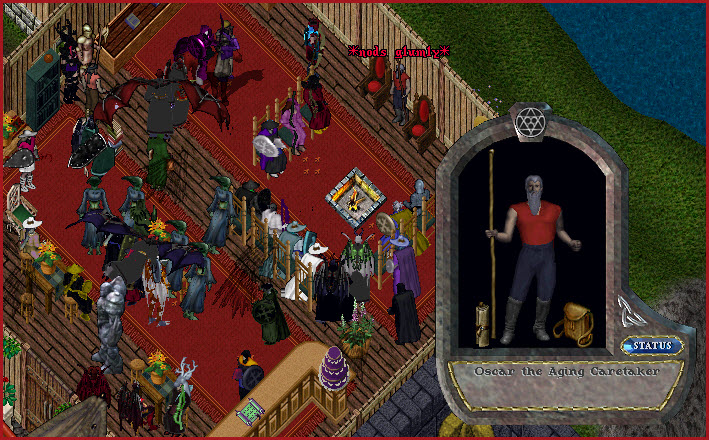 .
As the crowd grew excitement filled the air then a very strange man named Oscar appeared. He projected extremely annoyed and started complaining of his current employment. Oscar has been the caretaker for two local camps and with his aging years it all appeared overwhelming to him. Though the summer camp season was behind him he has been the winter caretaker of these camps the past two years. Oscar informed the crowd that the next day was his last day of employment, he was retiring. He moaned that he could not take it anymore and was not returning for his last day of work. His voice grew louder as he grabbed his ears claiming he often heard the crying voices of children at the campgrounds. The next thing we all witnessed is blood pouring from his ears !!! If that were not strange enough he transformed into a strange creature not of this world, wiggled about then was gone. Everyone looked around in disbelief. All that was left behind was a sticky pool of blood staining the wooden planks of the floor.
.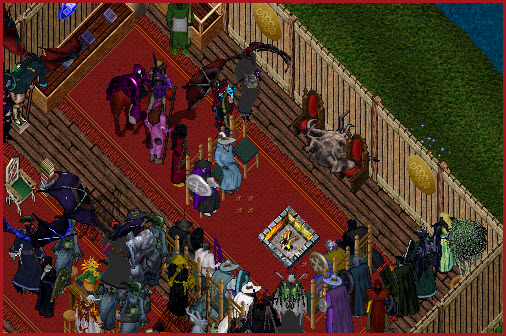 .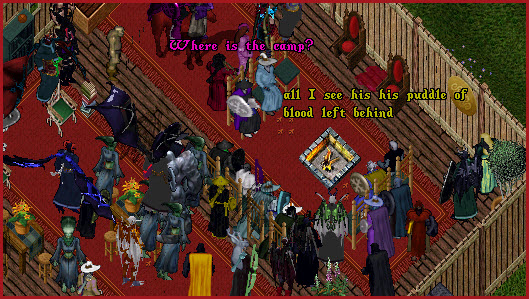 .
Magical gates then opened and we carefully entered them. These gates transported people to the two camps. Once inside the camp grounds it is clear things are not as they should be. The first thing I noticed was a trail of bloody footprints. Before one could say holy hail storm a Sudden Storm appears, knocking those on mounts right off onto the ground and dazing them.  This Sudden Storm was nasty and took several lives.
.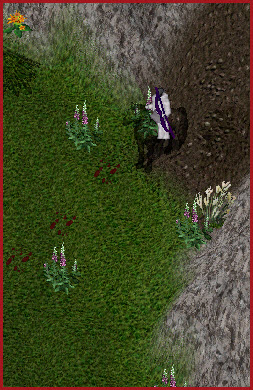 .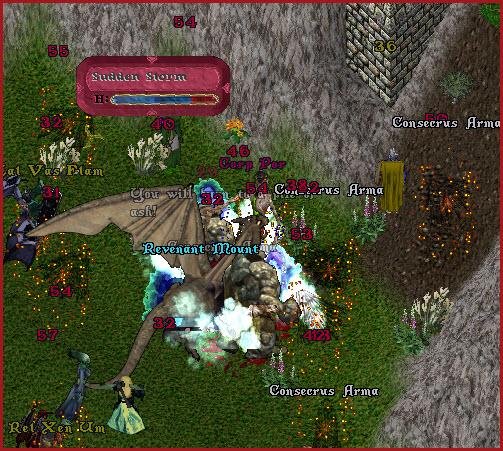 .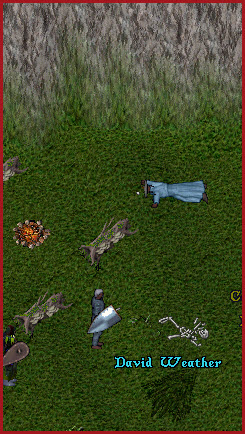 Ras Thavas, one of the many Sudden Storm victims
.
The Sudden Storm subsides and what appears from thin air are Angry Trees that start to dance about thrashing their limbs to and fro. These were indeed angry trees resulting in yet even more deaths including that of famed Great Lakes citizen Thorreain.
.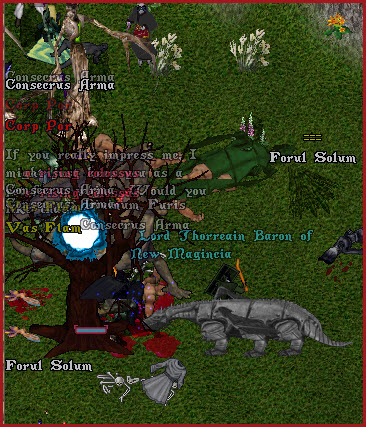 .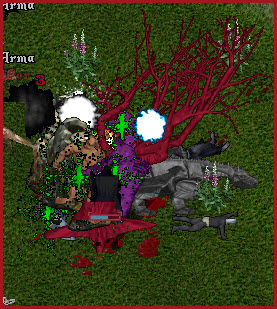 Thorreain, death by tree
.
The brave camp visitors slave the Angry Tree and upon its death out popped a child named Chip. Everyone is shocked by this child's appearance. Chip claims he has been trapped inside the tree some time and that all summer long a shadowy figure had been following him. As he is speaking to the crowd there seems to be a small shift in the earth and rocks come tumbling down upon him and crush him!
.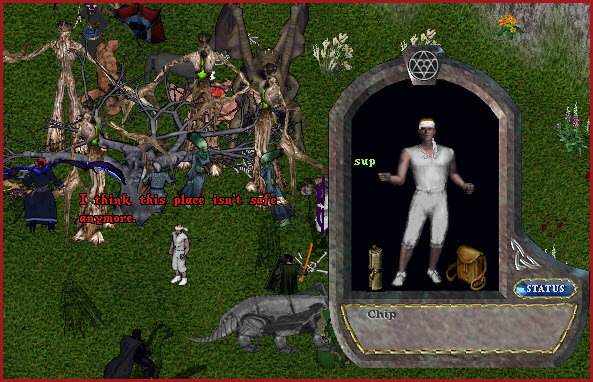 .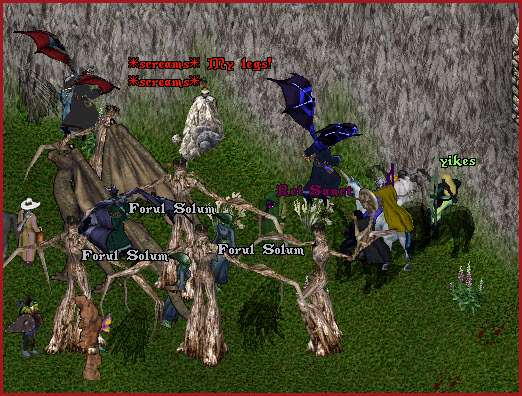 .
In Chips place the Ghost Of The Abandoned Camper appears all white and pasty. His sorrow conjures up Homesickness and as we all know homesickness is never a good thing.
.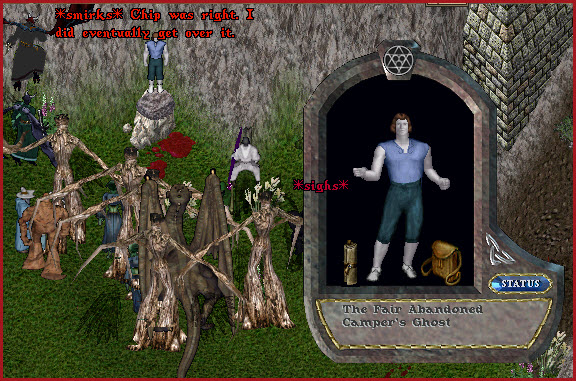 .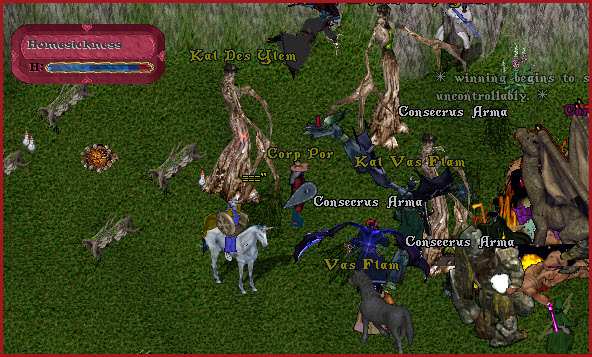 .
Once Homesickness is overcome the ghost wants everyone to sing camp songs. Not a single soul was in the mood for such things after so much death and strangeness. Not happy with this the Ghost Of The Abandoned Camper shouted out that all will be dead with him together forever. With that fire rained down in massive amounts and indeed death was upon us all.
.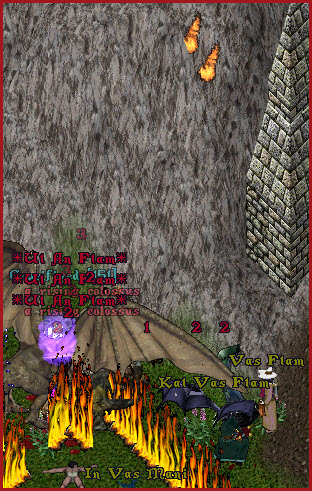 .
This is proof that one should always be leery on Friday the 13th.
~ . ~
THANK YOU ONCE AGAIN TO OUR WONDERFUL EMs  FOR A GREAT EVENT.