Covetous Advertisement
Paid for by the Cluckers for a Luckier Tomorrow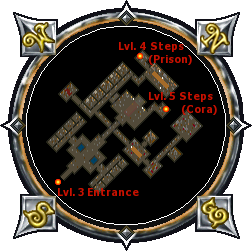 Are you tired of doing the same old level only to get Void Pool points for Ephemeral weapons?
Sick of talking about the people who "Magically" show up on the Scoreboard?
Or perhaps you are unable to stand one more Backhand from Cora?
Then Its Time For You To Experience Jail!
COVETOUS LEVEL FOUR
Have a  REAL Chance for an Arty Drop
Prismatic Lenses
Brightblade
Blight Of The Tundra
Hephaestus
Bracelet of Protection
Birds Eye View Of Level 4 (Image Below)
*Don't unlock the Cell Door unless you're ready*
Ghost Scout which Cell is Empty then, use the Covetous Runebook at the H-J Rune Library located in Kijustsu Anei Village on( Homare-Jima Island, Tokuno
-Top Right Cell #1
-Bottom Right Cell #4
-Top Left Cell #5
-Bottom Left Cell # 8