In anger, the King summoned us to the royal spy headquarters. Slamming his closed fist against the table next to him with the statue, He demanded, "Am I being too easy and too relaxed? Is that why Minax just waltzed into Trammel into my throne room? Why she thought it was so simple to just do whatever she pleased? He didn't wait for us to answer. " Is this why traitors to Britannia walk the streets? Enough, my guards have been commanded to execute all traitors when caught! No trials, no public voices for the traitors  Tolivar Fence, Merrick the Alchemist, Vos Marigna, Elisa the Golden, Olivette Greyblade, Ariel White, Joseph the Cook."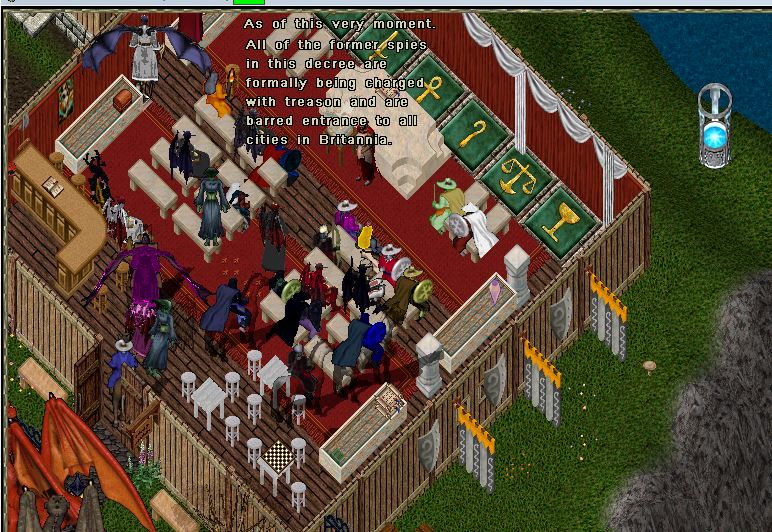 We looked at each other another confused and worried. No trials, this was against all the virtues we swore to protect. I couldn't help but wonder why my King was driven to take these actions. Fearing for my head, I decided to wait to ask. Later in his chambers, I asked. Scowling, he replied, "I owe no explanations. But good bard for the sake of realm and history, I will tell you. They are to be shown no mercy for the crimes they have committed against Britannia in the background of Casca, and alongside it. The murders of 19 citizens of Britannia, 14 Royal Guards, and 7 Nobles. This small little group in the absence of King, sought fit to dispense whatever justice they felt was warranted. All happening under the guise of the Royal Spies and doing what was "right." He handed me several books, the missing Royal Spy archives.  I went the Royal Library to read them. No wonder they had been hidden. Written by Merrick the Alchemist, they told of atrocities the group had committed. Merrick the Alchemist admitted to several of the atrocities, and witnessing most of the ones detailed. No wonder these had been hidden. Sadly I closed the archives and placed them on a shelf for all to read.
The following day, Agaris called us to headquarters to share what he had learned. To our surprised Elise the Gold was waiting for us. Removing her hand from her neck, she demanded to know why we sent an assassin. " It will take more than some fool with a blade to do me in." Looking closer I saw a thin line of blood on her neck. Spitting on the ground, "You send assassins after me, and expect me to not respond. Get them!" she shouted, attacking.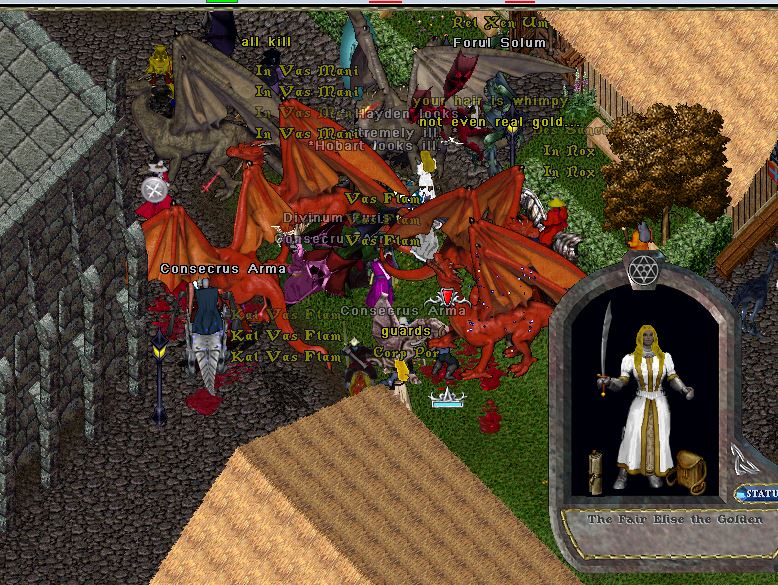 Brigands and executioners joined the battle from behind the buildings.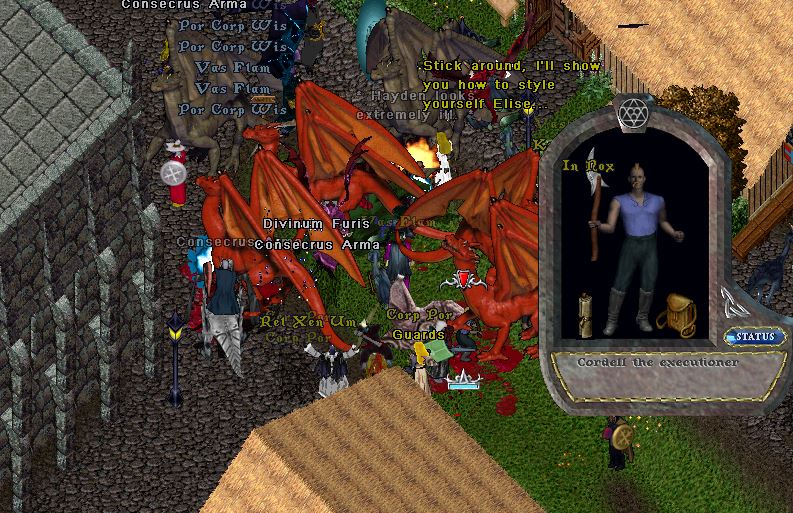 Watching Elise, I saw her stumble, could the blade been poisoned? As I watched, it became harder for her to parry and block blows. Suddenly she stumbled back from an obvious wound. I tried to reach her side. Shouting at me, she lunged toward another guard. "Stay away! You will not have me. You there kill them." Moving through the battle, she spied Govener Jahajx Jov. Kicking and push people aside, she confronted him. "Blockade and destroy my ships. You stupid fool, with your fleet of ships. Fine, I will burn Trinsic's shops and make their merchants flee the city." She began to laugh deviously. Find me if you can in time, but first have some more company. Release the Dragons!" Then she was gone.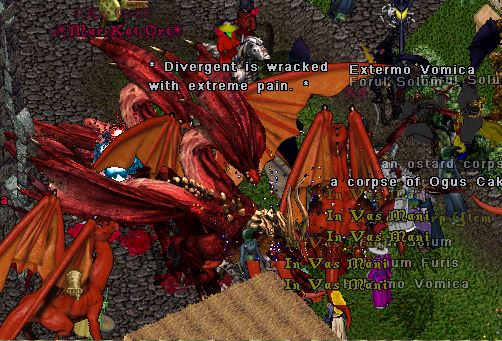 Leaving with some of the guard, the Governor hurried to defend Trinsic. I admired her tactics dividing our forces and making us fight on two fronts. Before we could finish our battle, the urgent call to assist Trinsic came.  Those of us who could, rush to assist Trinisc. Arriving we found Elisa and her Mercenaries attacking the Pearl of Trinsic. Smiling she ordered her men to steal all the jewels they could carry, "I do not care if they are being tossed to the bottom of the ocean." Coughing Elisa looked around for the Governor,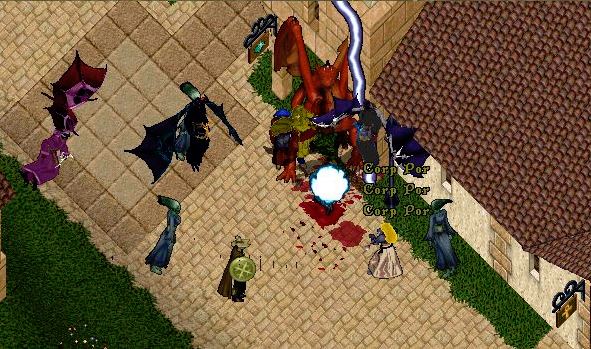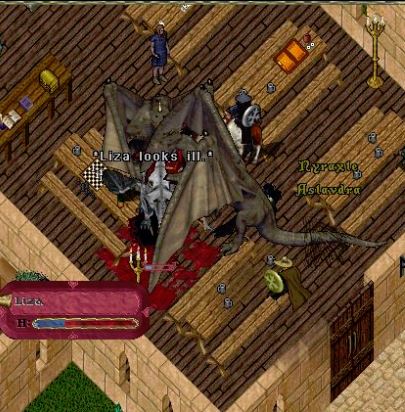 "Hah, like a coward Trinsic's Governor flees . He thinks… *coughs* He is going to kill me." She fell against the wall by the jewelers. Blood flowing from a deep cut in her side. "You… you won't get to see…me die." Kicking and pushing she disappeared into the crowd managing a recall spell.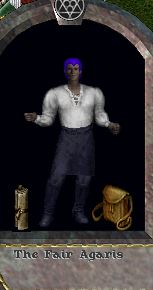 Agaris joined us at the jewelry shop. " What's going on here? There were bandits and Blood Flagons at the city gates! We had to fight our way in." I explained that Elisa the Golden had attacked us. First in Britain by the hall, then here. "Ah that explains the bodies I found when I arrived.  I heard Governor Jahajx Jov call for arms and came as fast as we could." Again he looked at the bloody field. "Did she explain why she decided to attack?"
"She accused us of sending an assassins to kill her." I replied. " She recalled before we could capture her. I don't think she will go far, she has been badly wounded and I fear poisoned."
"I was afraid of this… we tried to wiped out her ships hoping to capture her. The Trinsic Fleet blockaded them in, north of Minoc. They were circling around to Britain, and we sank them ." Worried Agaris asked," You said she was badly wounded?" I nodded yes. "Then I fear  Merrick will end her life. When I looked puzzled he explained.  "Evidia's story that Merrick stole the gems bothered me, so I confronted her. She said she caught Merrick, in Skara Brea, taking the young girl. He said he just needed the blood of someone from the bloodline that sealed Izumu in. To stop the killings, she agreed to help him. She said she felt like she owed him, for his part in helping to save the Weld. She didn't know that he was using the blood to he is trying to release a Djinn.  It is urgent that we find Merrick. He paused, " I have an idea of where I can find information. Meet me tomorrow and the hunt will begin.