I got together with each of the governors and asked them about their cities and plans. With all the controversies and rumors about I wanted to give each governor a chance to "clear the air as it where" and give everyone a chance to get to know them and what they intend to do for their respective cities. Each city faces it's own unique set of challenges and I want to give the governors a chance to address these issues in a neutral forum so everyone could come to their own conclusions.
Fifth is the Governor of Trinsic, Lord Lew and here is what he had to say…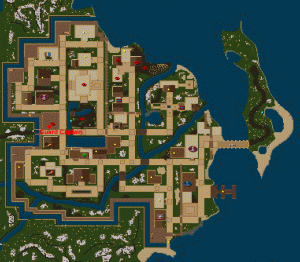 What are your current plans for Trinsic?
Currently we are setting up there entities within the city.
A. The City Council, consisting of 8 seats that will vote on all issues within Trinsic. The council will be at first appointed, but then after we have a greater number of citizens, the council will be elected by the people of Trinsic.
B. The Honor Guard, a formal guild of warriors that will take up the defense of the city in times of need, as well as being available to the King if need arises in Sosaria. We are training Sampires at the moment, but plan to expand to other disciplines soon. We also plan to begin hunts to all the great dungeons and foreign places in the lands new and old. This guild will not be one of puffed up egos and authoritarian rule, rather it will consist of adventurers that wish to protect our city as well as adventure throughout the lands.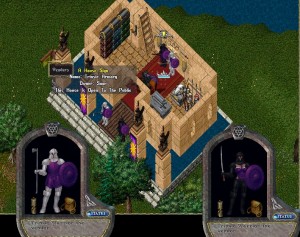 C. An Artisans cooperative that will assist in the rebuilding of Trinsic, and re-armoring of its city guard.
these three items will be our main focus this term, but there will be fun mixed in. We plan to host another Fishing Competition in November, and are active with manning other cities for the month of October, assisting in their festivities.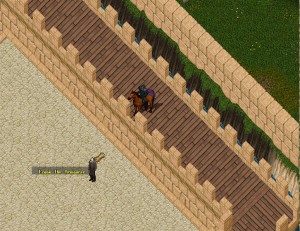 What obstacles does Trinsic face if any?
Trinsic's biggest obstacle is and always has been the push into new lands. These lands added more areas for citizens of Sosaria to build homes and offered larger cities that have home sites within protected walls. The finding of these new lands drew the population away from cities such as Trinsic, and our biggest obstacle is creating an environment that draws them back. Another obstacle is convincing a few of its shopkeepers to come down off of their roves. Since the great invasion, some have taken to living on the roof, as it was the only way to survive during those times.
What factors have contributed to Trinisc's growth and success?
The greatest factor in Trinsic's growth and success is the love and dedication of its citizens. Trinsic was once a great city simply because of the love its inhabitants had for it. This love did not diminish as the population moved to other lands, it is in fact still there. Bringing those citizens back to the home they once new rekindles the fire at once was, the city has a way of doing that. One citizen stand out among the rest however, and without him, I feel Trinsic would still be stagnant. Soar moved back to the city and opened the Surf Shack just outside the South gate, right on the little beach there. His tireless dedication to the city and energy in is process has pushed myself and others to new levels of commitment. I would be remiss if I did not thank him for it, but also know that he does not require it. He is a great asset to the growth and success of our city.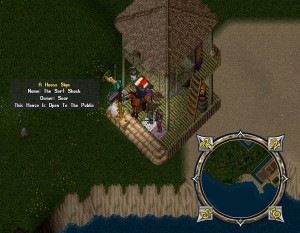 How has Trinsic changed during your term(s) in office?
Trinsic has gown in population since I took office, and life is slowly returning to our city. Its port is active again, and the fishing industry is booming. We have developed new trade partners that have allowed us to build a distillery at the docks, and have begun to export some of Sosaria's finest rum. I have also been a factor in the removal of an illegal button factory that was housed in Trinsic. It is my belief that these buttons would have confused the youth of Sosaria and pulled us into a dark age. Just say no to Buttons…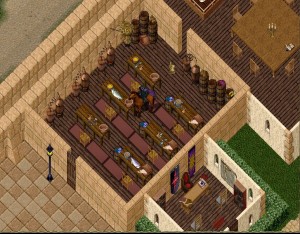 What sets Trinsic apart from the others?
Our great city walls are matched only by the greatness of our hearts. In a nutshell it is Honor that sets Trinsic apart from other cities. Not that other cities do not contain this virtue, but Trinsic lives by this virtue, is ruled by it in fact. It is that dedication to the virtue of Honor that sets it apart from other cities.


Is there anything else you would like to add?
Only that if you remember a time long ago, a time of community and friendship. A time when greed and power did not rule the day, but adventure and friendship were the standard, then Trinsic is the city for you. Come experience that which you may have lost, that feeling of community and adventure. Come be reborn to the person you once were and wish to be again.