Angelica's Minions Halloween Global Event Notes – Saturday, October 1st 2011
Kijustsu Anei Village, Homare-Jima – By Angelica and Lord Gareth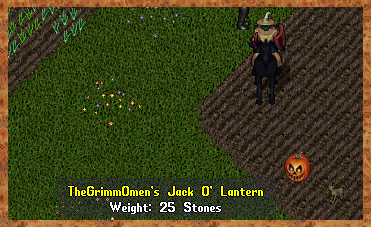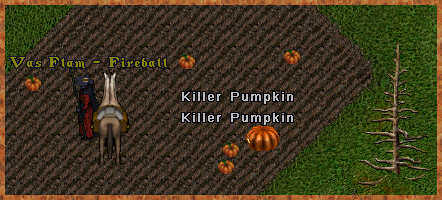 Make your way to any farm within the lands for your chance to find a Jack 'O Lantern to summon the Killer Pumpkin. To bring fourth the Killer Pumpkin Double Click the Jack 'O Lantern and within moments you will come face to face with the Killer Pumpkin…dun dun dun. Sadly they are not much of a challenge, rather weak and easy to kill. Once you have defeated the Pumpkin the mask may appear as loot on the corpse but its not a guaranteed drop.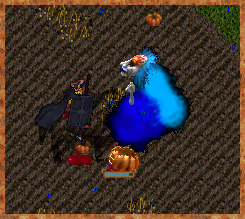 To increase your chance of spawning the monster you should camp one of the farms. Use pack horses to pick up the pumpkins don't just throw them off to the side of you will be there all day!!!. Once the pack horse is full gate it off to another area of the world and kill it. If you have 30 Necromancy and 30 Spirit Speak then you can summon a horde minion to do it for you. If you lack the skill try to find rings, talismans or Necromancy books to increase your level.


Plaque Mask Hand Painted By

Evil Clown Mask Hand Painted By

Daemon Mask Hand Painted By

Known Names
GM Inarea, GM Thowe, GM Fiper
TheGrimmOmen, Iannan, MrsTroubleMaker, Jawbra, Phoenix
EM DeAngelo EM Emile Layne, EM Adris, EM Faine Morgan, EM Barnaby, EM Sarakan, EM Mystique, EM Miko, EM Aeon