Arriving at the hall, I found Captain Elise, the Golden  inside the hall trying to pull up the statue of Izum. Stopping when she saw me, she growled, " I knew it was too good to be true, they said the town was empty." She began working her way to the door.
"We have just returned to meet with Captain Corian. You have trapped yourself." I said trying to block the door.
Still she made a run for it. Finding herself blocked, she demanded to know who had betrayed her. " I'll have their ugly head for this.! You don't betray me!
Lady Thalia questioned her," Did you arrange the murders in Skara Brae?" The captain seemed to be surprised by the question. Then she laughed, "Well not yet, but if you'd like to die I can arrange that."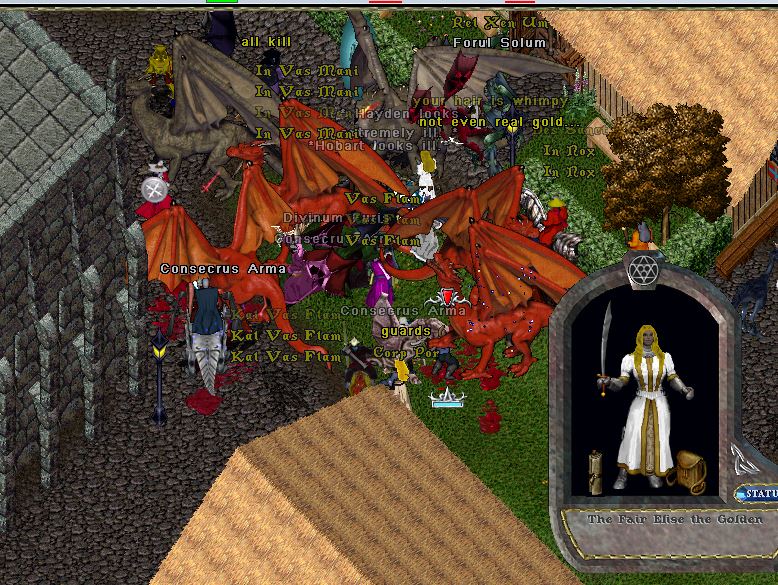 Knowing the Captain, people grouped for a battle. The greater Dragons roared eager for blood. We didn't have to wait long. As Captain Elisa's hired Brigands attacked us from all sides.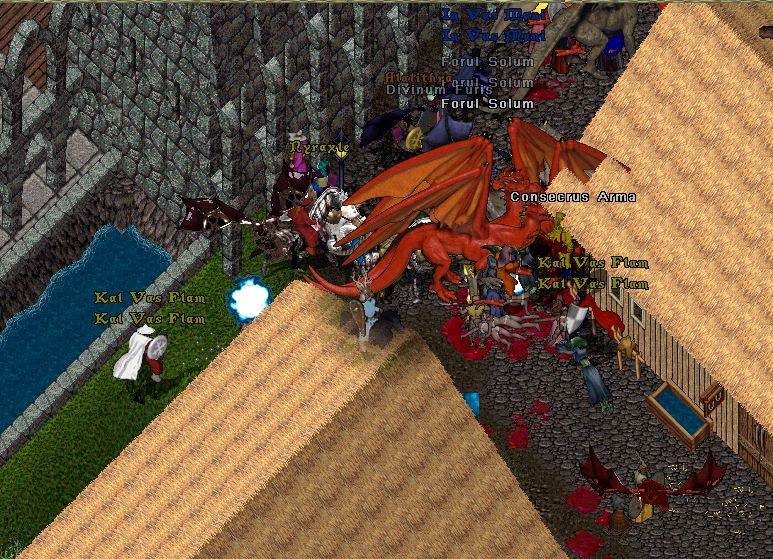 Seeing they were no match for our forces, Elisa summoned two Crimson Dragons then slipped away.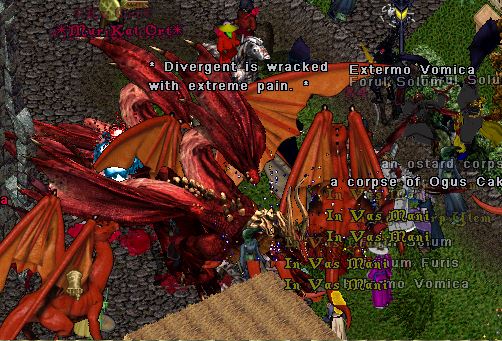 Many a life was given for the slow progress towards the docks. Finally lead by Artemis , we caught up with her. Seeing us she began laughing. "You should have just arrested me instead of following. "You, keep them busy! she shouted as more of her men came out of the buildings by the docks. For once she joined the fight, attacking one person then another. All the while moving towards the docks. " Well, at least they are good at dying. That's good for something. Now I won't have to pay them." she said stepping over the brigand's dead bodies. "Come on, die a little slower!  I just need some more time.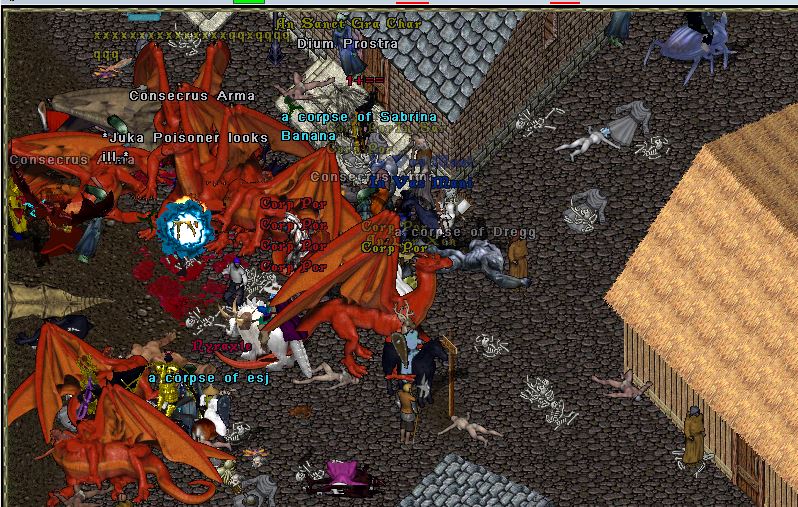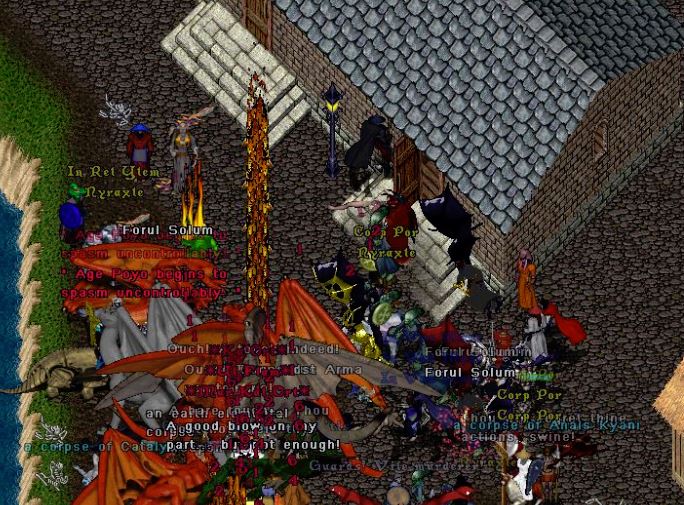 I stopped in shock at her indifference at the deaths. Was this her true nature. "Give up, your fighters are outnumbered."
Still she moved closer to the docks, all the time shouting at the fighters. "Don't let them near me." pushing people aside. "Keep your hands off me. I said keep them away, I need a bit more time…"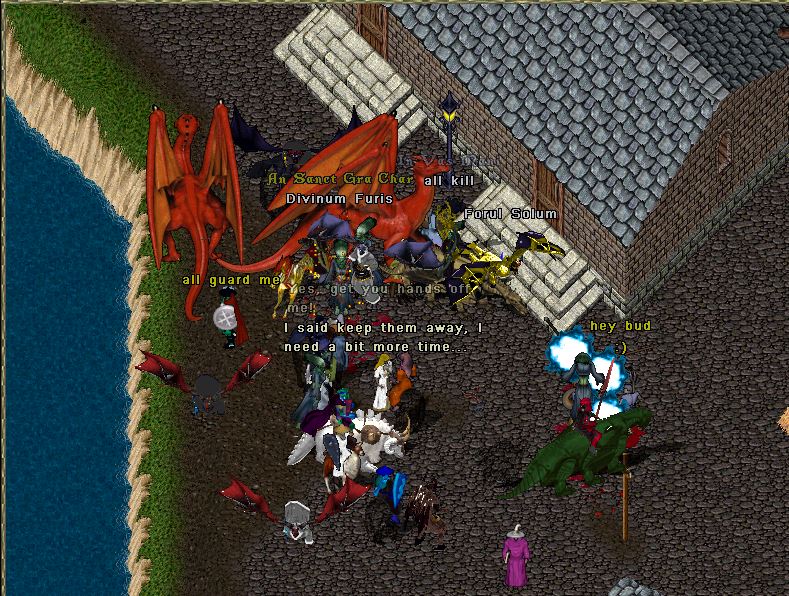 At last we had her trapped, one of the guards chained her. Looking around, she smiled sweetly, " I'm too pretty for chains, maybe you'll help me? 100,000 gold pieces, to the men who fight for me." Our only response was commanding the Dragons to guard her. They seemed only to happy to do so as they threatened her. Pushing away she ran to the docks. Just before jumping in, she taunted us. You think I'm in trouble, it's you. There is no one after me. They're after you." then laughing she dove into the water. I hurried to the water looking for some sign of her. Would she would rather drown than be captured. I shook my head. No she is too smart for that. I knew we would see her again.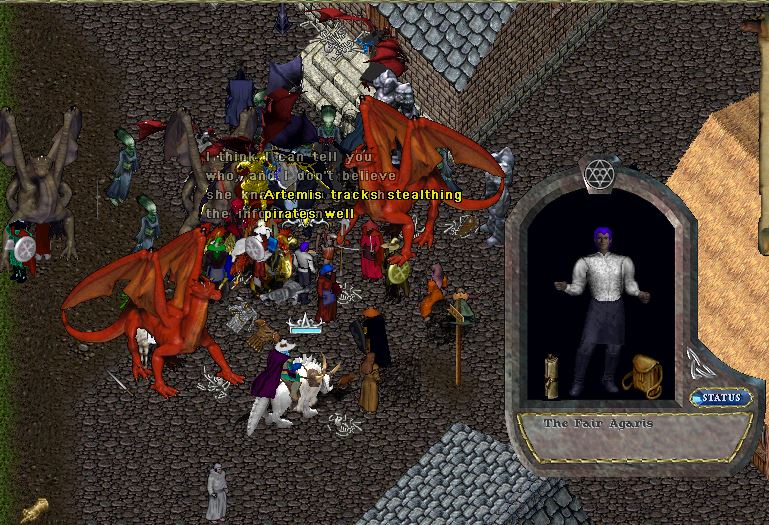 Just then I heard Agais . "I saw the fighting and followed it as quickly as I could." Agaris sighed, "I still got here too late. He listened to our reports. In disbelief, he asked if she had really jumped into the water. "Is she insane?"
"Insane or very clever." I answered. "She did say that she had a ship close by." "She didn't have to jump in the water to escape. Why not just board a docked ship?' I asked.
"No," Agaris agreed. She made her way down here to prove a point. She knew that after diving into the water, she could ride the current down the shore line." Frowning he asked, "You said that she was trying to steal the statue of Izum?"
"Yes, Agaris and she was surprised when we returned from Skara Brae." I replied while the others nodded in agreement. " But who told her we would be gone?"
"I think I can tell you who."  I spotted one of Merrick's old friends, Savael by the docks in Skara" Agaris told us." I don't believe she knows who gave her the information." It seemed strange to me that for Merrick try to help her… and then I got to thinking. I think Tolivar was trying to help her. But he couldn't have known how long we would be distracted in Skara."
"But why steal the statue. Perhaps to open the door?" I asked Agaris. "Its odd, one group wants the statue, while another is using blood. Could it be you need both?"
"Hum.. perhaps. Tolivar seems dead set on keeping Merrick from finding the Treasure. At the same time not giving Elise what she needs to get to it?" Agaris wrinkled his head in thought, "It's like… helping but, tying one hand behind your back. Just enough help, for them to fail."
"Well, if we assume the treasure is something or someone important to Merrick." Thalia added. "Tolivar may have been the one responsible for trapping it or her."
"I believe you are right. That must be why Merrick turned on him,trying to turn him in and getting him out of the way.  I'm going to go out on a limb here and say Tolivar knows exactly what is going on. The door seems to be the key. I remember something about "Izumu" guarding it, or something. I will have to go back and see if i can find. With what has happened, it is a good thing I convinced Evidias to spell down the remaining objects, after what Merrick did."
"We still haven't found the Tokuno connection," I added. "I have a feeling the connection is very important."
Rubbing his head, Agaris nodded. " I need to go about moving things. I will have Evidias move the statue  and anything related to the ancient treasure to the Mongbat village, in the Lost Lands. I feel better having Iskur and the Weld keep an eye on the items. I apologize but we will speak again soon. I need to tell Corian we've brought him a guest as well. The killer, clearly knows more, and who hired him."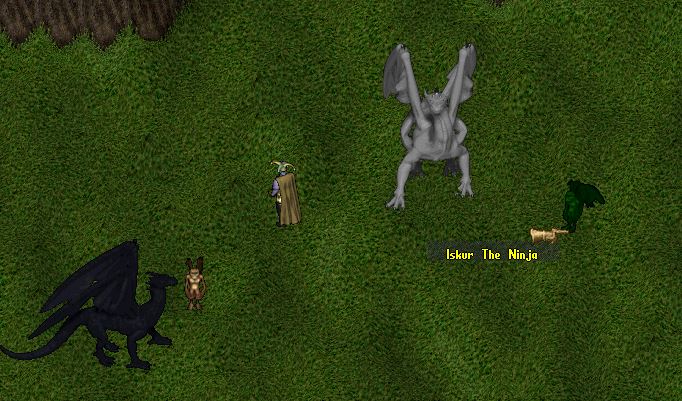 After Agaris left, we contiuned to discuss the events. "Merrick clearly knew more than he said about it. He clearly deflected us from following up." Thalia said.
"There are 10 more statues. Maybe one of those will be used. Or are they being used to hid the real one?" Catalyst added."
I nodded, "There is still so many questions. Who is doing the prepretaion to open the door? Who's blood is needed and why, to summon a deamon?"
Thalia thought for a momunt, "Remember Dahlia's reaction to the statue, she said it seemed like it was watching."
"Yes, I agreed, "She wouldn't even stand next to it." At last we left for our homes, with much to think about. So many clues that seemed to lead to no where. Perhaps a goodnight sleep would help clear up the matters. Dreams tell many things.